Matt Damon, Will Ferrell, And Liberian Nurses Scold World Powers For Slow Ebola Response
A grassroots association of local Ebola fighters also released a — very different — video.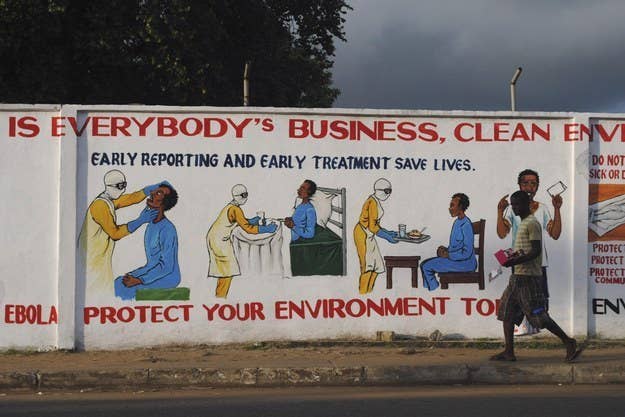 This week has seen a lot of chatter about how best to help in Ebola, and on Wednesday two new videos came into the mix.
Most of the talk has been about aging British rocker Bob Geldof's controversial choice to remake his popular but problematic charity song, "Do They Know It's Christmas?," even though West African artists have already released a charity song empty of the negative stereotypes of Africa critics say undermine Geldof's message.
The most common criticism of Geldof's fundraising jingle is that it undermines the agency of Africans to address their own needs — a point raised by both of today's videos, one from a well-resourced global campaign, the other a grassroots initiative.
Sixteen celebrities and two Liberian health workers appear in the video. The subjects — and the video itself — convey an impatience with the recent rhetoric about Ebola that's uncommon among global players of ONE's stature.
The video was released simultaneously with ONE's Ebola Response Tracker, which shows just how much of the money promised by governments and donors has actually showed up. The Tracker is a unique and useful accountability tool, although the video itself connects viewers instead to a petition, urging in general language that world leaders act.
Grassroots group Africa Responds (popular on Twitter as #UnitedAgainstEbola) also released an awareness video. "We have taken matters into our own hands," its advocates proclaim. "We are Africans, and we are united against Ebola."
They aren't faces with global fame, but this video focuses on the fast and heroic response of local people, especially health care workers, to the crisis in their home countries and how others — Africans, especially — can assist.
Although the organizations did not collaborate, the timing of the two videos implies another message: The world might have been waiting to respond, but Africans weren't.
Which, of course, Twitter noticed. In a chat hosted by @TMSRuge, who is working on the #UnitedAgainstEbola campaign, people contrasted the messages in the two videos.
The different approaches to raising awareness ended more happily here than in Bob Geldof land.
Geldof turned snotty and sexist when superstar Adele opted to make a private donation to Oxfam's Ebola efforts rather than join Geldof's chorus.
But ONE and #UnitedAgainstEbola know that there's no room for haters in eradicating the disease.