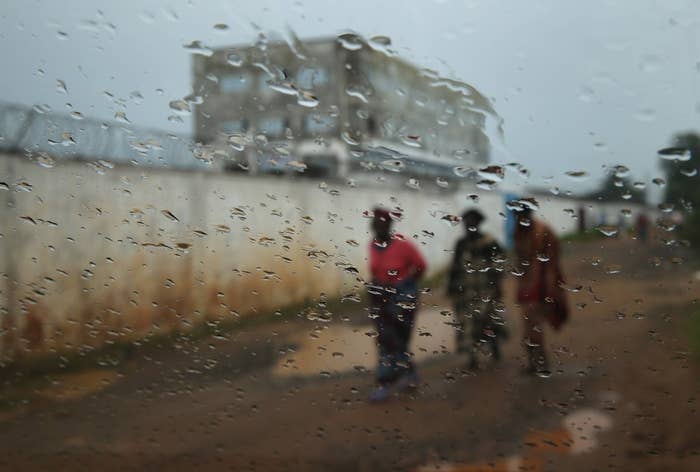 MONROVIA, Liberia — With the energy of an explorer, Millena Nyandibo bounded between the low-slung tin roofs of homes in West Point, an informal community that day traders, taxi drivers and other hustlers of Liberia's capital call home.
She is 32, and was dressed in pale-blue hospital scrubs and black rubber boots, giving her the impunity she needs to rush through sandy alleyways whose sites and smells suggest they double as both toilets and trash bins. West Point, long neglected by any governmental authority with the resources for basic urban planning, has neither plumbing nor proper sanitation.
Nyandibo also carried a black backpack filled with latex gloves, goggles, and even a few full-body "moon suits" — the impenetrable plastic personal protective equipment (PPE) that health workers in Liberia rely on to keep them safe from Ebola. Her colleague, Rachel Janteh, kept up the pace, despite a fatter backpack full of drugs.
"Come on!" Nyandibo hollered, hopping into a huge puddle. "I want you to see my boyfriend!"
A shy 12-year-old boy named Abraham, who has never actually had a girlfriend, was sitting on his porch. When he heard Nyandibo teasing him, he looked up and grinned, dropping for a moment the coconut he was shredding into a fine, fluffy pile.
Compared to what Abraham was able to do two weeks ago, this was an enormous expenditure of energy. He'd had malaria, maybe typhoid, maybe even something else, leaving him without the energy to lift his head. But both of his parents died last month of Ebola, so when Abraham took sick, no one would go near him.
Except Nyandibo. Before the Ebola crisis, she was a nurse at a government-run hospital about 45 minutes from her West Point home. When Ebola swelled in Monrovia in late July, public and private health facilities closed, and Nyandibo had no clinic to go to.
But her own neighbors were falling sick regularly — not with Ebola, but with malaria, typhoid, and other diseases common in the tropical climate.
Liberia's Ministry of Health says it's still collecting figures on infection and fatalities from the country's most common illnesses, but after multiple requests over several weeks, the ministry could not produce any data on malaria rates since March, when Ebola took hold, and one data analyst told BuzzFeed News that counties haven't reported case numbers for tuberculosis, another common disease, since June because county health officials have been so focused on tracking Ebola.
"We all know that the outbreak affected routine services to the point where health facilities shut down," said Dr. Bernice Dahn, Liberia's chief medical officer and a senior official in the Health Ministry. In August, Monrovia's biggest hospitals closed after doctors in each died from Ebola. Taking a cue from that move, and trying to cope with their own terrified staffs, many public and private clinics shut their doors too. In the midst of Liberia's Ebola crisis, even not having Ebola could kill you.
Dahn says 145 of the 600 clinics in Liberia have been through the first of a two-phase training focused on renewing basic health care. Those clinics are technically open, she said, but "there's a difference between open and functional." Around Monrovia, many open clinics have reduced staff, hours, and services, and there are reports of some charging exorbitant fees. Even the country's top hospital can't cope with basic problems: Last month, the daughter of a member of parliament died from an asthma attack in the parking lot of John F. Kennedy Memorial Hospital.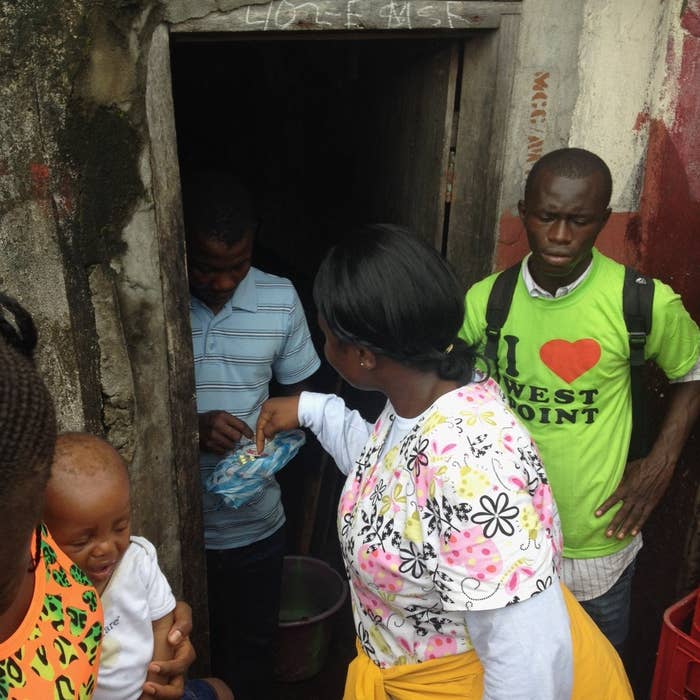 As the ministry tries to restart a working system, and major international donors try to figure out how to support that, it's small-scale work in places like West Point that is making the most visible difference.
With the help of a small American project called More Than Me, Nyandibo and Janteh and eight other nurses jump-started home health care in West Point.
It took some time to get the permissions they need — even certified nurses can't run around handing out drugs without Health Ministry approval — but they've been making daily rounds across West Point since September, and they've treated more than 400 sick people who otherwise aren't likely to have found care, keeping careful records of patient symptoms and medicines.
The team of 10 nurses gets a small stipend for their work from More Than Me; in some cases, they put that money straight back into their work. One of Janteh's patients last week was a 9-month-old baby whose mother died, two months ago, of Ebola. The baby is Ebola-free, but he's losing weight, and he's weak, quiet, and dehydrated. When Janteh visited to check up on him, she found out the baby's father has no money for food.
"He's got no hustle," a community worker said, meaning he hadn't found any day jobs lately, a problem for many in West Point as Ebola crushes the economy.
"I don't know. I don't know," Janteh said, grimacing at the baby. Janteh tapped the baby's stomach, and it made a hollow pop. Then the baby vomited.
Janteh said the baby needed oral rehydration therapy, but he also needs simple, basic porridge, or "cream of wheat." But that's not cheap.
"There's three children, and he's not working?" She paused, considering the baby's chances.
"I tell you. The baby needs cream of wheat," she said firmly. "On behalf of my family, I will provide it."
It's Janteh's subtle way of making sure the family knows that this is no NGO handout; this is one neighbor's generosity toward another, so that together, they can keep the baby alive.
The health care the mobile nurses offer is similarly generous — and risky. There's no way for them to know when they walks into a shack whether shivering, vomiting patients they encounter have malaria or Ebola. The diseases look roughly the same at the start.
But if they sense it's Ebola, they don't take risks, either. "We will talk and encourage them, but we call an ambulance," Nyandibo said.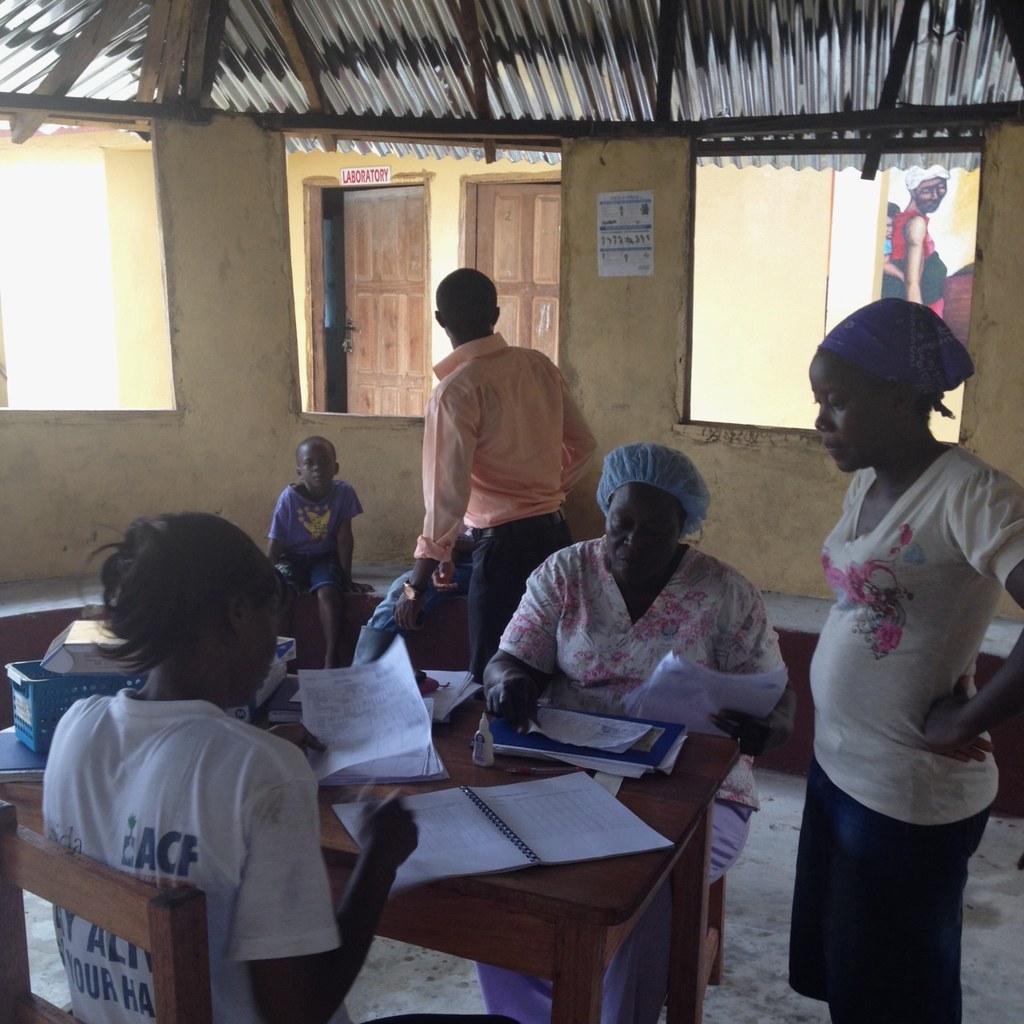 An hour and a world away from the bustle of the capital, in Lower Johnsville, the sheer willpower to serve takes a different form at Refuge Clinic.
"We're not the government. We're not an NGO," said Linda Kpadehyea, a nurse at Refuge Clinic. "We're Fallah."
She meant Mosoka Fallah, who works at the Ministry of Health on Ebola response. Fallah shies away from the limelight, too humble and too busy to be typecast as a hero when there's still so much to do, but he's been brainstorming with colleagues and friends, in Liberia and in the United States, where he studied, about how to get this place, a labor of private love, back online.
And three weeks ago, when there was enough PPE for the staff, Refuge Clinic re-opened, free of charge. Some patients are pregnant, but more have malaria or respiratory infections. Any given day, it's common to treat between 40 and 50 people, the nurses say.
They work on a skeleton staff, and a birth, however many hours it takes, is attended by just two midwives, a hygienist, and a supervisor, reminding the women in delivery to be cautious about how they move and making sure their PPE comes on and off correctly.
In the Ebola treatment centers of Monrovia, health workers don't spend more than 45 minutes in PPE. It's stuffy and hot in there, and if you aren't careful, you can pass out. At Refuge Clinic, there aren't enough health workers for such stints in the one-use suits. "Before we go in [to the PPE], we just drink a lot of water," Kpadehyea said. It's probably terrifying for a new mother to deliver a baby into double-gloved hands protruding from white body suits, she conceded, but "everyone understands. This is Ebola time."
It's tempting to extract broader lessons from the determination of the nurses in West Point and at Refuge, but what works in one part of Liberia — even in one part of the county where the capital sits — can't necessarily work everywhere else. Lulu C. Darbol, 51, and the most experienced nurse on staff at Refuge, could never do what Janteh and Nyandibo do in West Point.
"I do not treat patients at home," she said resolutely. "I just say, 'I'm not home.' We're still too afraid."