Kenyan Women Fight Back Against Assault With Mini Skirt Rally
"You can't justify what happens because of what someone is wearing." Jina Moore reports for BuzzFeed News from Nairobi.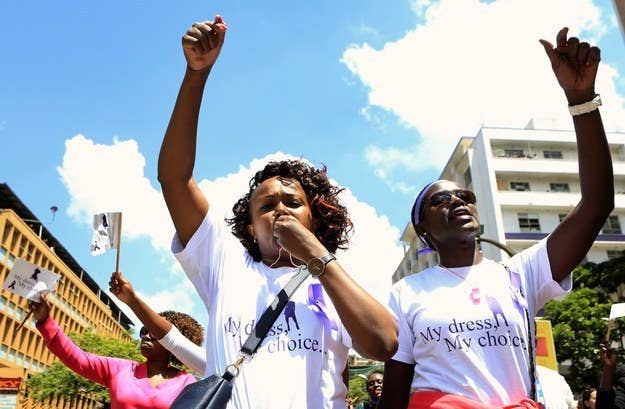 NAIROBI — When Caroline Chege stood as the lone female candidate in a local election last year, she didn't necessarily expect to win. But she didn't expect the men in her community to threaten to cut her legs, either.
"I was the only female of 10 aspirants, and I was abused," remembered Chege, who lives in Ngong [County]. "My local police officer used to call me on Monday mornings to see if I was still alive.
"I have witnessed so many other women abused in this nation, and it's only now coming out. That's why I am here," Chege told BuzzFeed News.
Chege drove more than an hour to join several hundred other women, most from Nairobi, marching today through downtown Nairobi in protest against an assault four days ago on a woman for being "indecently dressed."
The woman was attacked and stripped by a group of men at a busy bus station, in broad daylight, in the heart of the capital. The Star, a local newspaper, reported that the men "called the woman 'Jezebel' for 'tempting' them with her attire."
A video of the attack went viral — but so did calls for action, using the hashtag #Mydressmychoice.
One of those calls came from Dianna Okelloh, whose Facebook posts helped galvanize the group that organized today's protest.
"We felt making noise on social media was not enough. People are used to people making noise on social media and nothing happens," Okelloh said. "#Mydressmychoice is about women fighting oppression in any form. That's why we are here in freedom corner, journey for liberation starts today."
The Nairobi attack came only days after another woman was reportedly similarly assaulted and stripped in Mombasa, a major coastal hub and Kenya's second most populous city. It was the second such recent assault in Mombasa.
Earlier this year, at least 50 women were reportedly stripped on the streets in neighboring Uganda, in the capital of Kampala, after the country passed an anti-pornography law.
Kenya's deputy president, William Ruto, on Sunday called for the attackers to be arrested. Kenya's top prosecutor intends to pursue the matter, the national Office of Public Prosecutions said on its Twitter account on Friday.
At the rally's starting point, in Uhuru Park, Hannah Karanja said she thought the public assaults in Kenya are symptoms of a pervasive national problem.
"It is [about] how society sees women, from being beaten in the bedroom to being raped in a marriage to being stripped in the street," Karanja, 29, told BuzzFeed News. "We can't catch a break. It's in the house and on the street."
Nebila Abdulmelik agreed. She said she'd seen women in long skirts and even covered with abayas harassed for their alleged indecency. "Women's bodies at large are seen as the property of men to do with as they please," Abdulmelik said. The protest "is not just about the mini skirt. It's about wider issues … [and] how they play out in our daily lives."
For Njoki Chege, 29, the day was very much about last week's assault. 'I imagine they surprised her," Chege said of the victim. Like her, Chege took a bus to this morning's rally, but she was on guard.
"I'll be ready from now on," she said. "I was thinking of buying a pen knife. [Then] you try and touch me," she said.
If last week's assault led Chege to rethink how to protect herself, it left Thuku Njuguna wondering about why witnesses didn't protect the woman who was attacked.
"Patriarchy makes us feel like we are strong and should take care of women," said Njuguna, who works with the group Men for Gender Equality Now. "So why were there bystanders, men standing and just watching? How far would it have to go to make them react and respond?"
The attackers in last Friday's assault were reportedly touts, or conductors, of a local minibus line, though minibus companies have sought to distance themselves from the incident by insisting the attackers, whose identities are still unconfirmed, were not their employees.
But for men like Njuguna and women like Grace Kithaka, not having committed the crime is not enough. "If they have this thing at their stage, why didn't they stop it? Why didn't they stop it?" she asked.
Janet Lorika, on the other hand, hopes the protest makes others realize that what women wear does not excuse criminal behavior.
"The laws [are] accommodat[ing] that" perspective, she said. "If I go to the police to report [an assault], they should not say, 'Oh, and is that what you were wearing?'"
Grace Kithaka agreed. "Why would you ask what she's wearing? You can't justify what happens because of what someone is wearing."
It's a point many eagerly made on social media.
The demonstration attracted a crowd of male observers eager to disagree with Kithaka and insist that women must dress modestly.
"They can wear whatever they want, but only in their bathroom. Otherwise they will be raped every day," said 23-year-old Igantius Oraro.
But Isaac Mwangi, a 20-year-old passerby who stopped to inquire about what was happening, firmly disagreed. Last week's attackers "were trying to address morality in a criminal way," he said. "I don't approve. I think women should be left to dress how they want. Everyone has that right."
As the crowd moved away from onlookers in the park and proceed through downtown Nairobi's busy streets, however, things got nasty.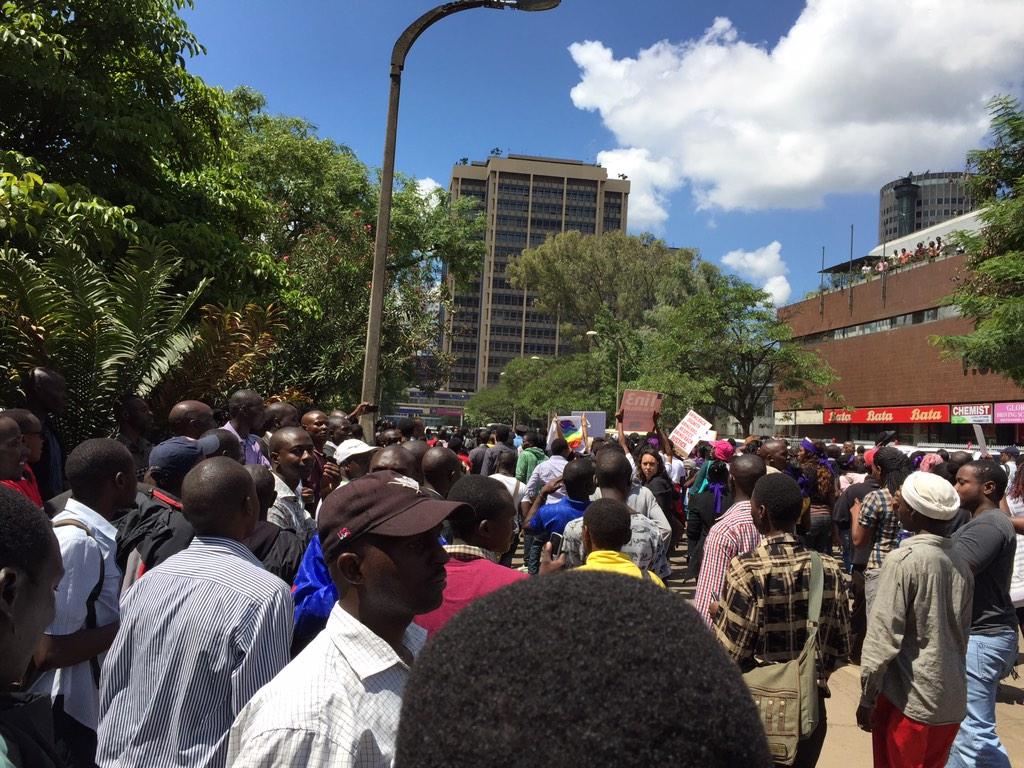 Misogyny was also on bright display on social media, some of it organized around a counter-hashtag begun by blogger Robert Alai.
Though there was this irony which no one, on social media or in the protest crowd, could quite counter.