Mistrust And Confusion Swirl Around Ebola Reports In One Liberian Neighborhood
A crowd in a slum in the capital of Liberia attacked an Ebola holding facility Saturday. As the government tries to save face, the residents try to separate truth from fiction.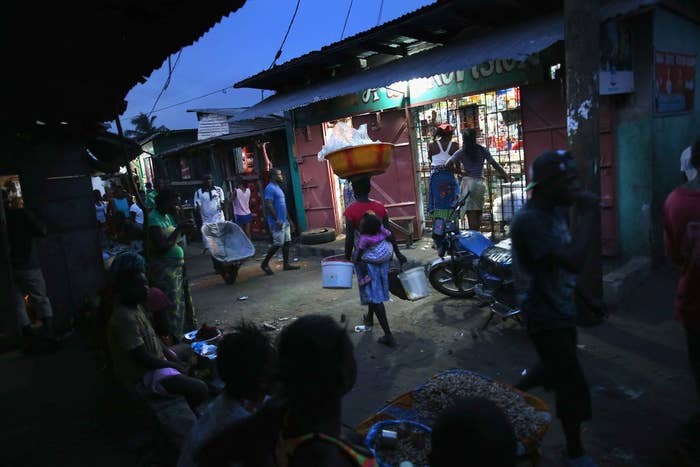 MONROVIA, Liberia — Forty men argue, spilling in a loose formation into the only road the runs through West Point, an informal neighborhood in the Liberian capital. They'd seem angry if you didn't know that arguing loudly and emphatically is typical here, a way of showing you know and care about what you are saying.
The trouble here was that no one seemed to agree on who knew what. Were there 30, 40, or 50 Ebola patients in that clinic people attacked just down the road on Saturday? Was it 50 patients, or 50 dead?
"There were 35, 35!" one man hollered.
"No, no, it isn't. There were 17. Just 17!" said another. (He was right.)
"So, then they are lying on us," a third concluded.
"They" is the Liberian government, which has been trying to manage the message of what happened here after a crowd of several hundred people descended on a newly-opened clinic, shouting "No Ebola in West Point!" The crowd — decrying the illness as a "hoax" — looted everything in the makeshift clinic, according to witnesses including the clinic director, and pushed the patients out.
The attack has galvanized international attention, captivated local talking heads, and added a layer of political game-playing to what was already a difficult public health problem.
In the immediate aftermath of the attack, the clinic's director, Sam Tarplah told BuzzFeed by phone that he didn't know where the patients had gone; in fact, he'd barely escaped himself, he said, as the group attacked his car.
Another source working on Ebola response in Liberia confirmed that the patients had left and that most are still missing.
But government officials have insisted that the patients were transferred to an unnamed Ebola treatment facility. At the time of the attack on Saturday, there were no open spaces in Liberia's lone, 33-bed Ebola isolation ward. (On Sunday, a new facility, managed by Doctors Without Borders, admitted its first patients — nine confirmed cases transferred from the aforementioned isolation ward and 3 suspected cases, brought from among those with likely symptoms who waited under trees hoping for a bed.)
The holding center in West Point was, briefly, a place where suspected patients could wait, without putting their families at risk, until a lab test could confirm their status. The idea was to transfer positive patients to treatment facilities, but sources say the holding center didn't stay open long enough to get anyone's results.
One thing most sources seem to agree on is that some of the patients were not from West Point — and that angered the residents there.
"We don't want people from outside," several men gathered near the clinic's entrance told BuzzFeed on Monday afternoon. Most of the 20-person crowd seemed convinced that there is no Ebola in West Point, even though public health officials have identified it as an emerging hot spot. If the clinic brings the virus to West Point, by bringing in outsiders who have it, then the clinic has to go, they said.
"The government made a mistake. The township made a mistake," said a man in his mid-thirties. He refused to give his name because he said he works with the local government and his critical views could threaten his work.
The mistake was bigger than simply opening the holding center to people from other neighborhoods. "How can you bring in a health team, and then you bring in the army?" he said, referring to troops who had been reportedly sighted on Saturday morning. "What's next?"
The assistant minister of health on Thursday told BuzzFeed that the government was planning to quarantine the area, an operation that would require intense security and preparatory surveillance.
Health workers and government officials commonly reference people's denial of Ebola as a major challenge in controlling the spread of the disease. But no one in the crowd BuzzFeed found on Monday could be called an outright denialist. Their grievances were more nuanced.
"People saying people dying here from Ebola. That's not true. They die from here, but we don't have as fact that people die of Ebola. No confirmation," said Thomas Johnson, 36, a day-laborer.
"I believe Ebola is in the country, but not in this community," said Joseph Weah, a 35-year-old fisherman. "I see Ebola patients, but on television. I never see them here."
Of course, that's a matter of perspective. On Thursday, four men at a shop in West Point told BuzzFeed that seven people had died nearby in the last two days, five of them in a single house.
And Francis Fayiah, 61, said his brother had died of Ebola on July 28. Fayiah knew it was Ebola because his brother had blood running unstoppably from the nose. He lived with his wife, who was 36; she died a week later, and friends and neighbors were too afraid of the virus to bring her food or water.
But mistrust about Ebola isn't about disease; it's about something much deeper. There's the civil war, of course, which is actually multiple, long bursts of violence and betrayal by various leaders, between 1989 and 2003.
Then there's the simple business of having, or not having, what you need. West Point has never gotten a fair shake of much of anything: Unemployment is high, and so is crime. People live six or seven to a single-room metal shack; there is no running water. There are no toilets. The list of grievances is long. And though Liberia is officially a poor country, it is rich in natural resources — rubber, timber, and oil bring big international business.
"One of the things about the government in our country is that it doesn't treat us right," said the unnamed local government worker. "The resources in this country are more than the people. What are Liberians getting from those resources? Nothing. We're getting nothing at all."
Solomon Johnson, a 42-year-old construction worker, said he wasn't against a holding center. But he wanted it to be a proper health facility — the West Point center was originally a school, repurposed because schools are now closed during Liberia's Ebola-driven state of emergency — and it he wanted it put somewhere else.
For good reason, he insisted. "From the sea to the river, we're in the center here," he said, referring to the peninsula where the neighborhood sits. "We're too congested. And that can spread the virus."
Everyone in the crowd agreed that the the major issue leading to Saturday's attack was miscommunication: They would have preferred to be prepared in advance.
"If you bring such a thing, people should be aware. You need to call people's attention,"
Weah said.
Those are words of advice also meant for another, possibly more precarious plan: Quarantine. Rumors had run through West Point all weekend that the government was going to quarantine the peninsula on Monday morning. (The Ministry of Health told BuzzFeed on Thursday it plans to quarantine "soon.") And that has some residents terrified — even more terrified than they are of Ebola.
"If that happens, people will die," Johnson said. "You stop them from going to the market? They won't find food to eat."
Jackson Weir III, 30, was resigned to the possibility of quarantine. "If you can close the hospitals and clinics, you have killed us already," he said. "What difference does it make if you lock the front door?"
Meanwhile, the police have shut their only post in West Point out of concern for officers' safety, a police spokesman announced on a popular Monrovia radio program today.
And government officials said on Monday afternoon radio programs that they were planning to re-open the holding center at its original site at 5:30 p.m., even though there were no police to secure the facility.
The hour came and went, and nothing happened.