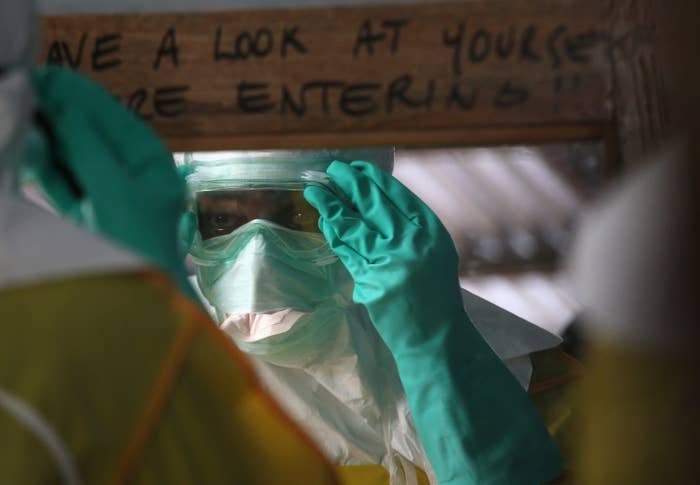 MONROVIA, Liberia — Every day, 25 volunteers sit next to landline phones at two long tables in a room in Liberia's capital. It feels like any ordinary co-working space, but this is the closest thing Ebola-stricken Liberia has to 911: The callers are reporting sick or dead family members or neighbors, and the phones are ringing off the hook.
There are few matters more urgent in Liberia today than a dead body — Ebola is at its most contagious just after it has killed its host — and the hotline is supposed to help health authorities find and bury the dead safely. The phones are getting answered, but the calls are not: Families ring the hotline often four or five times before anyone is dispatched to retrieve the dead.
"I get frustrated when I call Comcast and sit on hold. Imagine sitting there with a sick loved one you can't touch," said Joel Raffell, a Liberian who lived in the U.S. and who works at the call center.
There are many reasons for the delay. No bodies get touched by anyone until it's clear the dead person had Ebola. Until recently, only one lab could confirm Ebola as a cause of death, and it could take days for a family to get back results. (Now, with an additional lab in Monrovia, it should take only two.)
Still, there aren't enough people trained and equipped to safely pick up the bodies, and even if there were, there aren't enough cars to dispatch them. And even when there are cars, health ministry regulations require they fill their fuel tanks at a health ministry pump, meaning emergency vehicles spend their first several hours of every workday waiting in line for gas.
The only government forces with the resources to react, it seems, are the police. A body may wait for days before a lab worker or ambulance shows up, but when neighbors protest the wait by blocking traffic in the streets, police in riot gear respond within the hour.
Those are the challenges of a security-minded country with a rudimentary health system, overwhelmed by a disease it has never before seen. Now, the Ebola outbreak in West Africa is morphing from crisis to catastrophe. More than 4,600 people have been infected and more than 2,200 have died across Liberia, Guinea, and Sierra Leone. In Liberia alone, the disease has killed more than 1,200 people and likely infected more than 2,000, according to the country's health ministry's latest public count, released on Monday.
The worst part of it is: This is a catastrophe Liberia saw coming. Earlier this summer, when hundreds of foreign medical personnel were working to battle Ebola in Sierra Leone, Monrovia watched its caseload swell. Tolbert Nyenswah, Liberia's assistant health minister, warned in late July that the capital didn't have enough beds in its only Ebola treatment ward to admit all the patients who had come in with symptoms.
That wasn't just inconvenient; it was a public health disaster. Patients aren't contagious until they show symptoms, but once they do, they easily infect anyone who comes into contact with their bodily fluids. With no beds at the hospital, the sick returned home, and families without knowledge of the disease or its transmission cleaned up from the havoc it wreaked on their dying loved ones — and caught the disease themselves.
There weren't more beds because there weren't more resources — financial, logistical or human. "After the Philippine typhoon, there were 150 foreign medical teams" offering care, Dr. Ian Norton, who coordinates foreign medical teams for the World Health Organization (WHO) in Liberia, told BuzzFeed News by telephone from Monrovia on Tuesday. "We've seen four here."
Now, Ebola is an epidemic of unprecedented proportions — but it didn't have to get this bad. "We shouldn't be where we are right now," Dr. Moses Massaquoi, the director of case management for Liberia's health ministry, told BuzzFeed News by telephone from Monrovia Tuesday.
Ebola may be scary, and parts of its makeup may still be shrouded in mystery, but preventing its transmission is — or can be — fairly easy. "Everyone [in global public health] knows what to do," Massaquoi said.
In Liberia, on the other hand, the disease is new, and it showed up in crumbling clinics with underpaid staff who reasonably thought its early symptoms — headache, fever, "runny stomach" — suggested malaria or typhoid.
Liberia's poor health infrastructure is no secret. Western donors have long known its doctors are too few and its clinics too inadequate to meet even the basic health needs of the country, let alone to respond to so infectious a virus. In 2009, foreign donors covered 65% of Liberia's total health expenditures, according to the Center for Global Development. Since 2011, the U.S. government has spent or committed more than $81 million to Liberia's health sector (not including recent Ebola funding), according to a U.S. government aid database.
The World Health Organization has signed two multiyear collaboration strategies with Liberia since 2005, aiming to improve every part the health system. In its three-year plan for 2008–2011, WHO identified emergency preparedness and response as the first of its four strategic priorities for its work there.
So when one of the world's deadliest diseases hit a country that had never seen it before, with a health infrastructure that major global health players knew was weak, it's no wonder health officials like Massaquoi and Nyenswah expected a more urgent response.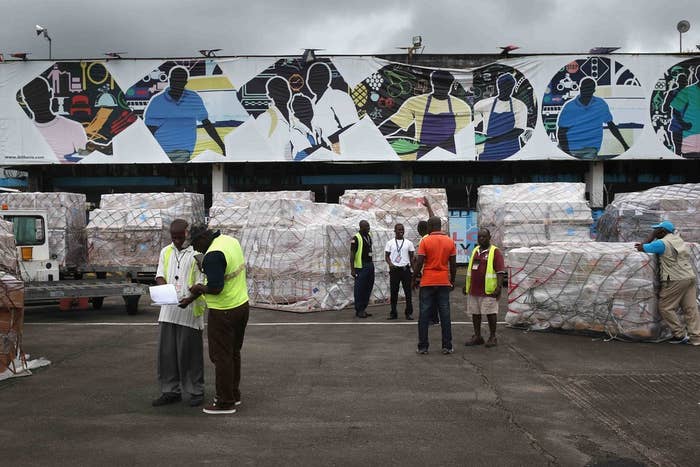 In past Ebola outbreaks, WHO has taken the lead. But as the New York Times recently reported, WHO's budget has been gutted in recent years, and the agency that had once led in global outbreaks closed its epidemic and pandemic response department.
But the global health community's expectations of WHO didn't change even as its budgets were slashed. "It feels like, we thought they were the fire department, and then a fire happened, and they're not the fire department," said one American aid worker who recently returned from a rotation in Liberia. "It feels pitiful to me. It feels pitiful."
In early August, five months after the outbreak was first confirmed in Guinea, WHO acknowledged to BuzzFeed News that the disease "wasn't taken seriously" by the organization or its partners at the beginning. That same week, global promises began to stack up. The U.S. Agency for International Development announced $5 million more to an Ebola relief effort, and the World Bank pledged $200 million to the three countries or agencies helping them. USAID also sent two dozen disaster response experts and funded 30 more technical experts for the region, from WHO and UNICEF.
But pledges have moved more slowly than the outbreak, and the personnel response has been too paltry to make even a dent. Only a small fraction of World Bank money — just $6 million each — has been released to the three countries so far. Though agencies like UNICEF have spent some of the Bank's promised funds in advance, the Bank's board won't meet to approve and release the promised $105 million emergency response package until next Tuesday, six weeks after the announcement.
"There's been lots of money pledged and lots of money in the pipeline that has grown over time," from many donors, said Josh Michaud, an associate director with the Global Health Policy team of the Kaiser Family Foundation, a nonprofit organization focused on health issues. "But much of that has not reached its final destination, for various reasons."
Meanwhile, the failures of national and international response snowballed. People in Liberia have been dying of treatable conditions, including pregnancy, because they can't find health clinics. For weeks, Ebola-infected patients sat outside Monrovia's only treatment center, waiting inside cars or under trees for a bed to open up. Ten days after Doctors Without Borders opened Monrovia's biggest Ebola treatment center, quadrupling the capital's treatment capacity, it had too many patients to maintain its standard of care, and it had to suspend IV fluids — probably the single most important part of treating a disease with such frequent vomiting and diarrhea.
Six weeks after Liberia's assistant health minister raised the alarm, there still aren't enough beds in Liberia. But that isn't stopping sick people afraid of dying from trying to find care. "People [with Ebola] are going to clinics and hospitals in the name of typhoid, high blood pressure, diabetes," a source close to the Liberian health ministry said by telephone from Monrovia on Wednesday.
That has turned clinics and hospitals into drivers of new infections. It's also put other patients and especially health workers at risk; many health providers lack basic latex gloves, to say nothing of full-body personal protective equipment considered standard for interacting with Ebola-infected patients. In just two weeks, the number of health workers infected with Ebola has risen 20%.
The delay in game-changing global assistance has frustrated Liberians. A coalition of 45 civil society organizations yesterday released a statement pleading for more — and more rapid — help, with an emphasis on medical personnel who know how to isolate and care for Ebola patients. The human resource gap in Liberia is mind-boggling: A WHO planning document estimates that every 100-bed treatment unit needs 200 staff, and Monrovia alone is in need of 1,000 beds.
"What we need is action," said Sophie Delaunay, the executive director of MSF-USA, "and if we all acknowledge that the leadership is lacking, then we need to find other solutions."
Hopefully, some things are about to change. Norton, of WHO, said Tuesday that the conversation between the international community and Liberia is finally giving way to faster action. "There's been a change from high-level strategy discussion to how do you make things happen right here in the mud of Liberia," Norton said.
On Aug. 28, WHO released a new "road map" for stopping the outbreak within nine months; it recently replaced its top officials in both Liberia and Sierra Leone. Doctors Without Borders (which uses its French acronym, MSF), famous for its fervent devotion to humanitarian neutrality, last week called for Western military assistance, after releasing several statements the week prior urging less talk and more action. (MSF has set up and run most of the Ebola treatment units in Sierra Leone, Guinea and Liberia.) On Monday, the U.S. military pledged a 25-bed, $22 million field hospital for Liberia — though officials later told BuzzFeed it would only be used to treat for foreign health workers. On Wednesday, the Gates Foundation announced $50 million in new funding for United Nations and other international organizations involved in Ebola response.
"We're certainly not ahead of the epidemiological curve, but being away for a week and coming back and looking at the drive on the ground, it's moved up a gear or two," he said.
Norton is helping to oversee five new treatment centers that will have 500 new beds between them; the first, and smallest, should open in 10 days.
But the disease has still moved faster than them all. WHO said Tuesday that it expects new cases in Liberia to skyrocket in coming weeks. New cases are "increasing exponentially," as the disease has "completely outstripped the government's and partners' capacity to respond," the agency said in a statement. Health officials think the outbreak in all three countries will last another six months, and WHO estimates Ebola will ultimately infect 20,000 or more people.
Some Liberians, meanwhile, have tried to compensate for the lethargy in the national and international response by taking matters into their own hands. Jonathan Enders, who in mid-August had volunteered to feed lab workers working long hours to confirm Ebola cases, and his brother Samuel trained 200 of Jonathan's neighbors to spread awareness about the virus and its prevention in Soul Clinic, an impoverished neighborhood on the outskirts of Monrovia.
And Samuel Enders organized volunteers to tie balloons to the fence at the ELWA health complex, which houses both the the MSF treatment center and the Liberian government's largest treatment center. Three weeks ago, he converted his private school's only school bus into an ambulance and donated it to the government unit; he says it's that center's only ambulance.
"People need to have that hope," Samuel said, "that there is something they can do themselves."