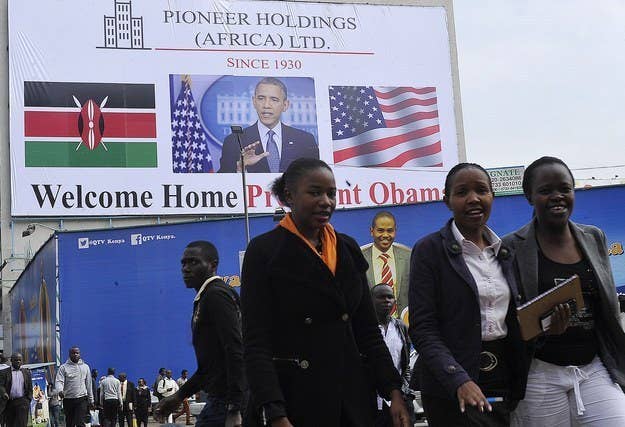 NAIROBI — Women's rights groups in Kenya are calling on President Barack Obama to loosen his administration's interpretation of an anti-abortion rule, on the eve of his first presidential visit to his father's native country.
"We are counting on you to take action to publicly correct the restrictive implementation of the Helms Amendment," the letter sent to the Obama read, asking him to "lift this barrier and promote a favorable environment for actualizing Kenyan women's and girls' legal right to abortion and reproductive health care as is protected in our Constitution."
The letter, sent on July 16, is signed by 15 national and local women's rights organizations. It was shared with BuzzFeed News by a signatory.
Separately, 71 U.S. and international nongovernmental organizations wrote a public letter to Obama asking him to meet with Kenyan health organizations and the women they serve and to widen his administration's interpretation of the Helms Amendment, a 1973 regulation that prohibits federal funding in foreign countries from paying for an abortion "as a method of family planning" or from encouraging women to seek an abortion.
Critics call the current interpretation overly strict and say it prohibits basic and necessary care for women with life-threatening pregnancies, or who are survivors of rape or incest.
Kenya's 2010 constitution allows for abortion in limited circumstances, but the procedure has been virtually impossible to access, even when legal, since the Ministry of Health withdrew medical guidelines for the procedure in late 2013.
Women's rights advocates suspect that the suspension, which they characterize as a violation of the Kenyan constitution, was due to guidance issued to Kenyan health organizations by the U.S. Agency for International Development.
"We have informally been told that the withdrawal of the standard and guidelines was a result of communication between USAID and the ministry of health," said Evelyne Opondo, regional director for Africa at the Center for Reproductive Rights, which has an office in Nairobi.
BuzzFeed News obtained, from multiple sources, an email from USAID's senior health manager in Kenya, written to more than 50 USAID grantees. The email, which was sent on Dec. 2, 2013, effectively barred them from attending a Ministry of Health meeting, where the country's 2012 medical guidelines for legal abortion were to be discussed. The email also barred them from cooperating with ministry's reproductive health section, which also oversees family planning, maternal health, and women's health.
"USAID Kenya advises all partners that this meeting falls under the restricted activities and therefore we'd kindly request our partners not to attend this meeting," the email reads. "Furthermore if any implementing partner has been requested to provide financial or logistical support to the RH [Reproductive Health] Unit please decline and use the opportunity to share the USG [U.S. Government] compliance requirements with the relevant MOH [Ministry of Health] officers."
The day after the email was sent, the Health Ministry's director of medical services withdrew their 2012 guidance, "effective immediately," according to an official memo obtained by BuzzFeed News. In February 2014, the director prohibited health providers from receiving any training on safe abortion procedures.
USAID declined to comment on the email and reissued a statement from last month asserting its concern for women and girls.
"As long as USAID is very restrictively interpreting the Helms Amendment, it affects the work on abortion — not withstanding [that] our constitution has provided for legal grounds where abortion is allowed," Opondo said. "The manner in which USAID interprets its policy does not take into consideration these circumstances on the ground."
Though the Kenyan Health Ministry promised services "within the law" even as it revoked abortion guidelines, women's health organizations say it's been impossible to access safe and legal abortion services since its withdrawal because providers don't have clear guidance on whether there are any circumstances under which abortion is legal. Some providers have also reported harassment by police, including bribes demanded for alleged unauthorized abortions.
A new version of the guidelines is said to be near — but not yet — final. The delay has frustrated many activists.
"Up to now nobody has signed [the new guidelines], even though they're almost complete," said Catherine Nyambura, deputy director of Dandelion Kenya, a grassroots feminist organization in the Rift Valley. "It becomes a ball game, and while the ball game is going on, somebody's life is being lost."
A Kenyan Ministry of Health study, conducted in 2012 and published in 2013, found that nearly half a million Kenyan women induce abortions annually, and estimated that nearly 125,000 women died from related complications in 2012 — a rate almost nine times higher than the World Health Organization's estimate of average abortion-related deaths in developing countries.
The groups' letter to Obama also argues that reproductive health is an integral part of women's economic empowerment — a key focus of Obama's visit. Obama is attending a Global Economic Summit in Nairobi on Saturday, and U.S. economic engagement with Africa is expected to be a key focus of his meetings and his public remarks during his five-day regional trip, which will conclude in Ethiopia on Tuesday.
"Women are dying [and] women are getting injured from unsafe abortions. ... The country is spending so much money on a very preventable illness, if you may call it that," Nyambura said. "You can't purport to invest in women if they are not healthy."