Nigeria's Incumbent Concedes The Presidency After Close Election
President Goodluck Jonathan reportedly called challenger Muhammadu Buarhi to concede late Tuesday afternoon. BuzzFeed News' Jina Moore reports from Nigeria.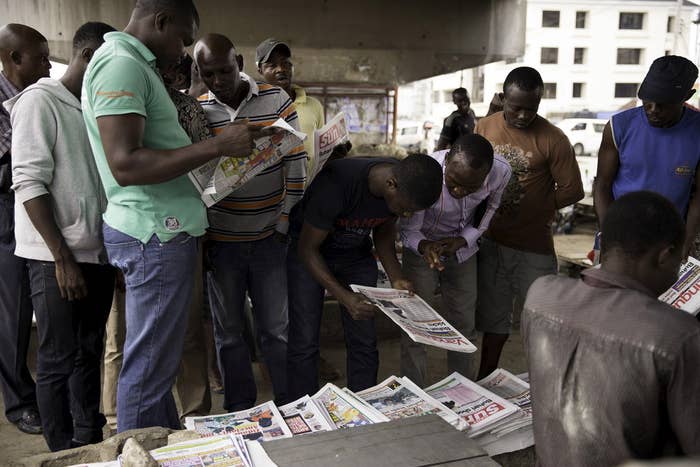 ABUJA, Nigeria — Nigeria's President Goodluck Jonathan has conceded a tight race to his challenger, marking the first time since independence that Nigeria has seen an incumbent defeated in a democratic poll.
A source close to Jonathan said on Twitter that the president had called Gen. Muhammadu Buhari to congratulate him and that he would address the nation soon.
Nigerian newspaper The Daily Trust reported that Jonathan conceded on the call, which happened a 5:15 p.m local time. Nigerian election officials had not yet finished counting all the votes and have not formally declared a winner.
The prospect of a Jonathan loss became a real possibility last night. When vote counting suspended around 11 p.m., Buhari had pulled ahead of the president by about 2 million votes.
Today's concession puts Jonathan, whose administration had been synonymous with corruption and whose handling of Boko Haram had been called inept by many, in the history books for something irrevocable and positive.
"He is the first leader in our country to have done this," said Dr. Chidi Odinkalu, chair of Nigeria's National Human Rights Commission. "It's not just a moment for Nigeria. It's big for Africa, and it's big for the black race. If Nigeria can do it, you can. This is an awesome moment for me as a Nigerian, for me as an African, for me as a black person. I feel close to tears."
The question on everyone's lips Monday, before Jonathan's reported concession: Will President Goodluck Jonathan concede power and go peacefully? Or will he raise legal challenges to the vote, prolonging a tense, high-stakes waiting game?
"Hell no," Jude Udo Ilo, country director of the Open Society Initiative for West Africa, said. "He's not going to bother with legal challenges." If the final tally says he loses, Ilo said, "he doesn't have a choice. He's out."
James Schneider, who has been crunching electoral numbers as they come out for New African Magazine, wrote last night that there's virtually no way Jonathan can win. If Schneider's calculations pan out, as it seems they may have, it would be a twist ending in what has turned out to be a surprisingly close election.
Jonathan has already been lobbied for a peaceful transfer of power, BuzzFeed News has learned, via a phone call last week from U.S. Secretary of State John Kerry and a pre-election visit from former South African President Thabo Mbeki. Former Ghanian President John Kofuor also visited Jonathan yesterday.
"Once Jonathan concedes defeat, he's gonna go," said a legal advocate and civil society observer who requested anonymity because commenting on the outcome before it's made official is sensitive. "He wouldn't have any support from abroad."
He also wouldn't have any support at home. The opposition All People's Congress (APC) now controls the legislative branch, with a more than two-thirds majority, observers here say, putting the People's Democratic Party (PDP), which has ruled Nigeria since 1999, in the minority.
"With less than a third of the National Assembly," the advocate said, "you're not going to be able to get anything done ... He'd be impeached [by an APC-led parliament when it takes office] on May 30. He wouldn't even be able to settle into work."
Tunji Lardner, the executive director of the West Africa NGO Network and a member of a civil society observation coalition in Abuja, thinks a challenge would be inevitable.
"That is a long-standing Nigerian tradition — even the winner challenges the results," he joked. "I would be surprised if he doesn't challenge it. But [it would be a case of] 'nothing to see here'."
If Buhari wins, Lardner also thinks there's likely to be violence — not necessarily large-scale, but he thinks it unlikely power would transition completely peacefully.
"Some argue we are opening another chapter, and others would argue we are opening an entirely new book" with a likely transfer of power, he said. "We're watching the birth of new Nigerian citizens. But nobody wants to see how babies are made," he said, referring to the inevitability of skirmishes. "Those are also traditional."
Jonathan's PDP Party has already tried to disrupt the process. The second day of vote-counting began this morning with Godsday Orubebe, once appointed by Jonathan as the minister of the oil-rich Delta Region, demanding that Attahiru Jega, who chairs the Independent National Elections Commission, halt the body's work.
Orubebe had issued a premature message of congratulations to the president the night before his interruption.
Jega simply calmed the crowd, explained the procedures, admonished Orubebe, and went back to work.
The interruption was "very unexpected," Ilo said, "but this tells you they [the PDP] have lost every option."
Even if Jonathan officially loses, no one is certain whether he will concede today — or even what that might look like.
"I don't know," Ilo said. "We've never had a concession."
Whatever it looks like, Lardner thinks it would resonate beyond Nigeria, elevating expectations of democracy across Africa, where nearly a dozen other countries will hold elections this year.
"The very idea of the idea that citizens can change their government is powerful not just for Nigeria, but it's a bellwether for the rest of the continent," he said, "that it is indeed possible to challenge the power of incumbency."
A concession speech attributed to the Jonathan was published late Tuesday.
After hours of verifying the results, Nigeria's election commission released the official vote counts.
Commission chairman Attahiru Jega announced early Wednesday that Buhari received 15,424,921 votes to Jonathan's 12,853,162, the Associated Press reported.