In Afghanistan, Bill Protecting Women To Skip Parliament, Go Directly To Karzai
The ministry revised an article in the criminal procedure code that critics say would have made it impossible to prosecute domestic violence cases.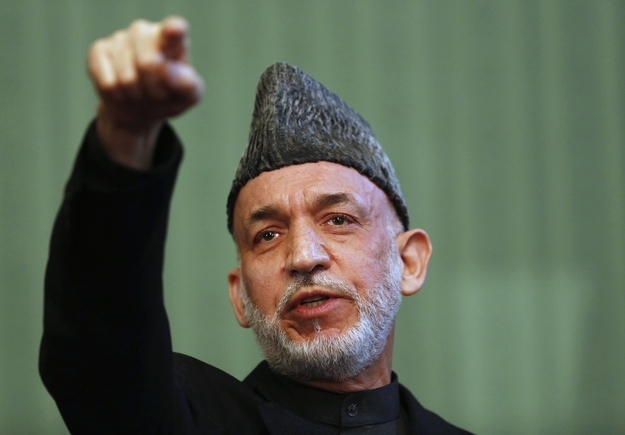 Afghanistan's justice ministry is expected to send a revision of a controversial bill directly to President Hamid Karzai as early as Saturday, bypassing a parliament whose original text would have made it virtually impossible to prosecute domestic violence.
"The unofficial information we have is that it might not wait until parliament," said Hasina Safi, director of the Afghan Women's Network. "It might be signed by the president through a decree, and it might start enacting from next week."
Local and international women's rights groups harshly criticized a 128-page criminal code of procedure passed by parliament last month. The code included an article rights groups say would have undermined prosecutions of domestic violence by prohibiting the testimony of a defendant's relatives, including spouses, parents, and two generations' worth of ancestors or descendants. "You can imagine a situation where everyone in the entire village that you live in fits under this definition," said Heather Barr, the country researcher for Human Rights Watch. Rights groups had urged Karzai not to sign it into law.
Manizha Naderi, the executive director of Women for Afghan Women, said the bill also prohibited testimony from non-family members who could witness effects of abuse. "Doctors wouldn't be allowed to testify. Lawyers wouldn't be allowed to testify. So couldn't, doctors who saw the injuries couldn't, and the women of course couldn't testify either," she said. "It was crazy."
Women inside Afghanistan feared Karzai's decision not to sign the bill might only have been a partial victory, easily reversed if parliament passed a revision to the criminal code after Karzai's term ends; Afghanistan will hold presidential elections on April 5.
Civil society leaders with knowledge of a meeting at the justice ministry on Wednesday said the justice minister may bypass parliament entirely and send the bill again directly to Karzai.
"That would be great," Safi said. Her organization sent three representatives to the meeting to help draft new language for the controversial article.
Observers expect Karzai to sign the second revision. That would effectively make the bill and its revised article a working law, even though changing legislative language should require another parliamentary vote, said civil society activist and legal scholar Zia Mogballeh.
"Here in Afghanistan, the government is not really careful about the constitution," he said.
Karzai's refusal to sign the bill surprised some Afghan activists, who said the president hasn't been particularly friendly to women's rights.
"Honestly speaking it's really, really difficult for us to understand President Karzai and his stand on different issues," said Samira Hamidi, program and advocacy director of the Empowerment Center for Women, which has programs in half the country's 34 provinces.
Last summer, parliament threatened to effectively undo the country's Elimination of the Violence Against Women law, a 2009 presidential decree prohibiting 22 anti-women practices, including rape, child and forced marriage, and discrimination in education or employment on the basis of gender.
As parliamentary debate suggested the body might revoke the law, women lobbied the president for intervention. "He clearly told women, 'I cannot help. It's the parliament,'" Hamidi said.
Karzai's refusal to sign the criminal code comes after local and international rights groups mounted pressure, including online petitions. The absence of his support for the bill has been taken by some international organizations as evidence of continuing susceptibly to outside pressure, even as he bucks American wishes by refusing to sign a bilateral agreement about troop withdrawal and allegedly holds consultations with the Taliban.
But Naderi suggests that his refusal to sign may simply be further proof of his erratic state of mind at the end of his term.
"Karzai is not very predictable at the moment. He's doing things he wouldn't have done a few years ago," she said.