A Miracle In Liberia's Biggest Maternity Ward, Despite Ebola Crisis
The facility shut its doors after its top doctor died, but now it's bringing babies into the world by the dozen.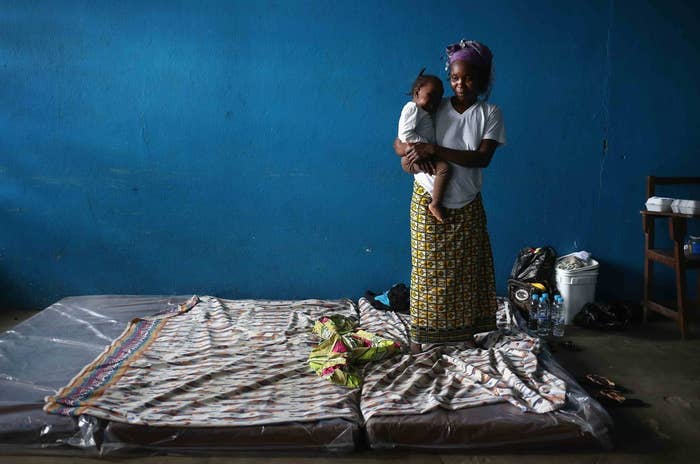 MONROVIA, Liberia — Dr. Wvannie Scott-MacDonald wanted to talk about some good news. She oversees the John F. Kennedy Memorial Hospital in Monrovia, Liberia's capital, and it had become one of the grimmest places in the country — no small distinction in an area wracked by one of the deadliest disease on earth.
Roughly a month ago, the hospital's lead doctor died of Ebola, a rare but highly fatal virus currently burning through three West African countries. No one had known the contagious patient he was treating even had the disease, which spreads through contact with the bodily fluids of an infected person, and the doctor's death caught the staff by surprise.
So the JFK hospital shut its doors, and just about every other health facility in the country did the same. It was an extreme reaction to an extreme disease: Once Ebola's symptoms announce themselves, many people die within days. Until just a week ago, Liberia's capital had only 33 beds for confirmed patients. In Liberia's health facilities, everything was contaminated; no one was prepared. Most doctors and nurses rarely used rubber gloves, and hardly anyone had personal protective equipment (PPE), the head-to-toe "space suit" that's considered essential when treating Ebola-infected patients.
Across the country, there's too little equipment in too few health facilities. Supplies move slowly; Ebola, on the other hand, is infamously fast, and health care workers are especially exposed. In Liberia, they make up 10% of the dead so far, according to the latest numbers from Liberia's ministry of health.
So it was some small miracle when MacDonald reopened the maternity wing in her hospital two weeks ago. But it isn't business as usual. There's not a nurse in the ward who isn't wearing a hospital gown and a long apron. Most cover their hair with what looks like a surgeon's version of a shower cap; everyone wears latex gloves, even the few who look like they're just doing paperwork.
In the old says, all those layers would be alienating. "Now it's a different type of care we give," she said. "We want to care, but we have got to care in a different way... [by] caring for ourselves first."
That also means triaging patients according to the relative risk they present — not the medical risk of their condition, but the infection risk of where they're coming from. MacDonald and her team are fairly confident in the health of women who've been to JFK for checkups throughout their pregnancy. But strangers scare them.
"Anyone we don't know? Red flag," MacDonald said. "Anyone from a hot spot? Red flag."
"Hot spots" are parts of Monrovia where Ebola cases are spiking. "Red flags" get attended by people in full PPE — masks, goggles, double gloves and all.
Last week, a woman no one in JFK had seen before could be found writhing on a gurney in the corner of an examination room. She was from a "hot spot" but needed a Caesarean section.
"That's 12 people who are going to have to be in PPE," MacDonald said. "Two surgeons. Two midwives. The anesthesiologist. The people who clean the bedding. The people who clean the equipment. The people who mop up the room after..."
PPE is cumbersome to get on and time-consuming to remove, and the suit isn't reusable. They're not cheap, either.
The World Health Organization, the United States, and China, among other donors, have sent PPE to the country. But the supplies are creeping along, and right now, MacDonald is outfitting her staff with personal donations from old friends who ship gear from the U.S. by DHL.
"It's the fastest way to get it in the nurses' hands," she said. But it's not foolproof, either: Last week, two boxes got stuck in customs because of confusion over whether MacDonald should would have to personally pay an import tax on the goods.
Still, MacDonald and her staff are more than making do. On a recent Monday morning, nearly 40 women waited for regular prenatal checkups. In just the first week the ward reopened, 15 babies were born here, and gloved-and-garbed nurses seemed lighthearted, relieved to be back at work.
That didn't surprise MacDonald.
"Newborn babies give you such joy," she said. "You see life again."