Thousands of Greeks gathered outside the country's parliament on Monday night to campaign for a No vote in Sunday's referendum on whether to accept austerity measures demanded by international organizations.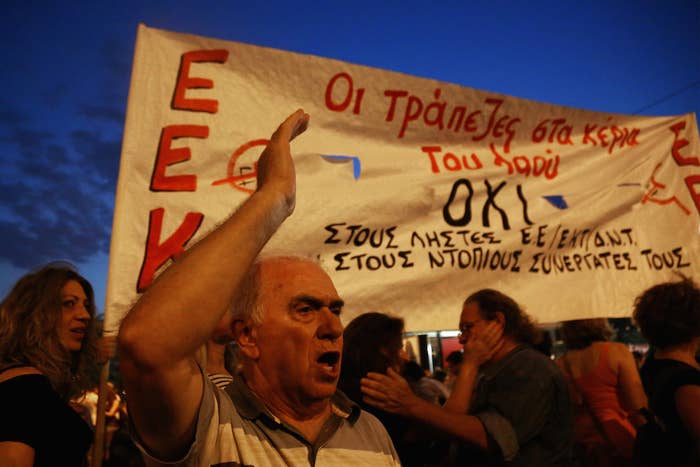 Following months of negotiations between the left-wing Syriza-led government and international institutions, Prime Minister Alexis Tsipras has called an all-or-nothing referendum for this Sunday on whether to accept the imposition of further austerity measures in return for access to much-needed funding that would ensure the country remains solvent.
Tsipras is campaigning for a No vote and a rejection of the proposals, a move other European countries warn could spell the end of Greece's European Union membership. But most people at Monday's demonstration said they were driven to reject the deal out of desperation, even though many insisted they would hate to leave the EU or stop using the euro as their currency.
Protesters, mainly drawn from the far-left support base of the ruling Syriza party, portrayed the EU as a faceless bureaucratic institution making ordinary Greeks suffer.
"We are not against the euro and the eurozone," said Vassilis Paschalis, 38, a museum curator who was holding a flag suggesting that the EU is secretly Darth Vader's evil empire. "We are against austerity and what we've been living through for five years now. We really are very afraid but we have nothing to lose: We have lost jobs, homes, suicides are up. We're punished for wanting to live."
While many No supporters gave different reasons for rejecting the deal, all cited their exasperation with austerity measures.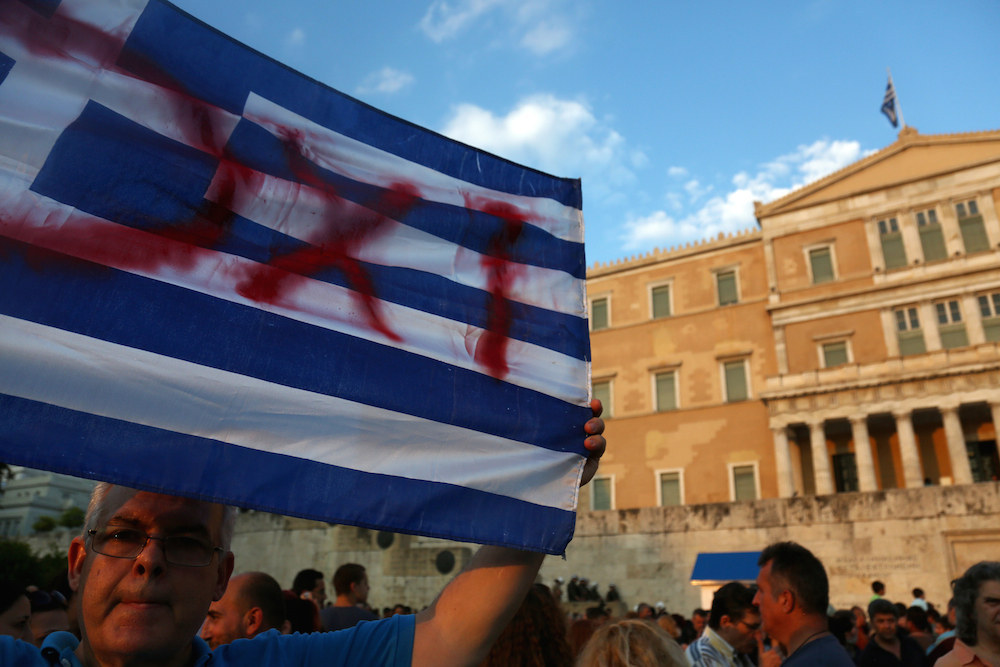 Some people were less nuanced in their views. Melina Kotsaki, a 71-year old former air hostess wandering around with a No sign on her neck, put it slightly more bluntly, making comparisons to the Nazi era.
Campaigners daubed "Oxi" — Greek for "No" — on banners.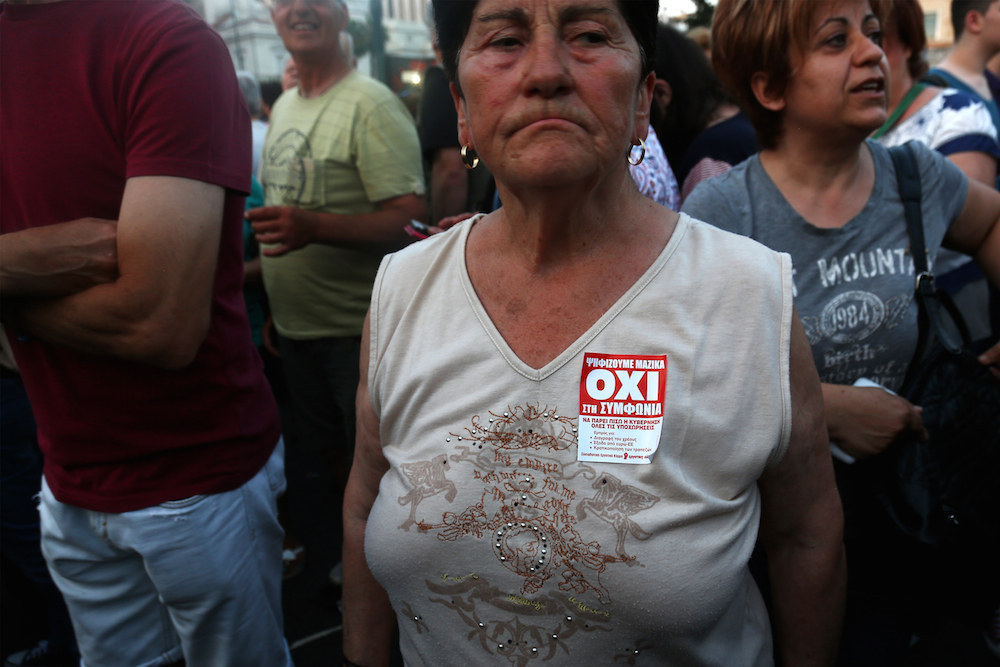 The effect of the referendum is already hitting ordinary Greeks. ATMs were out of cash across Athens on Monday after the government imposed controls in an attempt to stop Greeks from taking money out of the country.
Long queues formed as the maximum daily cash withdrawal was limited to 60 euros ($67) per person per day. Many struggled to obtain even that amount due to a shortage of currency.
All banks are set to remain closed this week, but the cash-strapped government has declared all public transport in Athens now free to use.
Despite the plans for bank closures, Nadia Valavani, Greece's deputy finance minister, was hugged by tearful pensioners who wanted to take selfies with her as she made her way through the crowd.
Valavani told BuzzFeed News that if her country rejected the proposed EU deal "amid very difficult circumstances," it would be an act of bravery on the part of the Greek people.
"There is something happening for the first time in the EU and perhaps the world," she said. "If we manage to be victorious in the referendum, it will be with the banks closed; it will show the people can stand whatever it takes in order to choose a different option to the future Europe has set up for us."
Other members of the government at the protest insisted they could reject austerity but remain in the EU.
Minister George Katrougalos, a former legal academic, dismissed the question when asked whether a No vote would result in Greece's instant ejection from the EU.
"No, we want to remain in Europe," Katrougalos replied.
But surely you'll have to leave the eurozone if people vote No?
"This is not the question of the referendum," he said, and then turned away.