Kasich Takes Second In New Hampshire, But Now He Has To Keep His Campaign Alive
After holding more than 100 town hall-style events in New Hampshire, John Kasich took a hard-fought second place in the state's Republican primary. But even supporters at his victory party said his campaign faces huge organizational hurdles ahead.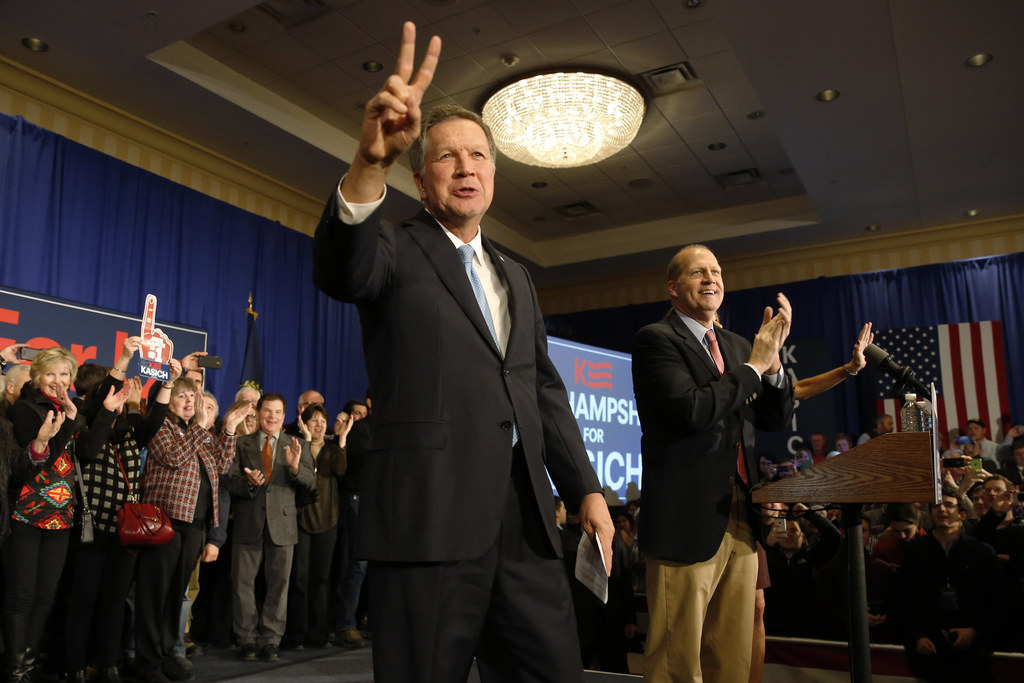 CONCORD, N.H. – John Kasich took second place behind Donald Trump in the New Hampshire Republican primary – but even his own supporters admitted they will struggle to carry his campaign's success on to other states after focusing all their efforts on the first primary.
The Ohio governor held his party at the Courtyard Marriot in Concord where staff were overwhelmed with the sudden surge in media interest in the governor. Kasich was introduced to the stage at least six separate times but his supporters in the audience seemed uncomfortable chanting "Kasich! Kasich!" for prolonged periods of time. Instead they kept trailing off to silence.
Eventually some took to half-heartedly shouting "buy a seatbelt" in reference to Kasich's pledge to get so much done in his 100 days as president that voters will be left breathless. But he's got a long way to go. The main effect of his relative success on Tuesday night was to frustrate efforts to pick a single anti-Trump candidate from the Republican field.
"The wonderful people of New Hampshire have changed me," Kasich said when he eventually made the stage after waiting almost an hour for Bernie Sanders and Donald Trump to finish their speeches so he could maximise TV coverage for his relative triumph. "Tonight we head to South Carolina and then we move all across this country."
Kasich finished ahead of substantially better-funded Republican rivals by fighting a campaign in New Hampshire which saw him hold more than 100 town hall-style events across the state. Kasich said as a result of his performance he would now "go slower" in his political campaigning and take even greater time to listen to the public in the next primaries.
"There's magic in the air with this campaign," Kasich said. "We see it as an opportunity to be involved in something that's bigger than our own lives. To reshine America, to leave no one behind. Something big happened tonight. We have had tens and tens of millions of dollars spent against us with negative advertising. We never went negative because we have more good to sell. Tonight the light overcame the darkness."
"We're all made to change the world," he continued. "We're all made to be a part of the healing of this world. If we would just slow down and heal the divisions within our own families, and listen to the person next door. Just slow down. Look them in the eye – give them a hug. It doesn't take government, it takes our hearts to change America."
However, even Kasich's most ardent supporters in the crowd admitted he now has an enormous challenge to take this success into the next primary states of South Carolina and Nevada.

"Governor Kasich does not have the same kind of organizational infrastructure in South Carolina as here, and he has a very short period of time to put one together," said Kasich activist Stan Miller. "[New Hampshire] is also an audience that's receptive. It's going to be a while before there's another primary that's to his advantage."
Miller, 65, is a lawyer who from Arkansas who took time off work to campaign for Kasich in New Hampshire. He is pinning his hopes on Kasich being the anti-Trump candidate: "Trump has 33% so someone else has got 66%. A bunch of guys have got to quit – as long as they let Trump win he has the momentum. But if Cruz comes out on top I'm moving to the UK."
Instead Kasich activists were putting their hopes in other candidates dropping out: "He's spent a lot of time in New Hampshire and it's a small state," said stay-at-home mum Jeanette Ward, 31. "Hopefully the other candidates are dropping out.
"He's a gentleman," added Nancy Burgess, 65, who was personally convinced by Kasich to vote for him. "I met him on the street and we had a chance to talk to him – just me, my husband, and his aide. It was as if he was our neighbour next door." But she said he might struggle to carry the momentum into the next primaries: "I think it'll be hard and he needs our support."