Greeks Bitterly Divided On Referendum As Voters Decide Their Country's Future
Greeks headed to the polls Sunday to vote on the terms of a potential bailout deal that may determine if they stay in the eurozone. But the overwhelming feeling on both sides of the vote is one of exhaustion.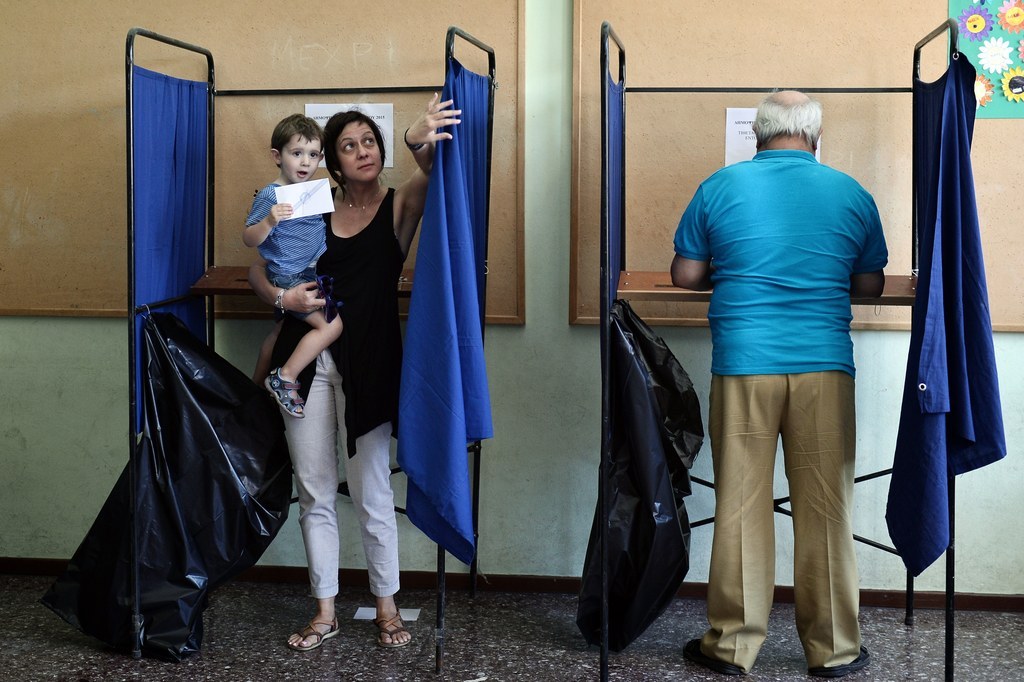 "We want to make a new start for our country," waiter Stavros Lialios explained Sunday after casting a No vote in Greece's referendum. "The problem is with our economy, not the coin we are using; we own the coin, nobody can take it."
As millions of Greeks headed to the polls to vote on a potential bailout deal called by the country's hard-left Syriza government, the result – due mid-evening Greek time – still seemed too close to call.
Prime Minister Alexis Tsipras is urging his people to vote No and reject new austerity terms proposed by the EU and other international organisations. Pro-EU Yes voters say that would result in Greece making a messy exit from the Eurozone, debt defaults, and economic ruin; the government insists it won't leave the Eurozone and, anyway, the economy is already practically ruined.
Almost everyone in Greece is tired: tired of negotiations with international creditors that have been going on for six years, tired of austerity, and tired of living in an economy that's shrunk by a quarter and shows few signs of recovery. All sides have a desire to restore some pride to the country. There's just a dispute over how best to do that.
"I am afraid and frustrated," architect Dimitris Kareles told BuzzFeed News after voting Yes in one of Athens' wealthier neighbourhoods. "Syriza convinced the public of a lie. I believe that if the referendum was a clear Yes or No to the EU the outcome would be Yes with 80% of the vote."
Kareles, a former candidate for the centre-left PASOK party, said it was time for Greece's fractured and unpopular pro-EU opposition parties to put aside old differences and come together as a single organisation at the next election. "I think maybe it is time for a European party," he sighed. "It is the only way to confront Syriza."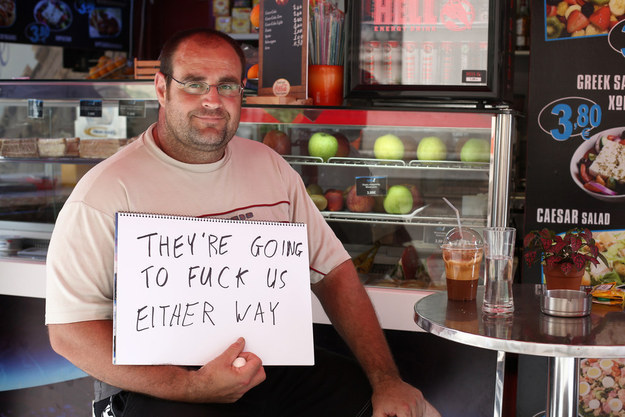 Kareles is undoubtedly correct on one point: there is little popular will in Greece for the country to leave the EU or the eurozone. Instead, there's a strong belief among No voters that they can simply ignore the warnings from EU chiefs in Brussels that a rejection of further austerity would almost certainly result in a 'Grexit.'
Given the rambling, incoherent, and highly technical question being put forward in the referendum, a No vote can mean many different things to different people. For some, it is simply a matter of national pride. A lot of Greeks, not necessarily left-wing radicals, have been delighted that in Syriza and Tsipras they have finally found people willing to stand up for their nation, rather than simply accept deals forced upon them by overseas creditors.
Despite the crisis, everyday life in Athens carries on as normal -- a version of normality, at least, that is somewhat frayed around the edges. Bars and restaurants remain busy until late in the evening, but capital controls mean cash withdrawals are limited to 60 euros a day – or less in practice, as many cash machines are running out of notes. Shops have seen trade fall as people hold on to their money, while banks remain closed and card payments are increasingly unpopular.
The public transport network stopped bothering to charge customers a week ago and is now being completely subsidised by an already cash-strapped government. Newspapers are struggling to find enough paper, foreign internet services have stopped working, and there have been dire warnings over what could happen to medicine supplies should imports dry up.
The referendum also exposes a deeper divide: wealthier, middle-aged, professional Greeks – often more likely to speak English – tend to vote Yes and often seem appalled by what's happening to their country. One of them, Crete Vossou, now does a daily tour of cash machines to empty out cash. "We all hate this situation," she complained. "Every single day I go to three banks to collect 60 euros from each to buy food, coffee, to pay bills. Only the stupid and illiterate want this situation."
Other Greeks feel differently. Maria, a No voter who declined to give her second name, said she earns her main income through a part-time job in parliament for which she receives just 180 euros a month. She laughed at the idea that a 60-euro cash withdrawal limit could possibly affect her. "I just don't know anymore," she said.
This exasperation is ultimately what the vote comes down to: a lot of No-voting Greeks just want a glimmer of hope, a chance of a new start. Twenty-year-old students currently studying at Athens university were just 14 years old when the debt renegotiations began: economic crisis has been all they've known for as long as they've really been aware. For many of them, the EU -- repeatedly compared to Nazi Germany in graffiti all over Athens -- feels distant and cold.
One Yes voter, Dmitri Galanis, explained why he was voting for the pro-EU option: "You've got two kinds of state: the failed fascist and autocratic states and you've got Europe. It's not perfect but it's better." His theory may be about to be put to the test.