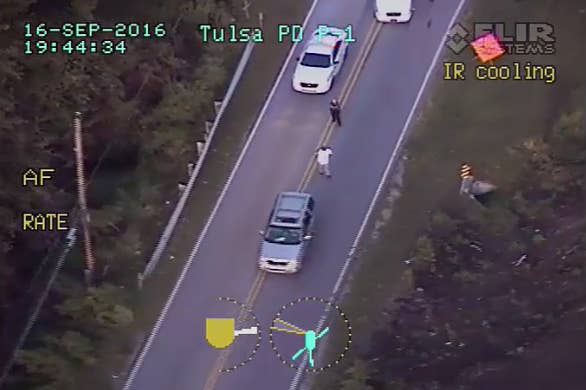 Video released Monday shows police officers in Tulsa, Oklahoma, fatally shooting an unarmed black man whose car had stalled in the middle of the street.

Tulsa Police Officer Betty Shelby, who is white, shot Terence Crutcher during a stop Friday night, officials said. Officer Tyler Turnbough also fired his Taser during the confrontation, which was captured by a dashboard camera.
Officials initially said Crutcher refused to comply with orders to put his hands up, the Associated Press reported. During a news conference Monday, Tulsa Police Chief Chuck Jordan also said that after arriving, Shelby radioed dispatchers to say she was "not having cooperation from the person there."
However, in the dashcam video released Monday, Crutcher can be seen standing in the middle of the street with his hands up.
Crutcher and several officers then walk toward his stalled vehicle, and moments later a shot rings out. A group of officers standing around Crutcher obstructs the camera's view of exactly what happened at the moment of the shooting.

Shortly thereafter, Crutcher falls to the ground.
Aerial footage also released by police Monday shows Crutcher standing by his vehicle when he is shot.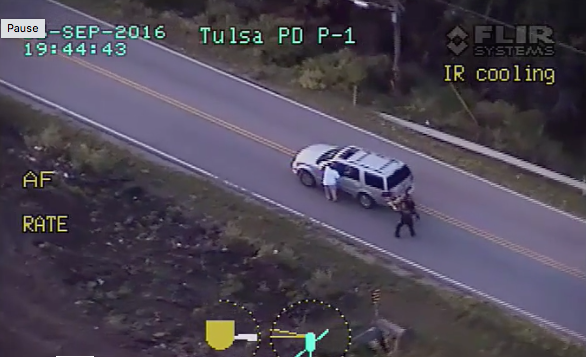 Crutcher was taken to an area hospital, where he was pronounced dead, police said.

At Monday's news conference, Jordan called the video footage "very disturbing — very difficult to watch." Jordan also said police did not find a gun on Crutcher or in his vehicle.

Crutcher's sister Tiffany Crutcher called for charges against the officer who fired the shot. She said Monday that her brother was dead "because of the negligence, and the incompetency, and insensitivity and because he was a 'big, bad dude.'"
Her comment was a reference to the aerial footage of the incident; in the audio, someone can be heard referring to Crutcher as a "big, bad dude."
Attorney Damario Solomon-Simmons, who is representing Crutcher's family, said Monday at a news conference that the videos show that Crutcher didn't make any sudden movements, was not belligerent, and did not attack the officers.
"When Terence was shot he laid on the ground bleeding out without any assistance," Solomon-Simmons added.
At the same news conference, attorney Melvin Hall said the shooting was "totally unnecessary and not protected by the constitution."
"This man had not committed a crime," Hall said. "He was having some difficulty with his vehicle and that's it."
Police have provided few details about the shooting. At Monday's police news conference, Jordan said more information would be released in the future.
"I will make this promise to you," he added. "We will achieve justice in this case."

Tiffany Crutcher told Fox 23 that "we just want answers."
"We want to know what happened," she said. "There's a lot of speculation."
In a statement to BuzzFeed News, the Tulsa Police Department said both officers have been placed on administrative leave with pay.
Roughly a dozen demonstrators gathered at the Tulsa County courthouse Monday to protest the shooting, Tulsa World reported. In video of the protests, people chanted, "Hands up, don't shoot."