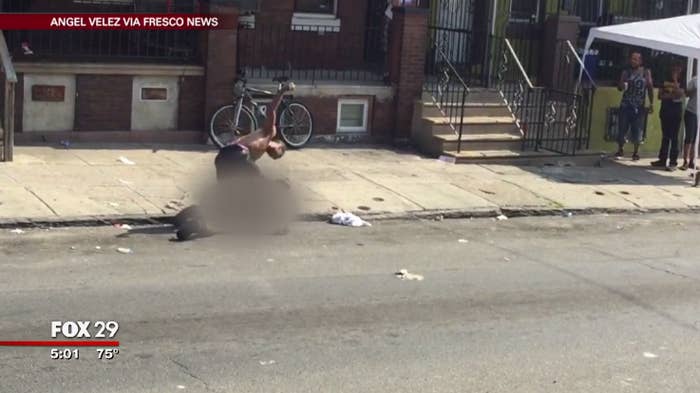 Video footage of a man beating a woman in the street Thursday as a crowd of people, some of them laughing, looked on has sparked a police investigation in Philadelphia.
The beating occurred on Ontario street in city's Kensington neighborhood, police spokesman John Stanford told BuzzFeed News. It first garnered attention, however, when a bystander submitted video to Fox 29.
The video shows a woman lying on the ground while a man stands over her and repeatedly hits her.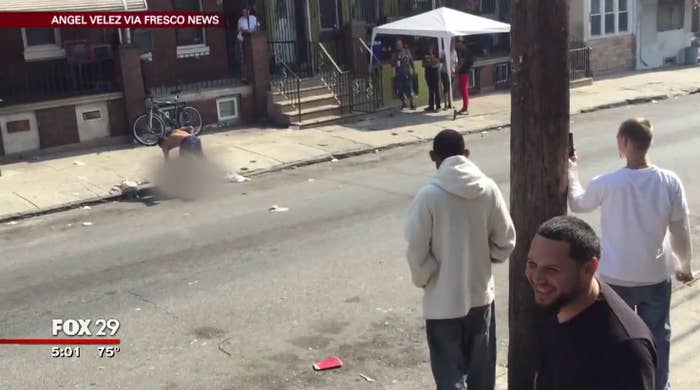 The man who shot the video told Fox 29 the beating lasted for 20 to 30 minutes, during which no one intervened. The man — who refused to be named or show his face on camera — also said people were "smiling, laughing, and just standing around like a normal day. You know, like nothing was even happening."
"I don't want to jump in and be a hero and just get hurt, you know," the man added on air. "It's bad out here."
At least 10 different bystanders are visible in the segments of the video shown by Fox 29. Some can be seen recording the assault with their phones, while others smile or laugh.
Stanford said several people at the scene called 911. When police arrived, however, a man on a bike flagged them down and claimed he had been assaulted. Police later discovered that he was the same man in the video, but by then both he and the woman were gone.
Stanford added that in light of the video, the man's claims about being the victim appear to be "completely false," though investigators don't yet know what prompted the confrontation.
Police have contact information for the man, but because he described himself as the victim he was not taken into custody, Stanford said.
The woman was ultimately admitted to a hospital for mental health issues unrelated to the assault, according to Stanford. She reportedly suffered bruises and scratches during the beating, but no broken bones or life-threatening injuries. As of Friday afternoon, she had not provided police with a statement about what happened, and investigators were still working to piece together why the assault began and how the woman ended up in a hospital.
The bystanders who witnessed the beating, meanwhile, cannot be charged for failing to step in. However, Stanford said it was alarming that no one, including several men who collectively might have stopped the assault, intervened.
"It's very disturbing to see a video," Stanford said, "and you see people are more concerned with recording the incident as opposed to helping or intervening or assisting this woman."