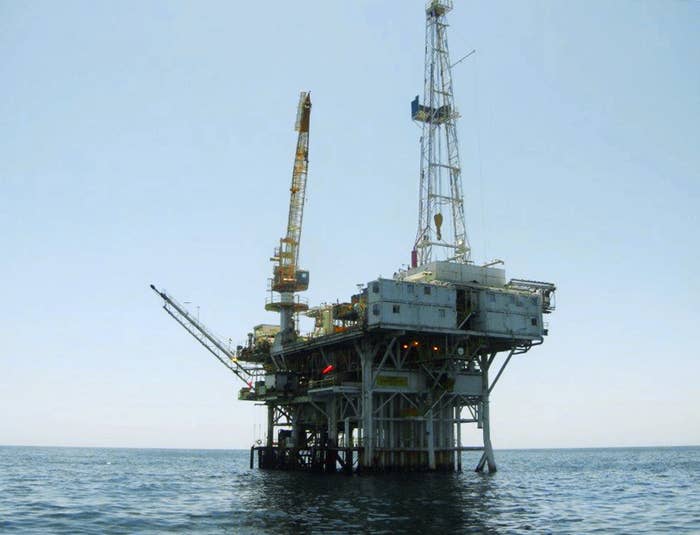 The Trump administration wants to open nearly the entire US coastline to oil and gas drilling, reversing an Obama-era policy and drawing swift criticism from environmental groups and coastal governors — one of whom later persuaded officials to remove his state from the plan.
In a statement Jan. 4, the Interior Department proposed allowing drilling on 90% of the outer continental shelf, the underwater land off the US coasts. The move would be a radical departure from a policy implemented in the final days of the Obama administration, which prevents drilling on 94% of the outer continental shelf. The Trump administration is now seeking "the largest number of lease sales in US history" for energy companies hoping to extract coastal oil and gas.
Interior Secretary Ryan Zinke described the policy Thursday as a way to bolster the US economy and "energy security," as well as a means of providing "billions of dollars to fund the conservation of our coastlines, public lands, and parks." The comments echo a policy agenda espoused by President Trump, who made carbon-based energy a major theme of his campaign and has rolled back various energy and environmental regulations since taking office.

The administration's plan drew immediate opposition from governors of states along the nation's coasts — a bipartisan group that includes leaders of New Jersey, Delaware, Maryland, Virginia, North Carolina, South Carolina, Florida, California, Oregon, and Washington.
The vocal criticism worked for one governor, Florida's Rick Scott, a Republican and vocal supporter of Trump, who announced last week that he opposed the administration's offshore drilling proposal and planned to meet with Zinke to discuss "the crucial need to remove Florida from consideration."
In a series of tweets Tuesday, Zinke announced that the administration had decided to grant Florida an exemption following a meeting with Scott.
Calling the governor "a straightforward leader who can be trusted," Zinke said in a statement that he now agrees with Scott's position that "Florida is unique and its coasts are heavily reliant on tourism as an economic driver."
"As a result of discussion with Governor Scott's [sic] and his leadership, I am removing Florida from consideration for any new oil and gas platforms," he said, tweeting the statement with the message: "Local voice matters."
It was unclear Tuesday if Zinke had plans to meet with leaders from other states, or if other states might be granted similar exemptions from the offshore drilling proposal. An Interior Department spokesperson told BuzzFeed News Tuesday that she did not know Zinke's schedule, but that the secretary "meets with or talks on the phone with governors of both parties rather frequently."
However, multiple state officials from coastal states reacted to Zinke's statement Tuesday by demanding they be granted the same consideration as Florida.
"California is also 'unique' & our 'coasts are heavily reliant on tourism as an economic driver,'" California Attorney General Xavier Becerra said in a tweet, quoting Zinke's remarks justifying Florida's exemption. "Our 'local and state voice' is firmly opposed to any and all offshore drilling."

"Where do we sign up for a waiver?" New York Gov. Andrew Cuomo tweeted.
The West Coast is likely to be a particular point of conflict. In a joint statement on Jan. 4, California Gov. Jerry Brown, Oregon Gov. Kate Brown, and Washington Gov. Jay Inslee — all Democrats — vowed to "do whatever it takes to stop this reckless, short-sighted action."

The governors noted that it has been decades since the federal government sold drilling leases in the region, and liberal coastal communities are likely to balk along with their political leadership at the idea of new rigs appearing off their beaches.
On Tuesday, Brown noted Florida's exemption, and asked Zinke in a tweet to "do the same for Oregon!"
Other states have pledged to fight the administration's proposal, including with possible legal action. Delaware Gov. John Carney slammed the plan last week, saying it "would create the risk of a catastrophic spill or other related disasters," and North Carolina Gov. Roy Cooper called it "a critical threat to our coastal economy."

Several senators from the coasts also condemned the proposal, included California Sen. Dianne Feinstein, Massachusetts Sen. Ed Markey, Florida Sen. Bill Nelson, Virginia Sen. Tim Kaine, and Oregon Sen. Jeff Merkley.

Kaine said Tuesday that Virginia's Republican governor and its Democratic governor-elect had made the same request as Scott, but "have not received the same commitment."
Some states, however, have welcomed the administration's decision to lift drilling restrictions. Alaska Gov. Bill Walker, an independent, offered his support last week, describing the proposal as "an important step toward allowing Alaskans to responsibly develop our natural resources as we see fit."

The oil industry also celebrated the move. The American Petroleum Institute, an energy industry advocacy organization, said in a statement that the "plan is an important step towards harnessing our nation's energy potential for the benefit of American energy consumers." And the National Ocean Industries Association, which represents energy companies, said that it "welcomes the bold and broad offshore leasing proposal released today by the Department of the Interior."
Environmental groups have swiftly condemned the proposal, arguing that it would put marine life and coastal communities at risk, while exacerbating the impacts of climate change. Natural Resources Defense Council called the plan "backward-looking," while the Center for Biological Diversity said the move was "appalling" and "should be a call to action for everyone who wants to move past the dirty energy and politics of the past."
"People from coast to coast must resist this shortsighted, climate-wrecking giveaway to the oil industry," the group added in a statement.
The Interior Department's proposal still has several phases to pass through before becoming policy, including a public comment period and an environmental impact report. Current policies will remain in place until Trump's plan is finalized, and Thursday's announcement characterized the proposal as a program that would stretch from 2019 to 2024.