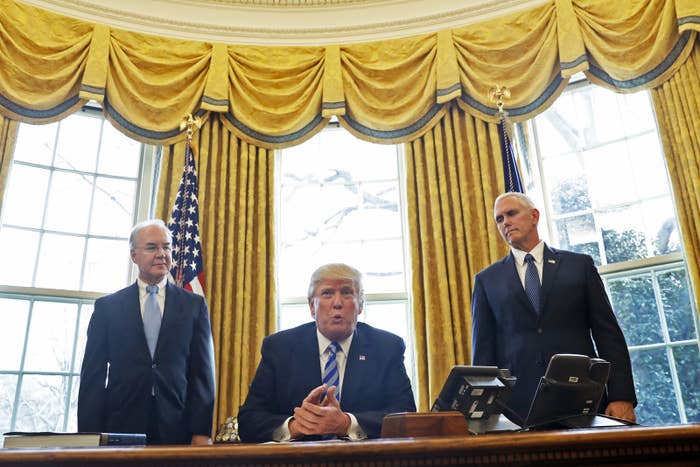 Just moments after Republicans scuttled their health care bill Friday, President Trump said Obamacare was "imploding and soon will explode," and added that he never promised to quickly repeal it.

He reiterated the statement on Twitter on Saturday morning, saying that Obamacare "will explode" and telling people that "we will all get together and piece together a great healthcare plan for THE PEOPLE." (Officials at the Congressional Budget Office have said that while Obamacare has had its hardships, its insurance markets are not in a death spiral, nor are they headed towards one).
Trump discussed the failure of the Obamacare replacement — which was one of his signature issues on the campaign trail — during a news conference in the Oval Office on Friday, shortly after House Speaker Paul Ryan pulled the health care bill after failing to secure enough votes before a roll call.

"We couldn't quite get there," Trump told reporters. "We were a small number of votes short. There are many people who don't realize how good our bill was."

Though the failure was a major setback for Trump's early presidency, he said Friday's turn of events was "perhaps the best thing that could happen" because "we'll end up with a truly great healthcare bill in the future after this mess known as Obamacare explodes."
Trump repeatedly described Obamacare as teetering on the edge of destruction, saying later that "it's imploding and soon will explode."
"And it's not going to be pretty," he added.
Trump also speculated that at some point, "Democrats will come to us and say let's get together and get a great health care bill," adding that he did not feel betrayed by Republicans who refused to vote for the health care bill.
The president also pushed back against criticism regarding his time table.
"I never said repeal and replace it within 64 days," he said. "I have a long time."
However, Trump repeatedly talked about repealing and replacing Obamacare while campaigning last year. And in a tweet in February 2016, he promised to "immediately repeal and replace" the Affordable Care Act.
But on Friday, Trump said he would "let Obamacare go its way for a little while. Then we'll see how things go."