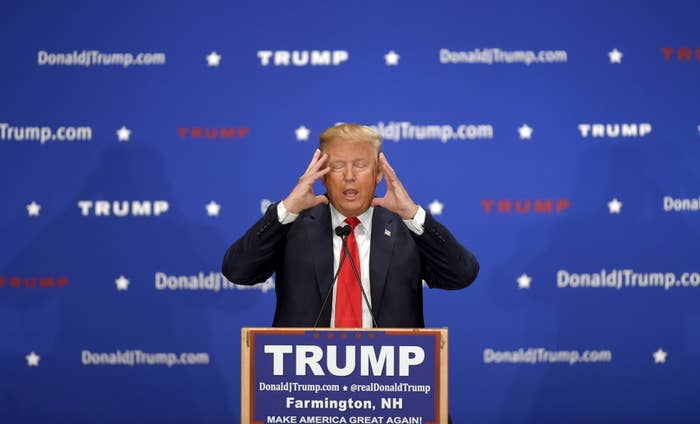 Donald Trump on Tuesday announced he will not attend the upcoming Republican presidential debate, lashing out at Fox News moderator Megyn Kelly and accusing the network of "playing games" in recent press statements.
The decision came after the Republican frontrunner demanded the network remove Kelly — who is set to moderate Thursday's debate, along with anchors Bret Baier and Chris Wallace — calling her dishonest and biased.
At a news conference Tuesday, Trump sharply criticized Fox News for "playing games," saying he would most likely skip the event scheduled just days before the crucial Iowa caucuses.
Trump's campaign manager Corey Lewandowski later confirmed the candidate "will not be participating in the Fox News debate Thursday," the Associated Press reported.
In a statement issued hours later, Trump's campaign said the candidate knows when to walk away, "unlike the very stupid, highly incompetent people running our country into the ground." The statement confirmed again that Trump would not participate in the debate and criticized Fox for "toying" with him.
The comments about Fox were a reference to a taunting statement the network distributed earlier in the day saying Putin and Iran's ayatollah plan to "treat Donald Trump unfairly when they meet with him if he becomes president."
"A nefarious source tells us that Trump has his own plan to replace the Cabinet with his Twitter followers to see if he should even go to those meetings," it said.
Trump countered Tuesday that "we've had six debates now."
"Why should the networks continue getting rich on these debates?" he added.
"Let's see how much money Fox is going to make on the debate without me."
Instead of attending the debate, Trump said he plans to raise money for wounded veterans. A campaign spokesperson did not respond to a BuzzFeed News request for comment.
Fox called Trump's move "near unprecedented" and said it would not "give in to terrorizations."
In a statement, the network accused Trump of "walking away from" Iowans at the last minute and attributed his decision to his dislike of moderator Megyn Kelly, "whom he has viciously attacked since August."
"Capitulating to politicians' ultimatums about a debate moderator violates all journalistic standards, as do threats, including the one leveled by Trump's campaign manager Corey Lewandowski toward Megyn Kelly," the network said.
Despite the critical response, Fox News said Trump is still welcome at the debate and "will be treated fairly."
Trump's comments Tuesday were the latest in his months-long feud with Kelly, which ignited after the Fox host's questions during a GOP debate in August.
Following the August debate, Trump drew criticism for saying Kelly had "blood coming out of her eyes, blood coming out of her wherever."
On Tuesday, Trump said he wasn't "a fan" of Kelly. "I think she's a third-rate reporter. I think she frankly is not good at what she does," he said.
On her program Tuesday night, Kelly maintained that the question she asked Trump in August was fair.
In response to the public feud, Ted Cruz challenged Trump to a one-on-one debate.
During an interview on The Mark Levin Show, a conservative radio program, Cruz suggested he and Trump debate the issues and "give the Republican primary voters the right to see a fair and policy-focused debate."
Cruz also suggested Trump "name his own moderator," and Levin offered to host the debate on his program.
"I think that is something that the men and women of Iowa deserve," Cruz added. "They deserve candidates who are not afraid of the hard questions."