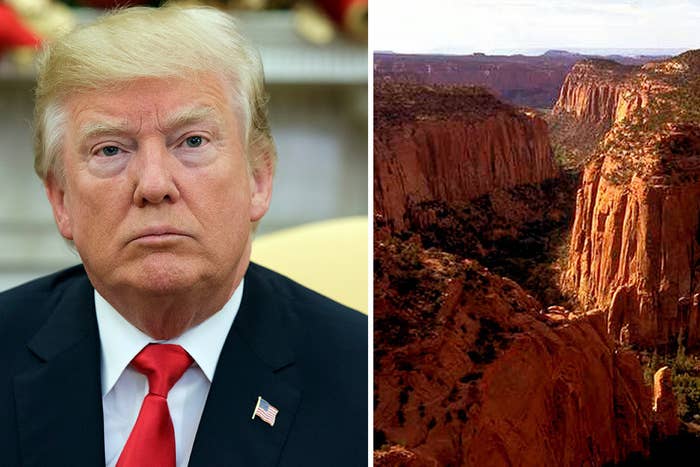 President Trump on Monday slashed a pair of national monuments in Utah, marking the largest reduction of public land protections in US history, and prompting protests and threats of lawsuits from conservation groups as well as praise from Western conservatives.
During a speech in Salt Lake City, Trump proclaimed that "public lands will once again be for public use," and announced he would significantly reduce the size of Bears Ears and Grand Staircase-Escalante national monuments, both in southern Utah.
"I've come to Utah to take a very historical action," Trump said of his announcement, "to reverse federal overreach and restore the rights of this land to your citizens."
Trump's proclamation lays out his decision for the monuments designated by his Democratic predecessors. Bears Ears, currently 1.35 million acres in size, will be reduced by about 85% and split into the Shash Jáa and Indian Creek monuments. The combined acreage of the new monuments will be 201,876 acres.
Grand Staircase-Escalante will be reduced by about half and split into three new monuments: Grand Staircase, Kaiparowits, and Escalante Canyons. Those monuments will together span about 1 million acres, down from Grand Staircase-Escalante's roughly 1.8 million.
President Obama created Bears Ears National Monument in the final days of his presidency as a result of a years-long lobbying effort from a coalition of Native American tribes and conservation groups. The designation was vehemently opposed by Utah's congressional delegation, with multiple lawmakers vowing to work to undo the designation. State lawmakers also said they would attempt to modify the Antiquities Act, the 1906 law that allows presidents to create national monuments.

President Clinton created Grand Staircase-Escalante National Monument in 1996.
Trump announced the changes Monday during his first visit as president to Utah. The visit was met with multiple days of protests, including gatherings Monday at the state capital and elsewhere in Salt Lake City.
Demonstrators in Salt Lake City displayed signs condemning the plan to shrink the monuments.

The protests highlight the intensity that surrounds the larger debate over how to treat public lands. In western states such as Utah, Nevada, and Idaho, the federal government owns the majority of the total land. Some of that land is used for popular national parks, such as Zion and Arches, as well as parklike monuments including Bears Ears and Grand Staircase-Escalante.

However, vast swaths of the public land in the west are not part of designated preserves and are available for activities such as grazing.
National monuments are a particular source of controversy because the Antiquities Act lets presidents create them without congressional approval. Resistance to monuments led Trump earlier this year to order Zinke to review all monuments created since 1996. The review wrapped up in August, and the announcement Monday in Utah was prompted by Zinke's recommendations.
During his speech Monday, Trump repeatedly characterized the creation past monuments as federal "overreach," and said past presidents had "abused the purpose, spirit, and intent" of the Antiquities Act. He also said that the "timeless bond" Utahns have with their land "shouldn't be replaced by the whims of regulators."
"Our precious national treasures must be protected and they from now on will be protected," the president added.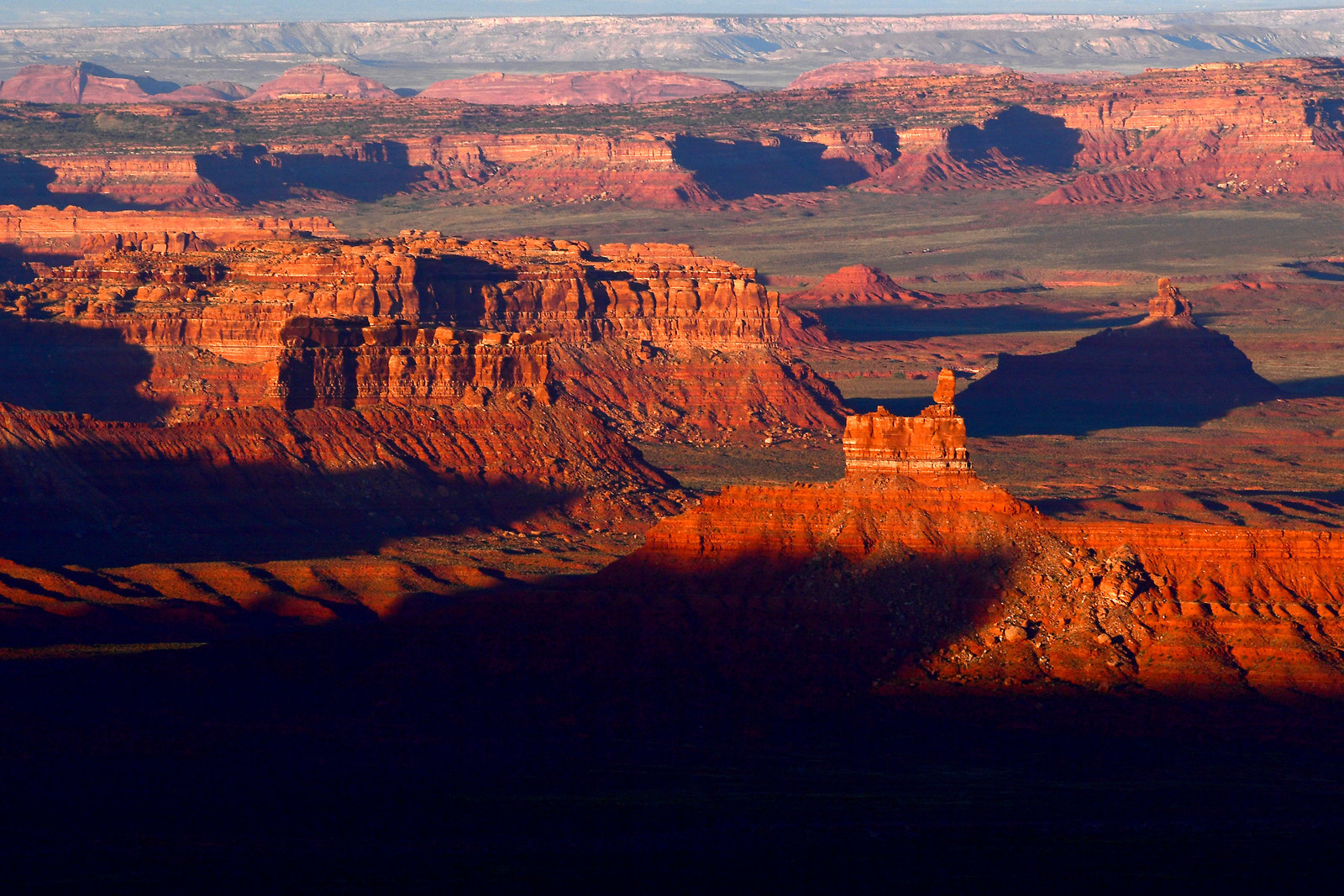 But a host of Native American and environmental groups disputed that and condemned the announcement Monday. In a statement, Navajo Nation President Russell Begaye said that the decision to reduce Bears Ears "is being made with no tribal consultation."

"The Navajo Nation will defend Bears Ears," Begaye added. "The reduction in the size of the monument leaves us no choice but to litigate this decision."
The threat of lawsuits was a recurring theme Monday. Wilderness Society President Jamie Williams, for example, called the reductions "illegal" and an "insult to the owners of this land," adding that changes would be challenged in court.
During a news conference in Salt Lake City Monday afternoon, Ethel Branch, the attorney general of the Navajo Nation, also said that tribal leaders would move forward with a lawsuit over Trump's changes. When asked if she anticipated a physical standoff, similar to the one that took place over the Dakota Access Pipeline, she "we don't exactly have control over what the people on the ground will choose to do."
By Monday evening, Earthjustice had filed a lawsuit on behalf of eight conservation groups. The suit argues Trump's order was illegal and "flouted 111 years of conservation history."
"We will not let this stand," Earthjustice attorney Heidi McIntosh added in a statement. "We will use the power of the law to stop Trump's illegal actions."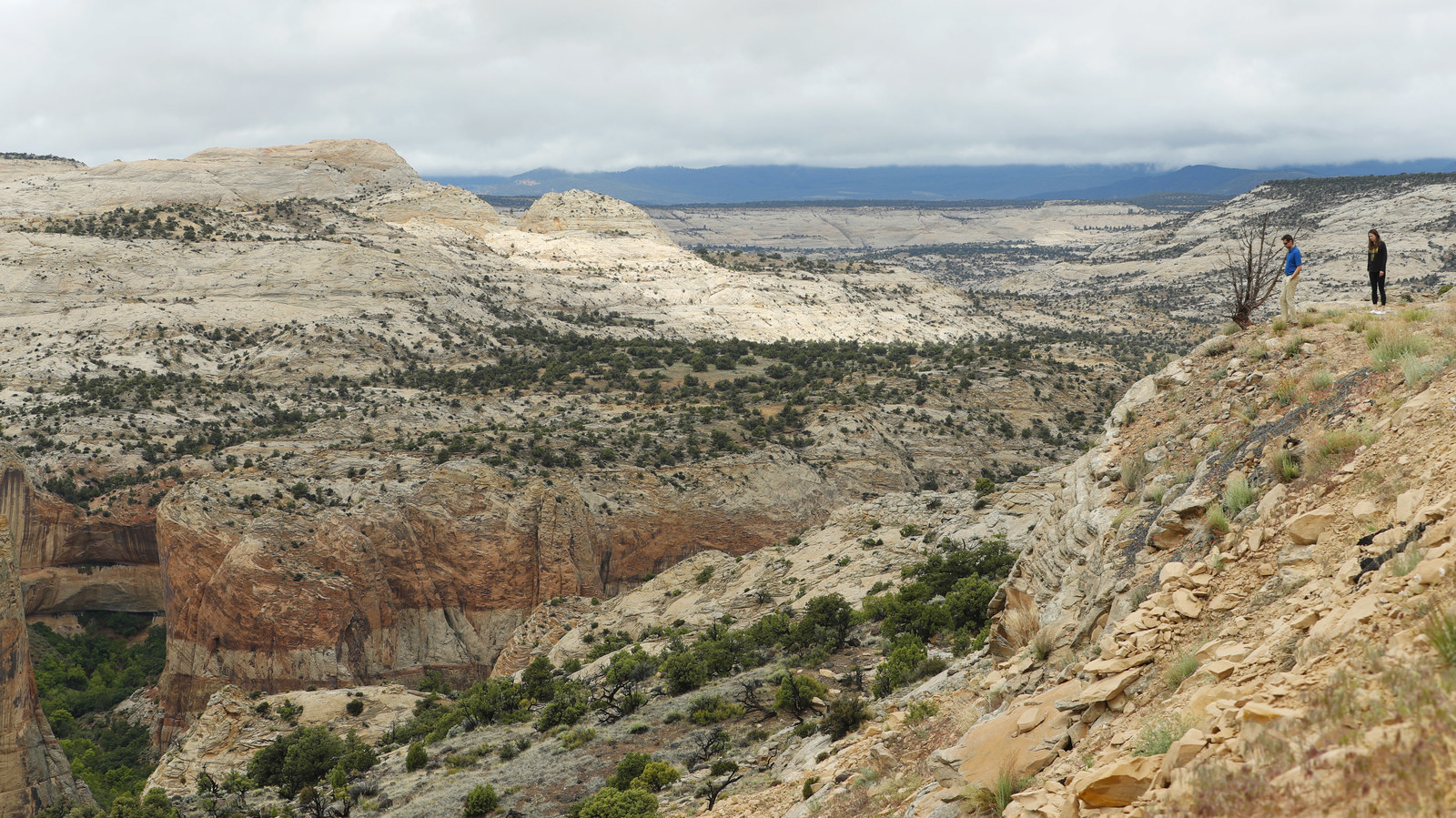 Other groups that criticized Trump's announcement Monday include the National Congress of American Indians, the Center for Biological Diversity, National Parks Conservation Association, the National Audubon Society, the Pew Charitable Trusts, Defenders of Wildlife, the Nevada Conservation League, the Center for Western Priorities, and others. Many of the groups opposing the reductions also promised to sue.
A number of lawmakers also slammed Trump, including Minnesota's Democratic Sen. Al Franken, New Mexico's Democratic Sen. Martin Heinrich, and Arizona's Democratic Rep. Raúl M. Grijalva.
Multiple outdoor retailers criticized Trump's proclamation as well, including REI which devoted most of it's homepage to a banner showing a red rock mesa and declaring "we love our public lands." Patagonia — which has long supported national monuments — posted a fullscreen message on its website stating "the president stole your land."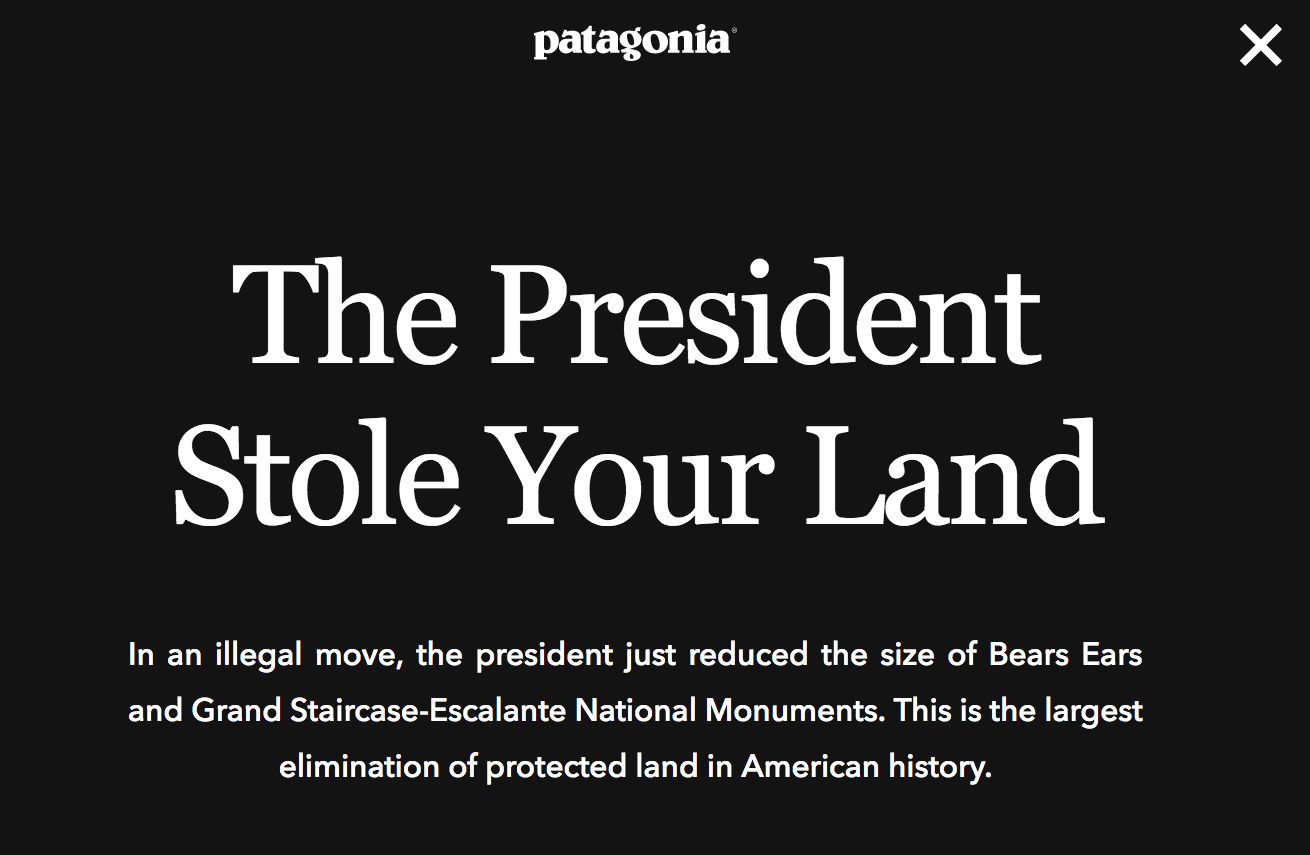 However, across the political aisle, Trump won praise Monday. Sen. Orrin Hatch, a Utah Republican, introduced Trump Monday and described the long process of working to undo the Bears Ears designation, which he called a "disaster."

"I've served under many presidents, seven to be exact," Hatch said. "But none is like the man we have in the White House we have today. When you talk this president listens."

Sen. Mike Lee's office disputed that the reductions were against the law. In an email, a spokesperson said they are "100% legal" and "well-supported by history." In an October speech, Lee also argued that past presidents have reduced national monuments by "hundreds of thousands of acres," as well as "by as much as 89% of the original reservation."
Rep. Chris Stewart, a Utah Republican whose district includes Grand Staircase-Escalante, said in a statement Monday that "I have seen firsthand the damage that the monument has caused to the local economy. My constituents have been in a desperate need of change, and today President Trump delivered."