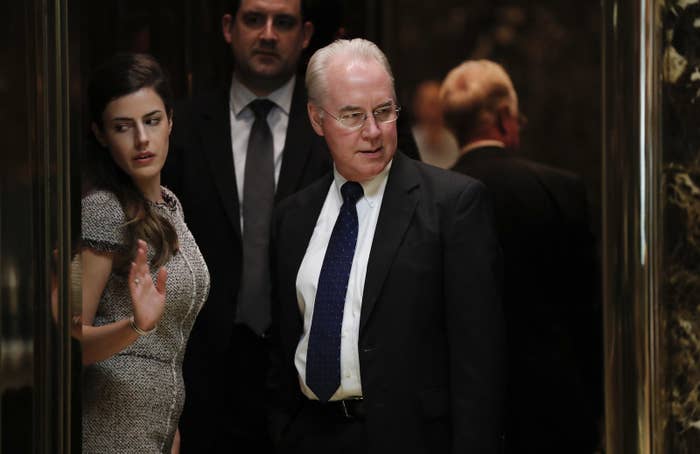 President-elect Donald Trump announced Tuesday his intent to nominate Obamacare critic and lawmaker Tom Price to helm his Department of Health and Human Services.
Price, 62, is a Republican congressman from Georgia who is among the few lawmakers to propose an actual strategy for dismantling the Affordable Care Act. The president-elect called Price a "renowned physician," a "problem solver," and a "go-to expert on healthcare policy."
"He is exceptionally qualified to shepherd our commitment to repeal and replace Obamacare and bring affordable and accessible healthcare to every American. I am proud to nominate him as Secretary of Health and Human Services," Trump said in a statement.
Like many Republicans, Price has in the past been critical of President Barack Obama's signature health care law. However, Price set himself apart by repeatedly introducing bills that offered a detailed plan to replace Obamacare. He has specifically proposed ditching the law's exchanges and coverage mandate.
Price said in a statement that he was honored by the nomination and is "humbled by the incredible challenges that lay ahead."
"There is much work to be done to ensure we have a healthcare system that works for patients, families, and doctors; that leads the world in the cure and prevention of illness; and that is based on sensible rules to protect the well-being of the country while embracing its innovative spirit," he said.

Before entering politics, Price worked as an orthopedic surgeon. He has been proposing health care-related bills since before Obama's election, but became particularly interested in the Affordable Care Act — which in October he called "disastrous."

Though Price's bills have failed to become law, they nevertheless offer hints at how Trump might work to deliver on his oft-repeated campaign promise to repeal Obamacare.
"With real, patient-centered reforms we can build a more innovative and responsive health care system — one that empowers patients and ensures they and their doctor have the freedom to make health care decisions without bureaucratic interference or influence," Price said in a statement earlier this year.

Trump also announced Tuesday that he has chosen Seema Verma to serve as Administrator of the Centers for Medicare and Medicaid Services.
"She has decades of experience advising on Medicare and Medicaid policy and helping states navigate our complicated systems. Together, Chairman Price and Seema Verma are the dream team that will transform our healthcare system for the benefit of all Americans," Trump said in a statement.

Verma runs national health policy consulting company SVC, Inc and she has redesigned Medicaid programs in several states.