Donald Trump repeatedly claimed Saturday that a man who rushed the stage during a rally in Dayton, Ohio, was "ISIS-related." It appears, however, that the GOP frontrunner was instead fooled by an old, fake video meant to mock the man.
The man, Thomas Dimassimo, was arrested by Secret Service, then released later Saturday. Trump said numerous times during a rally in Kansas City, Missouri, that the man had connections to ISIS and harshly criticized his release.
To prove there was an ISIS connection, Trump tweeted a video allegedly from Dimassimo that purportedly showed he had sympathy with the terror organization.
But the alleged ISIS video actually appears to have been cobbled together from old footage in an attempt to troll Dimassimo.
The video shows footage of Dimassimo from a protest at Wright State University.
That footage, however, appears to be lifted from a video Dimassimo himself seems to have posted to YouTube. Dimassimo's video lacks the music and images typical of ISIS productions. The description also states that the protest was done in solidarity with Eric Sheppard, a Valdosta State University student who made headlines in 2015 for standing on an American flag.
Dimassimo spoke with local TV about the protest in April, 2015, and said it was not meant to disrespect military members for "sacrifices they made for this country." He also said he was not "anti-vet" or "anti-troops," and the report describes him as an ally of the Black Lives Matter movement.
The alleged ISIS video also includes a description written entirely in Arabic. The Arabic is badly garbled, but appears to say "Tommy D" was trying to look "cool" and as if he has big balls for standing on an American flag.
The alleged ISIS video appears to have been posted to YouTube last May by someone named Thomas Jenners, whose account has since been deleted, then taken down Saturday. But the personal insults directed at Dimassimo are uncharacteristic of ISIS media. It was also posted to Facebook, but has since been deleted.
The ISIS claims appear to have gathered steam after appearing on conservative website The Last Refuge, which on Saturday removed a story that ended up being a hoax about a black Trump supporter being murdered.
BuzzFeed News has reached out to Dimassimo but did not immediately hear back Saturday.
Trolling Dimassimo by connecting him to ISIS also appears to be an ongoing thing; a Facebook page called "Tommy dimassimo wasn't hugged enough as a kid" originally included the alleged ISIS video, as well as other ISIS-themed insults.
The video has since been removed from the Facebook page, but other ISIS posts were still there Saturday night. One person who frequently contributed to the page and spread the alleged ISIS video on Facebook had also taken down his page Saturday.
The Secret Service also cast doubt on Trump's claims, telling CBS it had no information about the ISIS connection.
The Secret Service did not immediately respond to BuzzFeed News' request for comment.
Despite the seeming unlikeliness that Dimassimo is actually an ISIS sympathizer, Trump's comments were picked up by media organizations, including Breitbart, which has taken criticism for siding with the candidate over its own reporter Michelle Fields.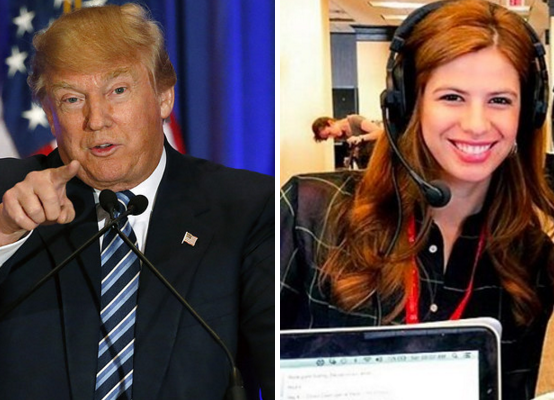 Fields has said Trump campaign manager Corey Lewandowski manhandled her as she tried to ask the candidate a question. Trump's campaign has denied that Lewandowski was involved, despite eye witness accounts.
When asked about the hoax on Meet The Press Trump said, "All I know is what's on the internet."
"Was it a hoax that he's dragging the flag?" Trump repeatedly asked Meet The Press moderator Chuck Todd, who confirmed that the video was a hoax, the man had no ties to ISIS, and that no law enforcement officials were concerned, as Trump had claimed.
"What do I know about it? All I know is what's on the internet," Trump said, later tweeting the same phrase.
"And I don't like to see a man dragging the American flag along the ground in a mocking fashion," Trump added.
Trump's ISIS claims came the same day that his son erroneously said that a woman seen making a Nazi salute at a Trump rally was a Bernie supporter.
Donald Trump, Jr., tweeted that the woman, later identified as Birgitt Peterson, runs a website supporting Sanders. However, she later told The New York Times she believes the Republican Party needs to be broken up and Trump "is the one to do it." She was making the Nazi salute while discussing Hilter and her own past in post-war Germany with protesters.
Trump, Jr., later deleted the tweet.