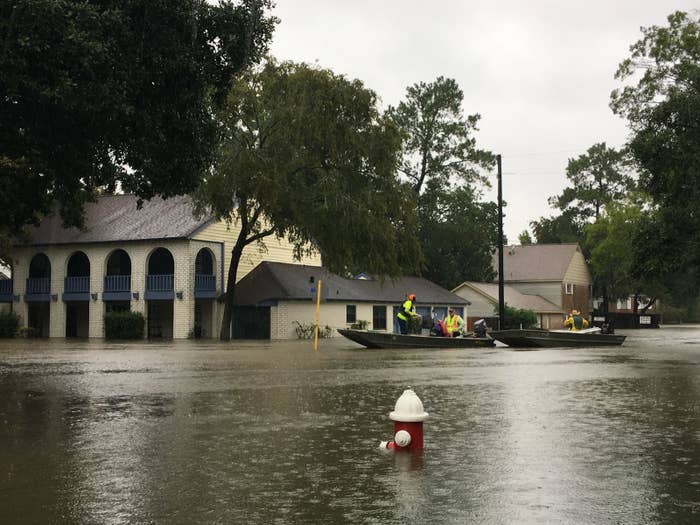 HOUSTON — As floods swallowed communities across the Houston metro area Monday, the community of Ponderosa Forest sprang into action.
"My friends were trapped on their second floor," one local resident told BuzzFeed News. "They didn't have anybody to help them so I went driving up and down the streets and found somebody who had a boat and bribed them to come over here."

Several hours later, that boat was part of a small flotilla that cruised through the flooded streets of the suburban Harris County neighborhood, pulling people from second-story balconies as the water swirled just feet below.
A member of the Ponderosa Volunteer Fire Department who was at the scene told BuzzFeed News that crews ultimately pulled "dozens, maybe close to 100 people" from the flooded homes of Monday.

Nearby, George Silver surveyed the scene from a soggy street corner. Just a day earlier, he took in a family of strangers who lived in the neighborhood, giving them shelter at his own house nearby.
"When I saw that they had two little kids and another teenager, I said, 'Come to my house and stay at my house and we'll figure something out,'" Silver told BuzzFeed News. "In times like this is when humanity has to hit you hard, and you have to realize that it can happen to anybody."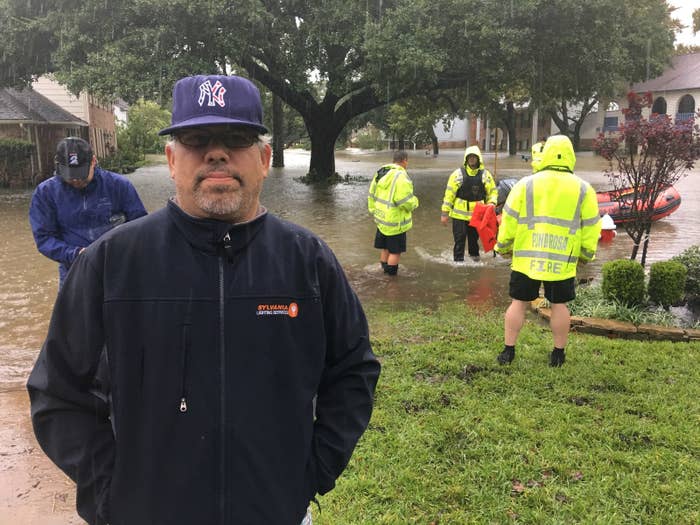 In Houston, police rescued about 1,000 people Monday, bringing the total number of water rescues to more than 3,000, Mayor Sylvester Turner said at a news conference. The Coast Guard also remained on 24-hour operations, and had rescued 3,000 people by air or boat.
But as the number of displaced residents continued to balloon, it was already clear their needs would soon overwhelm emergency resources available to help them.
At the M. O. Campbell Educational Center, in north Houston, an emergency shelter had already packed in 2,000 people, leaving it woefully overcrowded. Jerry Fennell, a Red Cross volunteer helping to run the shelter, told BuzzFeed News that the facility was only set up to hold 500, and had just 200 cots and 400 blankets available. As a result, people were left to sleep on the bare, wet concrete outside the building.
"Last night was a hard, hard night for our people," Fennell said.
Bob and Andrew Garza were among those forced to sleep outside the shelter. The father and son got to the center Saturday, Andrew, 36, told BuzzFeed News, after their home was submerged in chest-deep water. "It's totally gone," he added.

Sitting in the hard plastic chairs they had slept in for the past three nights, the Garzas said they arrived with few possessions besides their 3-year-old cat, Jones. In his rush to escape the flood, Bob, 76, said he grabbed two left shoes, forcing him to later scavenge a discarded flip-flop off the street for his right foot.
Since they arrived at the shelter, the only thing each has had to eat is a slice of pizza and a bag of peanuts, Andrew said.
"You spend the entire day in line for a slice of pizza," Bob added. "They're missing the small stuff. There's no blankets."
Several feet away, Kendrick Johnson, 29, had just arrived at the shelter with his wife and three young daughters. "Right now there's no food, and no cots," he said as the three girls took turns wearing a single Red Cross blanket like a superhero cape.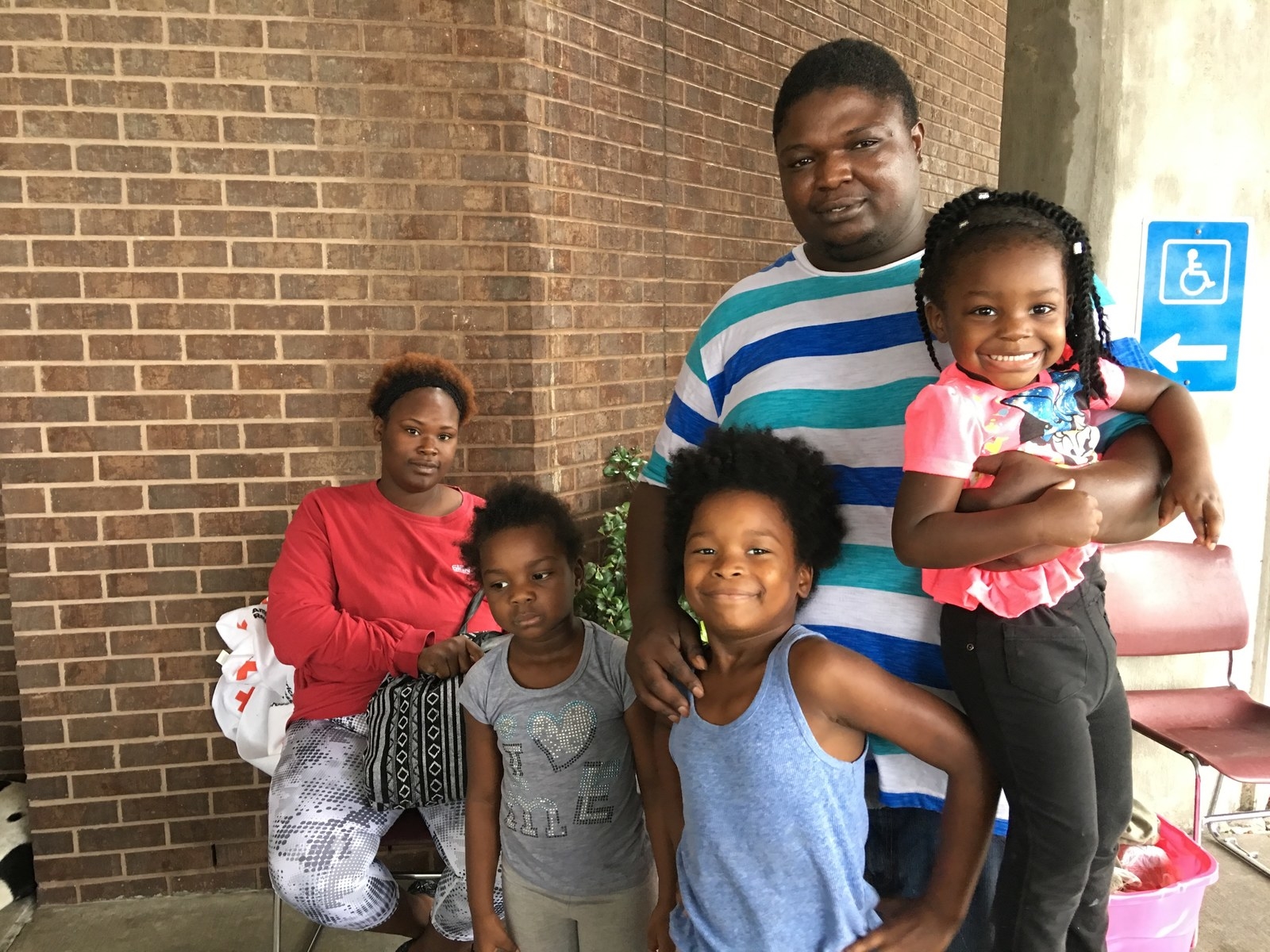 Earlier Monday, Johnson said, he'd helped rescue a woman trapped in a flooded car. He then tried to drive his own family to safety, he said, only to find stores empty and gas stations shuttered. His phone got so wet, it stopped connecting to the internet, leaving him cut off from assistance.
In the end, he said, the family "had no choice but to come here."
"There's nowhere I could've bought food," Johnson added. "All the stores are closed, the gas stations, they're out of gas."
Shy Hadley also took refuge at the shelter, along with her 1-year-old child and boyfriend. Hadley, who is seven months pregnant, was one of the lucky ones; even with the shelter far over capacity, she had managed to find a cot.
With her home now underwater, Hadley told BuzzFeed News she was "sad, depressed, and worried" about "where should would lay her head."
"At the same time I got faith," she added. "I know God ain't going to let me and my kids go on the streets. And there's plenty of help out there you just gotta look out and find and speak to people."
To alleviate overcrowding at the M. O. Campbell shelter, police began escorting evacuees at the shelter onto city buses Monday, and transferring them to the much larger shelter at the George R. Brown Convention Center in downtown Houston. The shelter was set up to hold 5,000 people, but by mid-afternoon, it too was approaching capacity. The shelter ultimately housed at least 7,000 people for the night.
Evacuees hoping for a spot in an emergency shelter had to traverse a mostly submerged urban landscape. People could be seen pushing shopping carts through waist-deep water, navigating between hundreds of cars abandoned in the floods.
At the convention center, evacuees were sorted through different doors: people with pets through one entrance, those without through another. Nearby, volunteers sifted through large piles of donated clothing — for some, the items would be the first dry clothing they'd had in hours, or days. The scene was noisy, as a Red Cross volunteer barked instructions over a megaphone, but relatively ordered, under the watchful eye of police officers stationed at the doors.
Antonia Reyes huddled with her 7-year-old daughter Alyssa near one of those doors Monday evening. Earlier in the day, Reyes' situation was so dire that a helicopter came to extract her and Alyssa in a spinning metal basket from the roof of her home.

"My family got left in the floodwater, at the house and only me and my daughter were rescued," she told BuzzFeed News.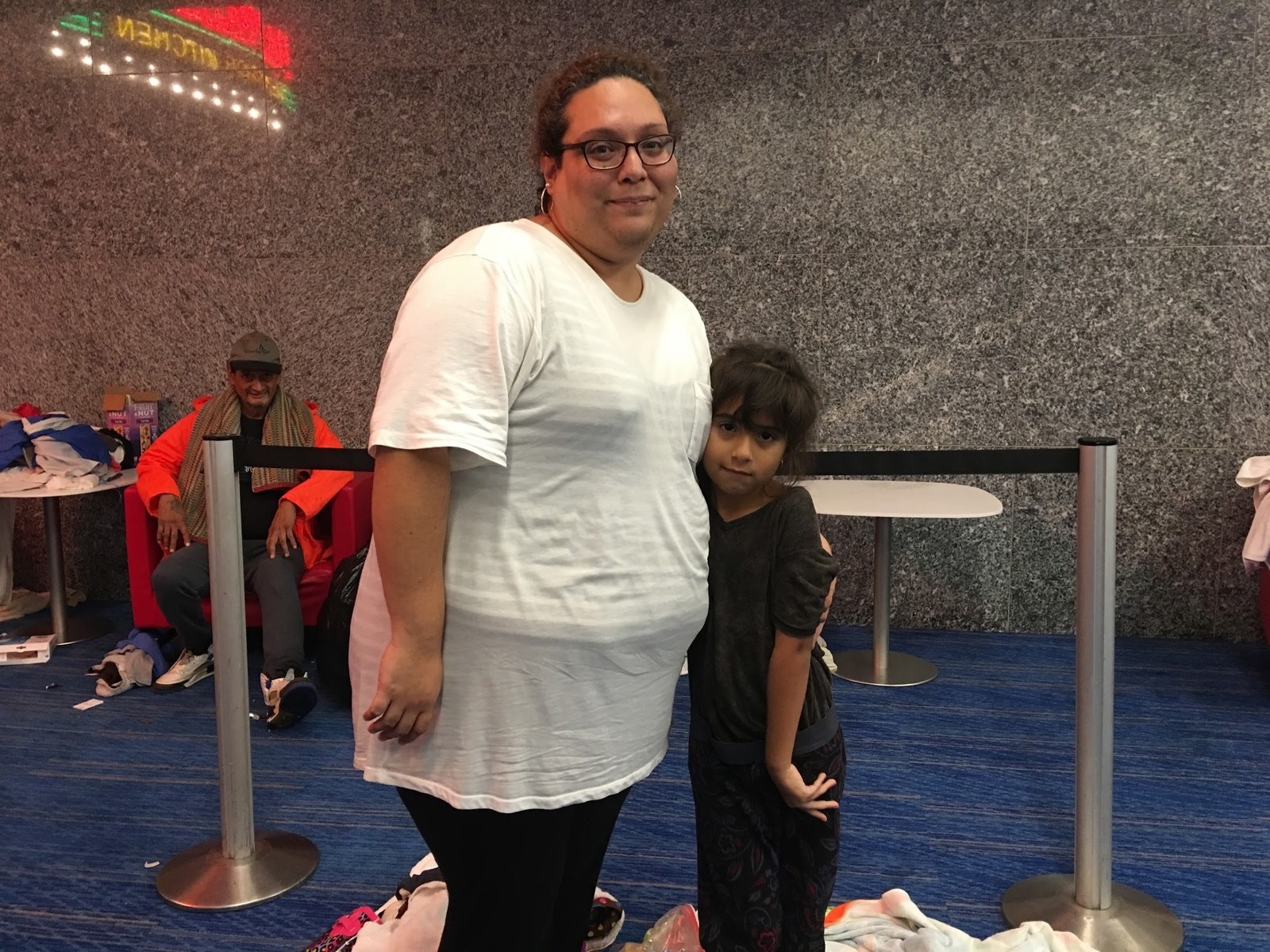 Though she arrived without any of her belongings, even a cell phone, Reyes said she is trying to reconnect with other family members.
"We've seen blood in the water, we've seen sewage in the water, and they're there and we're here," she said, with nervous laughter, recounting their ordeal. In the helicopter, she said, there were two other women with small children in wet blankets, without bags, food, and baby formula, because nothing else was allowed.
Standing in the noisy lobby of the convention center, where other displaced Houstonians continued to stream in looking for shelter, Reyes said she was worried about getting a cot, and concerned that she and her daughter will be unable to reach their relatives.
"It's terrifying, basically. I know the city of Houston is trying to help but at the same time, are you really helping because you're separating families?" she said. "They shouldn't separate families, and they should rescue everyone. If they're going to start at a house, then rescue everyone at that house."
If you've been impacted by the storm in Texas or have a tip about rescue, relief, government, or aid efforts, call the BuzzFeed News tipline at (646) 589-8598. Find us on Signal, email, SecureDrop, and more here.