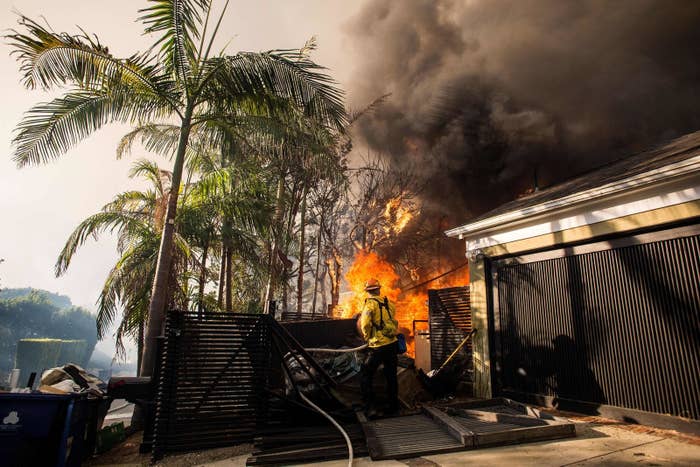 In September 2015, Los Angeles Mayor Eric Garcetti and other municipal leaders stood on the grounds of City Hall, declared homelessness a "crisis" and an "emergency," and vowed to combat the problem.
But two years later, the number of homeless people living in LA — and nationally —continues to swell, posing a complex set of problems for health and public safety that local governments have struggled to manage. The potentially disastrous consequences of this crisis were thrown into relief early this month, when a cooking fire from one of LA's many newer homeless encampments quickly erupted into a 400-acre wildfire that burned down six homes and damaged 12 others before crews finally contained it last Friday.
No one has yet been arrested for starting the Skirball Fire, which burned above the tony neighborhoods of Bel Air and Brentwood. But the incident served as a reminder that after years of trying, numerous US cities — many of them on West Coast — have been unable to stem the growing tide of people experiencing homelessness on their streets and wildlands. And it marks the latest in a series of public health and safety problems that have arisen from the epidemic, affecting both those with and without homes.
LA is ground zero of the crisis. A federal report released in December found that the city's homeless population grew 23% in 2017, to more than 55,000, about three-quarters of whom are not sheltered. Homeless vehicles and encampments — like the one that started the Skirball Fire — increased by 26% between 2016 and 2017, with 14,412 scattered across the city's streets, riverbeds, and vacant land, according to a spokesperson for the Los Angeles Homeless Services Authority.
"It's people living in fairly small quarters with, in some cases, probably many cases, all their worldly possessions," the spokesperson, Tom Waldman, told BuzzFeed News.
Nationwide, the report found that homelessness grew by 5% from 2016 to 2017. While LA alone accounted for 60% of that increase, other California cities are struggling with this problem as well. Overall, the state saw a 14% increase in homelessness last year, according to the federal tally. In San Diego, there are now more than 9,000 homeless residents, while the San Jose and San Francisco metro areas combined reported more than 14,000.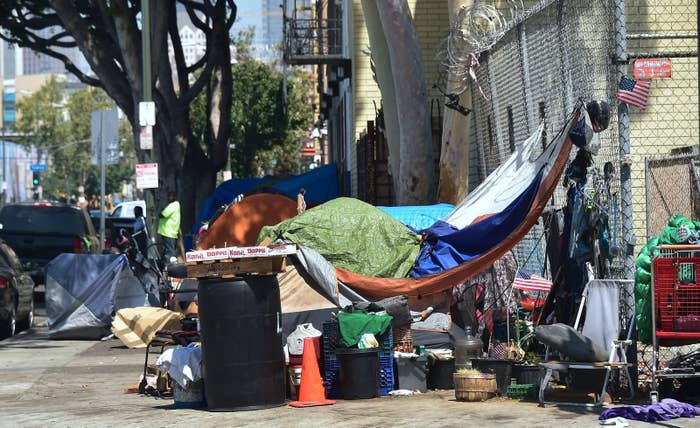 The Skirball Fire is only the latest example of the challenges, and potential hazards, that the crisis poses to people — homeless and otherwise — and property. It also wasn't the first blaze sparked in an area where homeless residents were trying to take shelter: In the Bay Area, fires have broken out at homeless encampments several times this year, including in May, July, September, November, and December.
"Some of these large encampments are particularly dangerous to the people in them, and to the community around them," Randy Quezada, a spokesperson for San Francisco's Department of Homeless and Supportive Housing, told BuzzFeed News.
It's difficult to know how widespread the fire danger is — and of course scores of human-caused fires burn in cities every year for an array of reasons. Los Angeles Fire Department spokesperson Peter Sanders told BuzzFeed News that his agency does not track how many are blazes are connected to homeless communities. Fire departments in San Diego and San Francisco did not respond to BuzzFeed News' requests for comment.

In June 2016, however, a homeless man allegedly started a fire that killed killed five people who had been sheltering in a vacant building. And in San Diego, fire at a homeless encampment in September exposed fire crews to human waste and, possibly, hepatitis A.
Los Angeles City Councilman Paul Koretz, who visited the site of the Skirball Fire after the blaze, said it appeared to have originated in an encampment that had formed in the weeks preceding the fire. And though no one died in fire, the extent of the destruction does appear to represent a new level of property damage caused by fires originating in homeless encampments.
"Certainly the Skirball Fire is the first brush fire we've had in recent memory that was the result of a cooking fire that resulted in significant damage to homes," Sanders said.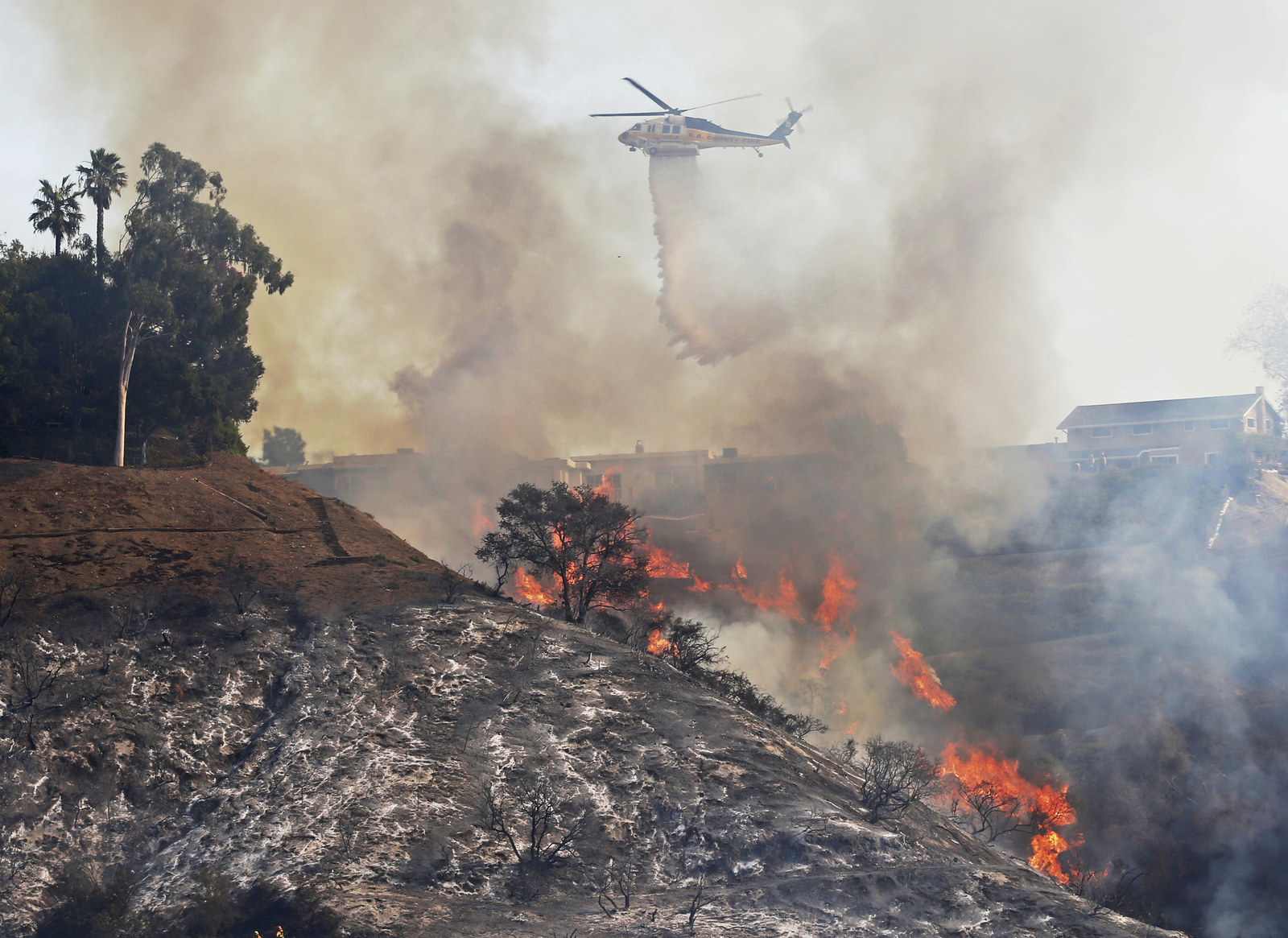 The San Diego incident in September highlights another major crisis precipitated by California's ever-worsening homeless crisis — and underscores how the people first and most negatively impacted by these conditions are the homeless themselves. San Diego's homeless encampments experienced a widespread outbreak of hepatitis A this year, with the disease eventually spreading to homeless communities in Los Angeles and Santa Cruz.
According to the San Diego County Health and Human Services Agency, there have been a total of 569 cases of hepatitis A since the outbreak began in November 2016, including 20 that ended in death. The "majority of people who have contracted hepatitis A during this outbreak have been homeless and/or illicit drug users," the county health department said.

San Diego has "too many people living on the streets, in parks, in rivers, in unsanitary conditions," which has left the city vulnerable to public health problems, Greg Block, a spokesperson from San Diego Mayor Kevin Faulconer, told BuzzFeed News. Hepatitis A, he noted, is "spread via fecal matter and because people are living in these unsanitary conditions it spread more quickly and rapidly through the homeless population."
In response to the outbreak, San Diego officials declared a health emergency in September. Officials in Los Angeles followed suit weeks later after discovering 10 cases — by November that number had grown to 14 cases. In Santa Cruz County, roughly 300 miles to the north, officials discovered 75 hepatitis A cases between April and November. California Gov. Jerry Brown ultimately declared an emergency over the outbreaks, allowing the state to increase its supply of vaccines.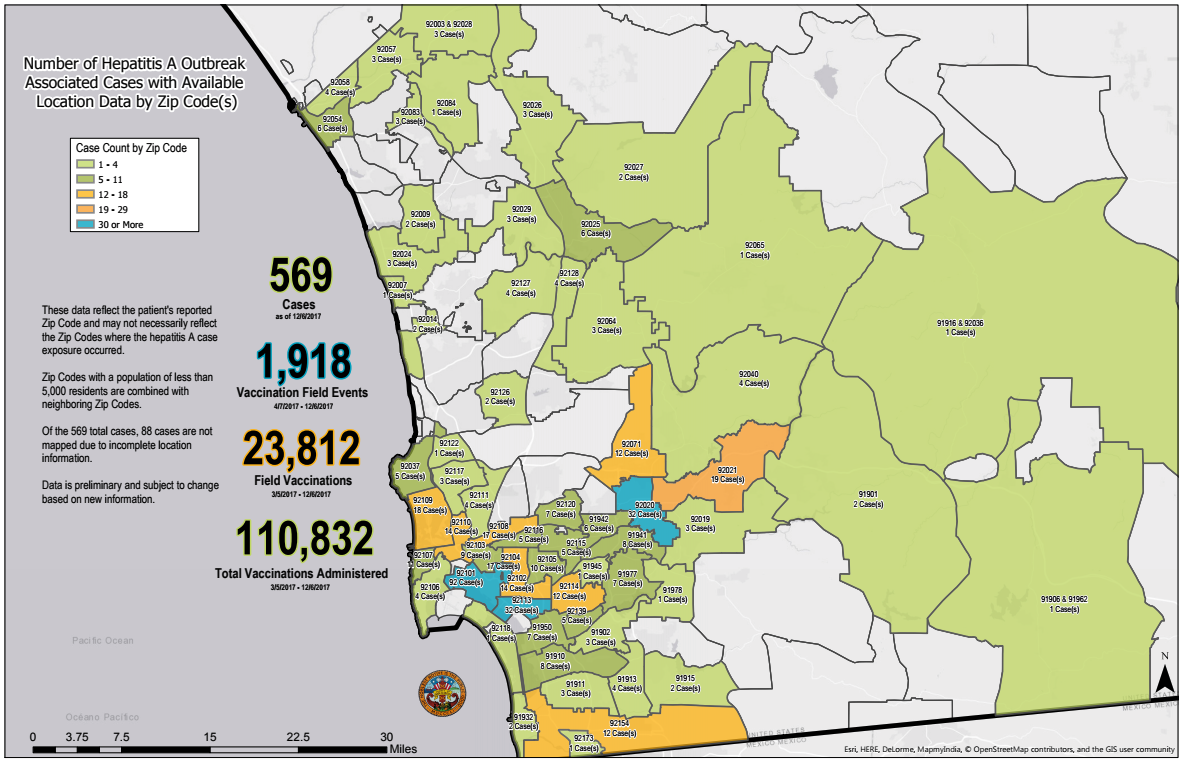 West Coast cities have worked to tackle the problems associated with homelessness in a variety of ways — and with mixed results. In San Diego, for example, officials have managed to vaccinate more than 100,000 people for hepatitis A, helping to slowly bring outbreak — still deemed a "local health emergency" — under control.

San Diego also has rolled out a transitional homeless camp, which Block described as "basically a parking lot where we allowed people to just set up camp."
"That got about 200 of our most vulnerable people off the streets, including families," he said. "That was an interim step."

In San Francisco, Quezada said city officials have also carried out widespread hepatitis A vaccinations, as a preventative measure to avoid a major outbreak like those seen in other California cities this year. The city has also developed a "5-year strategic framework" that aims to bring about a "significant, sustained reduction in homelessness."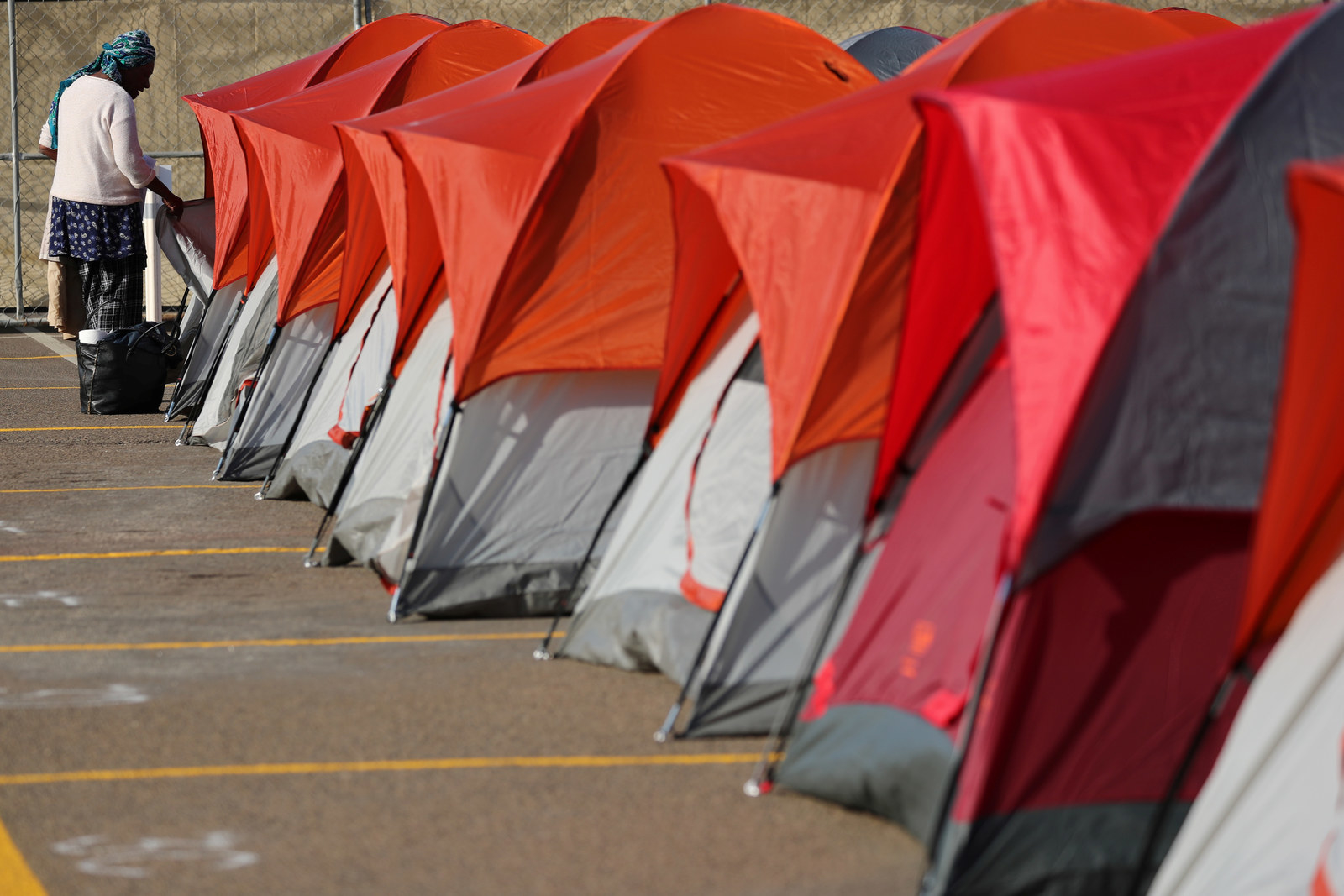 In LA, two recently approved ballot measures are designed to raise funds for homeless housing and services. Garcetti — a potential 2020 presidential contender who has called homelessness "the moral issue of our time" — backed both measures. And yet, the problem appears only to have worsened, with ever-rising numbers of people living without homes.
The new report — an annual survey released by the US Department of Housing and Urban Development — also suggests that growing numbers of people living on the street are not inevitable. New York has a homeless population of 76,501 — far more than in Los Angeles — but provides shelter for 95% of those residents. And the authors note that some of the largest cities in the US — including Chicago, Houston, and Phoenix — are "among the five largest cities in the country but were not among the cities with the largest numbers of people experiencing homelessness."
In the wake of the Skirball Fire, Los Angeles is preparing a task force involving multiple city agencies to deal with homelessness and fire prevention, including surveying potentially fire prone areas, providing outreach, and securing places where encampments have been removed so that people don't return.
When asked about the issue of fire threats posed by homeless encampments, a spokesperson for the mayor told BuzzFeed News that it "underscores just how critically important it is to be vigilant, to continue to do outreach and end homelessness in this city."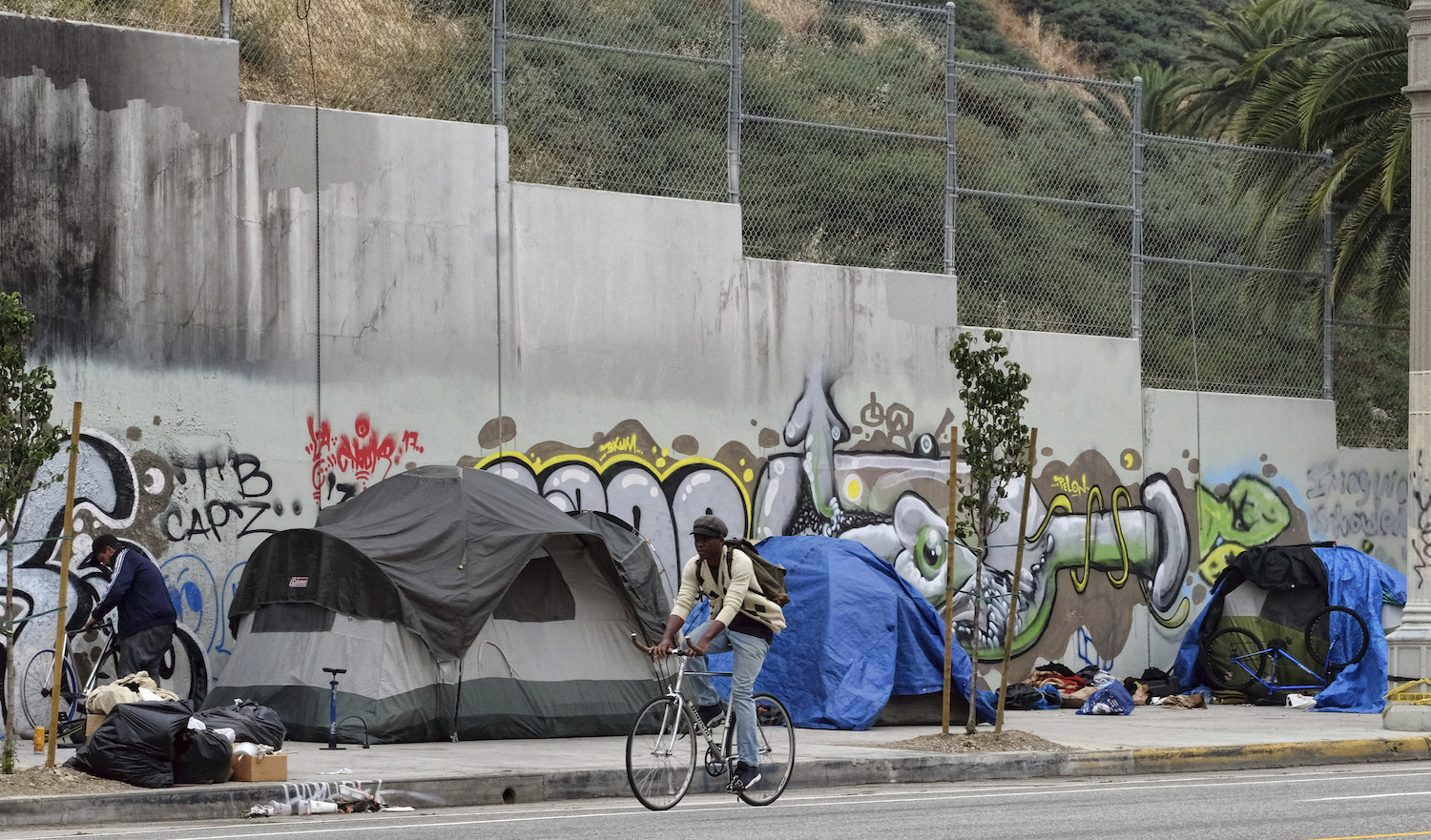 Still, despite the as yet unabated rise in homelessness — and the resulting health and safety hazards — some local officials in California remained optimistic about their efforts to deal with the crisis. Waldman, of the Los Angeles Homeless Services Authority, pointed to city's recent ballot initiatives, noting that voters voluntarily opted to tax themselves in order to fund solutions. And Quezada noted that San Francisco is actively moving people out of encampments.
Block, the mayor's spokesperson in San Diego, acknowledged that after years of watching the homeless population grow, it's clear that challenges remain. "We can't do it with the resources we have access to," he said. "What we've been doing in the past isn't getting the job done. It's not working."