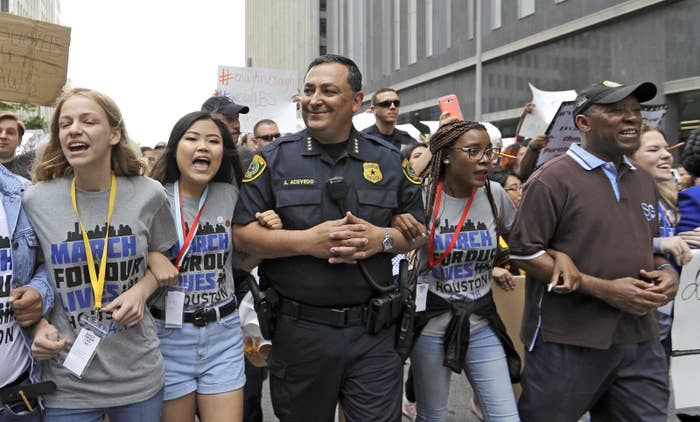 In the wake of a deadly school shooting that left 10 people dead Friday in Texas, the Houston chief of police demanded action on guns, saying this is a time for "asking God's forgiveness for our inaction."

Chief Art Acevedo posted the comments on Facebook Friday evening, hours after Dimitrios Pagourtzis, 17, allegedly opened fire at Santa Fe High School. The shooting left both students and staff members dead.
Acevedo referenced an officer who was wounded in the gunfire and said he had been shedding "tears of sadness, pain and anger." He then turned to the issue of gun control.
"I will continue to speak up and will stand up for what my heart and my God commands me to do," the police chief said, "and I assure you it he hasn't instructed me that gun-rights are bestowed by him."

Acevedo said the days following the mass shooting isn't "a time for prayers, study and inaction."
"It's a time for prayers, action and the asking of God's forgiveness for our inaction," Acevedo urged.
He singled out for criticism "elected officials who ran to the cameras today" but who will "once again do absolutely nothing."
The comments came just hours after Texas Gov. Greg Abbott, Lt. Gov. Dan Patrick, Sen. Ted Cruz, and others appeared at a news conference and condemned the shooting. Abbott said that he planned to convene a roundtable to study the issue, while Patrick — a longtime gun rights advocate — suggested school shootings happen in part because there are "too many entrances."
Though Acevedo did not mention any specific policies he wanted to see enacted, he did take to Twitter to condemn those "given the task to enact common sense statutes and policies and continue to fail our families and our children." The tweet included a link to a Washington Post article reporting that more students have been killed in school shootings this year than those serving in the military.
This isn't the first time Acevedo has spoken out about gun control. In the days following last year's deadly shooting on the Las Vegas Strip, he asked "when will we stand up and say enough?"
"To those that say it is too soon," he wrote a week after the Las Vegas shooting, "I say it's too late. We've failed thousands of families, of all ages, races and faith. Stand up and be heard."
In September 2017, Acevedo also criticized Republican lawmakers and tweeted that "we have a health epidemic involving gun violence."
But Acevedo's remarks Friday were even more pointed. In his tweet, he singled out "law enforcement leaders" for inaction. And on Facebook he added that the shooting had deeply affected him.
"I've hit rock bottom," he wrote, "and I am not interested in your views as it pertains to this issue."