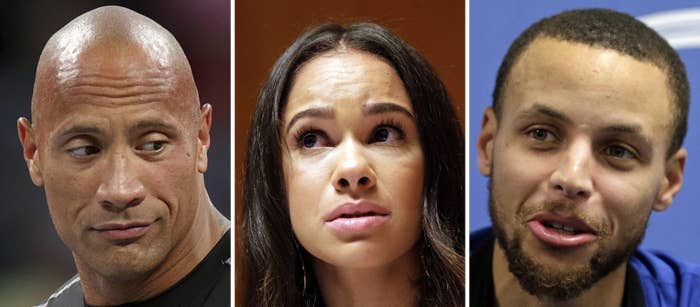 Athletic clothier Under Armour is facing a barrage of criticism from three of the highest profile celebrities it sponsors after the company's CEO praised President Trump.
Under Armour CEO Kevin Plank on Tuesday referred to Trump as "a real asset for the country" and lauded his plans "make bold decisions and be really decisive." The comments prompted promises of a boycott from critics of the president.
On Wednesday, both ballerina Misty Copeland and Golden State Warriors star Steph Curry — who have sponsorship deals with Under Armour — came out against Plank's comments. Copeland wrote in an Instagram post that she has "always appreciated the great support" from the company, but that "I strongly disagree with Kevin Plank's recent comments in support of Trump."
On Thursday, Dwayne "The Rock" Johnson joined Copeland and Curry.

With criticism mounting, the company released a statement to the Baltimore Sun on Friday calling immigration "a source of strength" for the US.
"This is what we believe. Under Armour and Kevin Plank are for job creation and American manufacturing capabilities. We believe building should be focused on much needed education, transportation, technology and urban infrastructure investment," the statement said. "We are against a travel ban and believe that immigration is a source of strength, diversity and innovation for global companies based in America like Under Armour."
Copeland, who is the first black principle dancer in the history of the American Ballet Theatre, said she had "spoken at length with Kevin" and that "it is important to me that he, and UA, take public action to clearly communicate and reflect our common values."
The same day Copeland posted her comments, Curry told the Mercury News that he agrees with Plank's comment "if you remove the 'et'" from the word "asset."
When asked if he would abandon Under Armour, Curry said that if "the leadership is not in line with my core values, then there is no amount of money, there is no platform I wouldn't jump off if it wasn't in line with who I am."
"So that's a decision I will make every single day when I wake up," Curry said. "If something is not in line with what I'm about, then, yeah, I definitely need to take a stance in that respect."
In a Facebook post, Johnson said Plank's comments were "neither my words, nor my beliefs."
He explained that he partners with brands that "I trust and with people who share my same values," but that he would ultimately "stand with this diverse team, the American and global workers, who are the beating heart and soul of Under Armour."
The celebrity criticism comes as Trump's polarizing presidency and policies increasingly drive a rift in American popular and economic culture. Uber, for example, also faced a backlash and calls for a boycott over its CEO's relationship to Trump.

This week, six members of the New York Patriots also said they will skip the traditional post-Super Bowl visit to the White House.