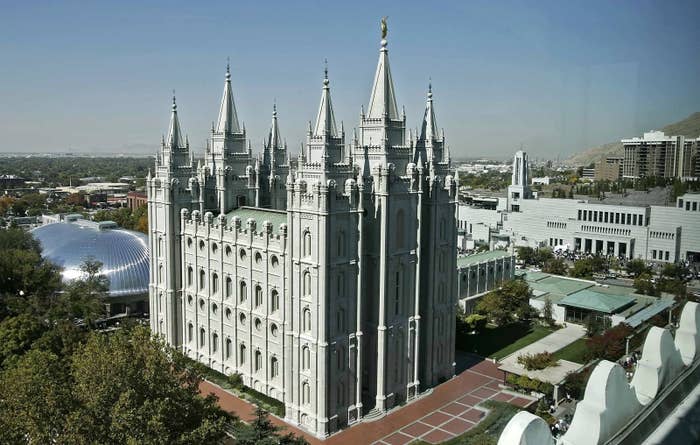 The Mormon church condemned white supremacism Tuesday, issuing a sharply worded statement three days after a deadly rally in Virginia and as a far-right movement within the church's own ranks grows increasingly vocal.
The Utah-based faith — officially called The Church of Jesus Christ of Latter-day Saints, but better known as the Mormon or LDS church — said it had learned there were people "among the various pro-white and white supremacy communities who assert that the Church is neutral toward or in support of their views. Nothing could be further from the truth."
"White supremacist attitudes are morally wrong and sinful, and we condemn them," the statement continued. "Church members who promote or pursue a 'white culture' or white supremacy agenda are not in harmony with the teachings of the Church."

The statement was posted as an update to the church's first response following a white supremacist rally in Charlottesville, Virginia, Saturday. One person died during that rally when a man drove a car into a crowd of counterprotesters.
But the statement also serves as the church's latest effort to grapple with a growing alt-right movement within its own ranks. Though the number of people who count themselves members of that movement is difficult to track, numerous Twitter accounts and blogs have sprung up in recent months that blend LDS theology with far-right, often racist, views. And while the vast majority of Mormons condemn white supremacism, far-right Mormons have nevertheless been rapidly expanding their reach on social media.
Some members of that movement responded with dismay Tuesday to the church's statement. In a series of tweets, a woman who uses the Twitter handle @apurposefulwife and goes by the pseudonym Ayla said the Mormon church "just declared that I, as a white person, have no culture. Despite my never claiming supremacy of any kind & advocating for ALL ppl."
Ayla is the best known and most widely followed purveyor of Mormon-inflected alt-right views, but others responded by saying that "white culture" was not the same as "white supremacy," and by arguing that the new statement was not written by top church leadership.
When reached by BuzzFeed News Tuesday, the church declined to describe the process that produced the new statement. It also would not say if Mormons who espouse white supremacist views would face disciplinary action, such as excommunication or disfellowship.
However, the statement was celebrated by members of the more mainstream Mormon community, many of whom have pushed back against the alt-right.
Tuesday for example, Janan Graham-Russell — who has written about race and her experiences as a black Mormon — told BuzzFeed News that the church's statement was "a step forward in light of the Church's history with race."
"It's significant that the term white supremacy and 'white culture' were used (especially the use of quotes around the word white culture) in the sense that it cleared up previous ambiguous statements given by past and present church leaders regarding racial issues," Graham-Russell added.
Also Tuesday, well-known Mormon writer Jana Riess said in a post that she was "glad to see the LDS Church come out swinging on this issue." She also noted that members the alt-right had seized on the church's earlier statement about Charlottesville and claimed it supported them.
"It's rare for the LDS Church to issue a clear and unambiguous smackdown to anyone," Riess wrote. "It's rarer still for the Church to state openly that it is issuing said smackdown because its previous message was so blatantly and recklessly misunderstood."
This week numerous other Mormon bloggers have repeatedly tackled race and the alt-right. One of those bloggers, Jonathan Decker — a practicing Mormon who wrote about white privilege this week — told BuzzFeed News he was "doing cartwheels" after Tuesday's statement, which he described as "proclaiming what's aways been true, which is that people of every race and every color are children of God."
"Most of the members of my faith are applauding this announcement," Decker continued, adding that people who use their faith to support extremism are "twisting their beliefs to fit a prejudice."
George Andrew Spriggs — a non-practicing Mormon who this week described the church's previous statements as being written with "seemingly intentional ambiguity" — also generally praised the church's new comments on white supremacism.
"I think that this represents the church recognizing from a PR perspective that it just won't work to be seen as giving cover to white nationalist views," Spriggs said.
He added that there are "a lot of practical issues still to be addressed," and wondered if church leaders would question white supremacist members about their online comments. Still, Spriggs welcomed the church's condemnation of white supremacism.
"To see the church be explicit made me pretty happy," he said.