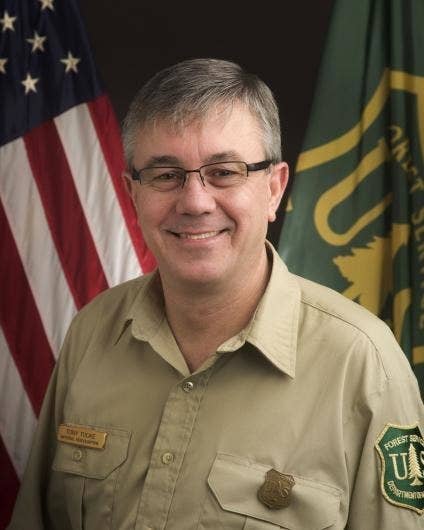 The head of the US Forest Service has resigned after sexual misconduct allegations against him surfaced, and dozens of current and former employees at the agency spoke out about workplace hostility toward women.
Tony Tooke, the head of the agency, announced in an email to staff on Wednesday he was stepping down immediately. The memo referenced recent "news reports" about misconduct in the agency, as well as "references to my own behavior in the past."
"I have decided that what is needed right now is for me to step down as Forest Service Chief and make way for a new leader that can ensure future success for all employees and the agency," Tooke wrote, according to a copy of the email provided by the Forest Service to BuzzFeed News.

Vickie Christiansen was appointed Thursday as interim chief to serve as Tooke's replacement. In an email to agency employees Friday, Christiansen said that "we've had to face some hard truths about allegations of harassment and retaliation in our agency, even as we stare down some of the biggest land-management challenges in our nation's history," the Associated Press reported.
"I know we are up to the task," she added.
In the email announcing his resignation, Tooke didn't confirm or deny the allegations against him, instead writing, "I cannot combat every inaccuracy that is reported in the news media." The email also praised the women who have spoken out about misconduct.
"I admire their courage," Tooke wrote. "Their stories are heartbreaking and reveal that we must do much more to achieve a safe, positive, and respectful work environment for all employees."
Tooke's resignation was first reported by PBS, which published an investigation last week citing interviews with 34 current and former Forest Service employees who described a work environment they said was hostile to women. One woman spoke about being groped and harassed on the job, and then being told an investigation had not found any misconduct. Three women spoke of being raped, and many discussed suffering retaliation after reporting harassment.
The investigation also uncovered sexual misconduct allegations against Tooke. The allegations had to do with Tooke's relationships with subordinates before he assumed the top post at the agency in August.
Tooke has worked at the US Forest Service for decades. US Agriculture Secretary Sonny Perdue said in August that placing Tooke at the head of the agency meant "the Forest Service will be in good hands."
Perdue expressed appreciation for Tooke in a statement Wednesday, saying "I thank him for his decades of service to this nation and to the conservation of its natural resources."
"In my experience, in order to effectively lead any organization, you must have the moral authority to inspire its members to work toward the goal of continuous improvement," Perdue said.

In his resignation email Wednesday, Tooke said that "every employee must feel safe, valued, respected and free to speak up without fear of reprisal."
"The right leadership must be in place to create an atmosphere in which employees can perform their very best work," he added. "Each employee deserves a leader who can maintain the proper moral authority to steer the Forest Service along this important and challenging course."