Man Who Spent Five Years With His Family As Taliban Hostages Now Charged With Assault
Joshua Boyle has reportedly been charged with more than a dozen counts of assault, sexual assault, and other crimes. Boyle, along with his wife and children, were rescued last year after spending five years as Taliban hostages.
A Canadian man who, along with his family, was freed in October after five years as a Taliban hostage has now been charged with multiple counts of sexual assault and other crimes.

Joshua Boyle, 34, is facing a total of 15 different charges, including eight for assault, two for sexual assault, two for unlawful confinement, one for uttering threats, and one for administering a noxious substance, CBC reported. The charges were filed in Ottawa, Canada's capital city, and reportedly reflect crimes that prosecutors believe took place between Oct. 14 and Dec. 30.
Law enforcement arrested Boyle on Monday and he appeared in court Wednesday, CBC also reported, via a video link. Boyle's next court date is set for January 9th.
Boyle and his wife, American Caitlan Coleman, made headlines in October when Pakistani forces rescued them and their three children from the Haqqani network, an organization with ties to the Taliban. Boyle and Coleman had been captured in 2012, while traveling in a mountainous part of Afghanistan near Kabul. Their time in captivity was spent in both Afghanistan and Pakistan.
Coleman was pregnant at the time of the abduction, and the couple ultimately had three children by the time they were freed. Days after the family's rescue, Boyle told reporters their had captors raped his wife and killed their fourth child, a daughter. Coleman has spoken about being raped as well, and said that she and her family were repeatedly drugged.
The family also appeared in multiple hostage videos over the years.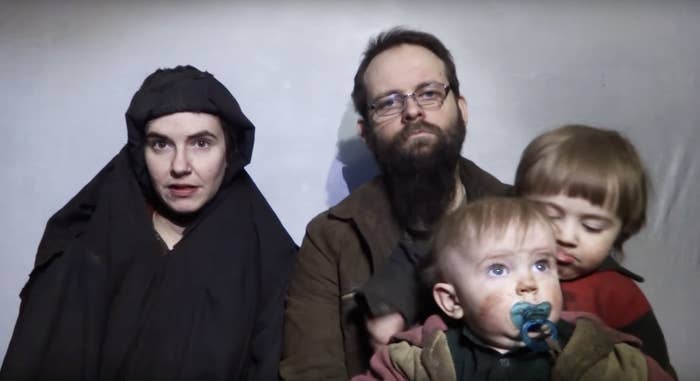 Few details were available Tuesday about the charges against Boyle. His attorney, Eric Granger, told BuzzFeed News in an email he had not yet received the court documents for the case, adding that there is also a publication ban on information about evidence in the case and the alleged victims.

"Mr. Boyle is presumed innocent," Granger added. "He's never been in trouble before. No evidence has been provided yet, which is typical at this early stage. We look forward to receiving the evidence and defending him against these charges."

The CBC reported that there are two alleged victims, but also did not identify them.
BuzzFeed News could not immediately reach Coleman Tuesday, but in a statement to the Toronto Star she said that it was "the strain and trauma he was forced to endure for so many years and the effects that that had on his mental state that is most culpable for this."
"Obviously, he is responsible for his own actions, but it is with compassion and forgiveness that I say I hope help and healing can be found for him," Coleman continued. "As to the rest of us, myself and the children, we are healthy and holding up as well as we can."