Updated — Oct. 9, 3:00 a.m. ET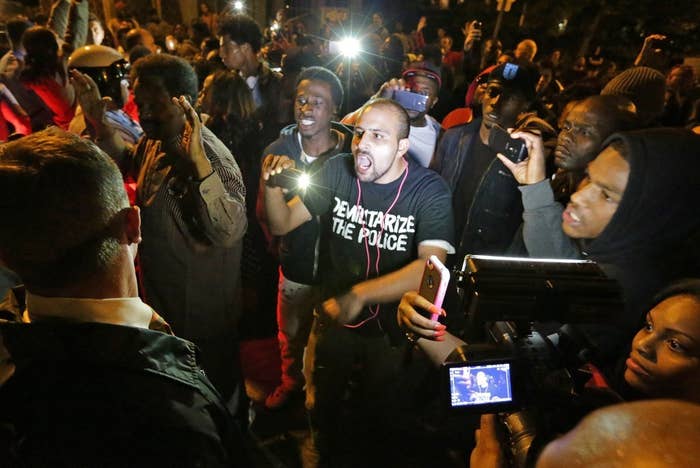 A St. Louis Police officer shot and killed a young man Wednesday evening, city police said.
The incident that led to the shooting began about 7:30 p.m. CT when an off-duty officer noticed three men near the corner of Shaw Boulevard and Klemm Street in St. Louis. Police Chief Sam Dotson said during a news conference that the men began running when they saw the officer, who responded by chasing one of them.
The officer was working as a security guard at the time, but wearing his St. Louis police uniform, Dotson said.
The officer initially lost the man but found him again when he jumped out of a bush. Lt. Col. Alfred Adkins told the Associated Press a struggle then ensued.
"The officer approached, they got into a struggle, they ended up into a gangway, at which time the young man pulled a weapon and shots were fired," Adkins said. "The officer returned fire and unfortunately the young man was killed."
According to Dotson, the man fired at least three times. His gun then jammed, though he continued pulling the trigger. The officer fired 17 times. By early Thursday morning, investigators had recovered bullet casings from two guns, Dotson said, as well as a 9 mm Ruger believed to have belonged to the man.
"The ballistic evidence indicates at least three different rounds at the office," Dotson added.
Police did not identify the man who was shot, but family members said it was 18-year-old Vonderrit Myers, the Post-Dispatch reported.
During the news conference, Dotson said the man who was shot was "no stranger to law enforcement" and that after running his name in the police database Wednesday "something popped up very easily." Dotson did not further elaborate on what kind of history the man had with police.
The shooting happened in the Shaw neighborhood about 12 miles from Ferguson, where an officer shot and killed Michael Brown on Aug. 9.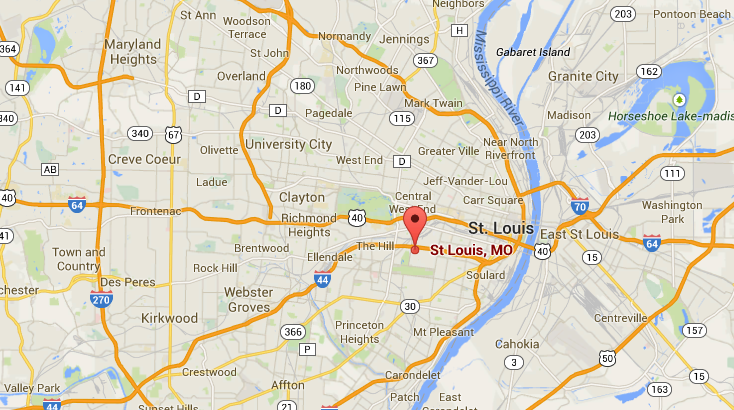 Soon after the shooting, a large crowd gathered at the scene, then marched through nearby streets.
Despite police reports that the officer fired second, many at the scene claimed Myers was in fact unarmed. Teyonna Myers, who said she was Myers' cousin, told the Post-Dispatch that police only thought Myers had a gun.
"He was unarmed," Teyonna Myers told the paper. "He had a sandwich in his hand, and they thought it was a gun. It's like Michael Brown all over again."
When asked about social media accounts that claimed Myers didn't have a gun, Dotson reiterated that investigators had evidence confirmed that shots were fired at the officer. "An individual pointed at gun at a officer, fired three rounds, and continued to pull the trigger," Dotson said during the news conference.
Dotson said no protesters were arrested by Thursday morning and there was no looting or damage to businesses. He did confirm accounts from tweets and video that police cars had windows broken.
There have been several other pedestrian checks that led to police shootings in St. Louis over the past few years.
Police did not offer any explanation of what a "pedestrian check" entails, and BuzzFeed News' questions went unanswered. But there have been several similar incidents in St. Louis in recent years that led to police shootings.
Last year, a St. Louis police officer shot 30-year-old Lamont Dukes, RiverFront Times reported. Dukes didn't die and, because he fled from police, was later charged with resisting arrest.
In 2012, police shot a 20-year-old man during a pedestrian check on the north side St. Louis. That man also didn't die.