In the first major break in the case in weeks, the skeletal remains of a human foot have been found inside a girl's shoe near the spot where at least six members of a family died when their SUV sped off a remote cliff in Northern California.
A local resident found the remains Wednesday on a Mendocino County beach about a mile north of the March 26 crash site. The remains were discovered inside a girl's shoe that was tangled up in a pair of jeans, the Mendocino County Sheriff's Office said in a statement.
Investigators are performing DNA testing on the remains to determine if they belong to one of the two still-missing members of the Hart family.
Two parents and at least four of their children died in the crash. Investigators have said mother Jennifer Hart, 38, was behind the wheel, and toxicology reports later found she was drunk at the time of her death. Toxicology reports also found that Hart's wife, 38-year-old Sarah Hart, and three of the children in the vehicle had diphenhydramine, an active ingredient in Benadryl, in their blood at the time of the crash.
Two members of the family — including Devonte Hart, the subject of a widely viewed photo from an Oregon Black Lives Matter protest in 2014 — remain missing.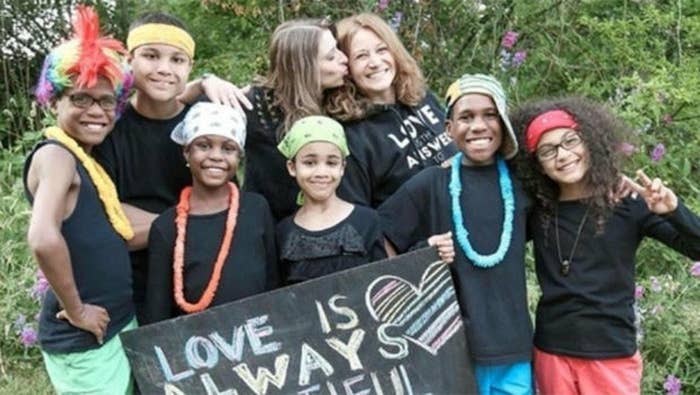 Jennifer and Sarah Hart, who are both white, adopted their six black children from Texas. The family was living in Minnesota in 2011 when Sarah Hart pleaded guilty to a misdemeanor charge of domestic assault involving one of her children.
The family later moved to Oregon and then, following media attention in the wake of Devonte's viral fame, to Washington.
Bruce and Dana DeKalb, the Hart family's neighbors in Washington, told the Associated Press that they called child welfare services three days before the crash after Devonte came to their house asking for food almost every day for a week. The Washington Department of Social and Health Services confirmed to BuzzFeed News that it received a call about the family in March.
According to Dana DeKalb, Devonte said his parents were "punishing them by withholding food." The DeKalbs also said that one of the Harts' daughters had knocked on their door in the middle of the night last year, saying, "we needed to protect her" because the women were "abusing her."
Investigators have said they don't know why the family left their home in Washington and drove to California, but in April suggested the crash may have been intentional. However, the cause of the crash remains under investigation.
Tasneem Nashrulla contributed to this report.