Virginia Schools Closed After Teacher's Lesson On Islamic Calligraphy Sparks Uproar
A geography teacher asked students to try calligraphy by copying an Arabic phrase that translates to "there is no god but Allah," prompting outrage.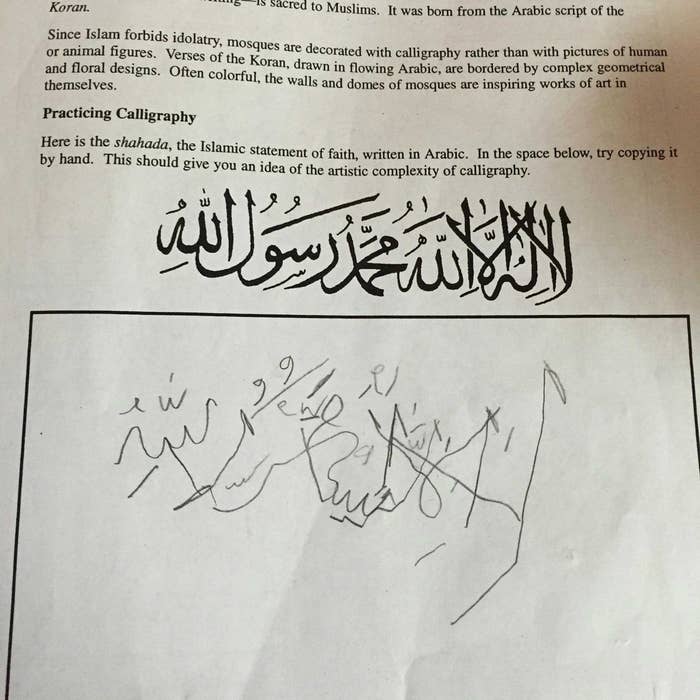 A Virginia school district has canceled classes in response to outrage and security concerns prompted by a lesson about Islamic calligraphy.
Riverheads High School social studies teacher Cheryl LaPorte administered the lesson Dec. 11 while teaching about world religions, according to the News Leader. In the lesson, LaPorte asked students to copy a statement written in Arabic that translates to "There is no god but Allah, and Muhammad is the messenger of Allah."
The statement is known as the shahada and is a declaration of faith for Muslims.
An image of the assignment, obtained by WHSV, shows that it included a block of calligraphy, and invited students to "try copying it by hand."
"This should give you an idea of the artistic complexity of calligraphy," the assignment adds.
Some students refused to participate in the lesson, and parents later became outraged, the News Leader reported. And on Tuesday night, about 100 people attended a forum to discuss the lesson.
On Thursday, the Augusta County District responded to the uproar by announcing that schools would be closed Friday. The district's statement explains that following the uproar, the school began receiving "voluminous phone calls and electronic mail locally and from outside the area." Local law enforcement then suggested the schools close based on "the tone and content of those communications."
The statement adds that there was "no specific threat" and the decision to close the school was made "out of an abundance of caution."
District and school officials did not immediately respond to BuzzFeed News' request for comment Thursday. An Augusta County Sheriff's dispatcher said that members of her department had discussed the situation with school officials, but said she did not have additional information.
Still, not everyone appears to be outraged; the News Leader reported that in the days since the assignment support for LaPorte has grown.