Russian Military Vehicles Spotted Crossing Into Ukraine
A Guardian reporter witnessed several Russian vehicles moving toward Ukraine Thursday, but said they weren't the size of a "proper invasion force."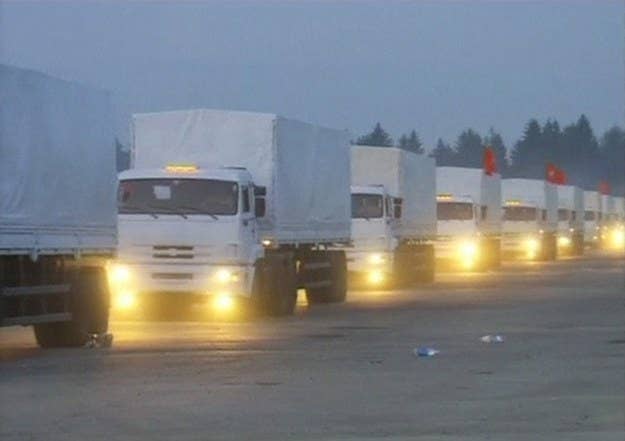 The Guardian reporter Shaun Walker reported Thursday on Twitter that he saw multiple Russian military vehicles moving into Ukraine.
Walker also tweeted that the group of vehicles — which included 23 armored craft as well as support trucks — was separate from a Russian aid convoy that deployed earlier this week.
Walker added that the vehicles didn't look like a "proper invasion force."
Though Walker said the vehicles were "probably what has been happening for a while," they're likely to exacerbate fears about Moscow's intentions in Ukraine.
Russian President Vladimir Putin's announcement of the convoy took the world by surprise. And while Russia said the trucks were filled with things like food and sleeping bags, no one — including the Red Cross and the Ukrainian government in Kiev — knows for sure if that's actually the case.
Kiev, on the other hand, has slammed the convoy as a direct invasion by Russia.
Some also believe Russia could be using the convoy to resupply rebels in the region, CBS News reports.
Walker reported Thursday that aid convoy trucks — which "do indeed appear to contain humanitarian aid" — stopped short of the Ukrainian border, while the military vehicles proceeded into Ukraine through a gap in a barbed wire fence. "Kiev has lost control of its side of the border in this area," Walker added. He was unable to determine how long the vehicles would be in Ukraine, but said they prove that Russian troops are active across the border.