Quentin Tarantino Defends Controversial Comments: "I'm Not A Cop Hater"
The Pulp Fiction director took to MSNBC Wednesday to defend his comments about police violence after unions called for a boycott of Tarantino's films.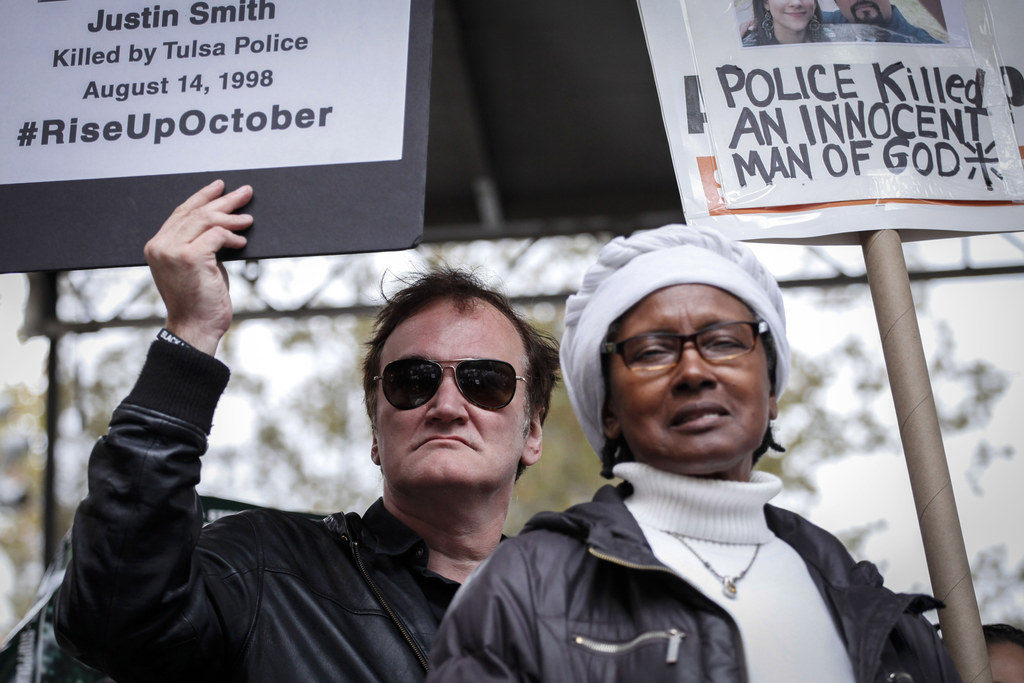 Quentin Tarantino defended his comments condemning police brutality Wednesday night after police unions around the country called for a boycott of his films.
A feud between the director and various police unions began after he appeared at a demonstration in New York City on Oct. 24. While at the demonstration, Tarantino said, "when I see murder, I cannot stand by and I have to call the murdered the murdered and the murderers the murderers."
In the days that followed, police unions in New York City, Los Angeles, Philadelphia, and elsewhere called for a boycott of Tarantino's work. His latest film, The Hateful Eight, hits theaters on Dec. 25.
Tarantino first defended his comments Tuesday in the Los Angeles Times, and remained defiant Wednesday during an interview with MSNBC's Chris Hayes.
Tarantino called on police to "stop shooting unarmed people."
He added that police "would rather start arguments with celebrities than examine the concerns put before them by a citizenry that has lost trust in them."
"We want them to stop being numbers," Tarantino said, referring to unarmed civilians killed during police encounters. "We want them to stop being statistics and start being people who were once living and breathing and are now dead."
Later, Tarantino argued he isn't a "cop hater," but that police are "slandering" him.
Responding to claims he hates police, Tarantino argued that "anybody who acknowledges that there's a problem in law enforcement in this country right now is considered by law enforcement to be part of the problem."
The comments come after Pat Lynch, president of New York City's police union, said, "it's no surprise that someone who makes a living glorifying crime and violence is a cop-hater, too."
Toward the end of the interview, Tarantino questioned whether the union-supported boycotts would happen.
The director said that he has "a whole lot of police officers who are big fans of my work" and will "make up their own mind."
Watch the full interview here: