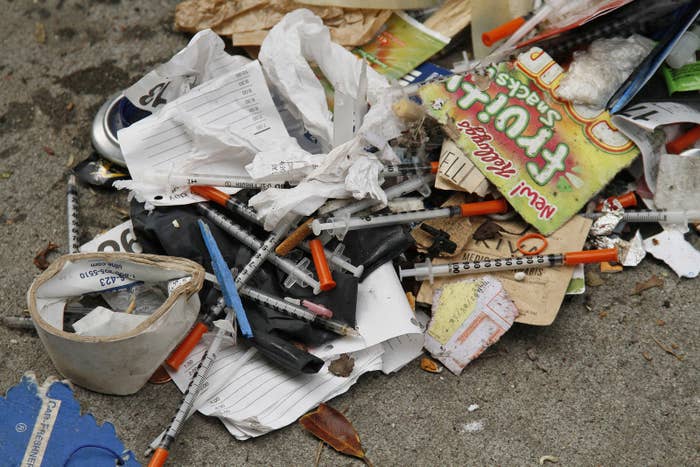 Mark Farrell had just stepped off a train and was walking through San Francisco's Civic Center Plaza when he felt something strange under his foot. He looked down and discovered in horror a discarded syringe stuck to the sole of his shoe.

"It poked the sole of my shoe," said Farrell, who is now the city's interim mayor. "I had a moment of, obviously, a huge scare."

To his relief, the needle hadn't pierced through his shoe — which could have exposed him to a variety of serious diseases — but it was nonetheless a jarring experience.

"It certainly opened my eyes to an issue that was starting to become a major concern on the streets of San Francisco," he told BuzzFeed News. "And anecdotally it's gotten a lot worse over the last year, combined with our residents' rightful anger over the conditions of our streets."

Open drug use has exploded in San Francisco in recent years, enraging residents who complain of having to step over people injecting heroin in train stations and to traverse a seemingly unending series of tent villages on sidewalks and bike paths. The problem has ballooned into a public health crisis, officials say, leaving elected leaders scrambling for solutions as discarded needles pile up in the streets.
The issue has also tested San Francisco's image as a liberal, compassionate urban oasis, and underscores a broader trend in large California cities that have been grappling with rising homelessness and drug use on their streets.
Public drug use in San Francisco was thrust into the spotlight last week when a series of shocking videos uploaded to YouTube showed dozens of drug users, seemingly unaware that they were being filmed, sprawled out in a Bay Area Rapid Transit station and openly injecting drugs as commuters walked past. Others appeared to be unconscious, lying next to a pool of vomit.
The videos, recorded at the Civic Center station in the heart of San Francisco — not far from where Farrell stepped on a syringe last year — highlight how dealing with drug use and needles has become a daily routine for many of the city's residents.

Farrell said Friday he was meeting with BART officials to address the problem.

Beau Brady, a San Francisco resident and street performer, told BuzzFeed News that he gets asked several times a day if he'd like to buy drugs — most often heroin, methamphetamine, or crack cocaine — outside his apartment in the city's Tenderloin neighborhood. Brady, a former heroin and oxycodone user who has been on methodone for the past five years, said he has seen a noticeable increase in open drug use in San Francisco neighborhoods.
"They're doing it more blatantly now," said Brady, who contended that drug users face few repercussions from law enforcement. "They know they're not going to get in trouble or get arrested."
Data from the city paints a similarly bleak picture.

According to the San Francisco Department of Public Health, there are about 22,000 intravenous drug users in the city, or about 470 per square mile. Most of those people are using heroin and prescription opioids, but the use of methamphetamines is on the rise, said Rachael Kagan, a health department spokesperson.

And while it's unclear if the total number of drug users has increased in recent years, the problem has become more visible. "The general public are having more exposure to this activity," Kagan said.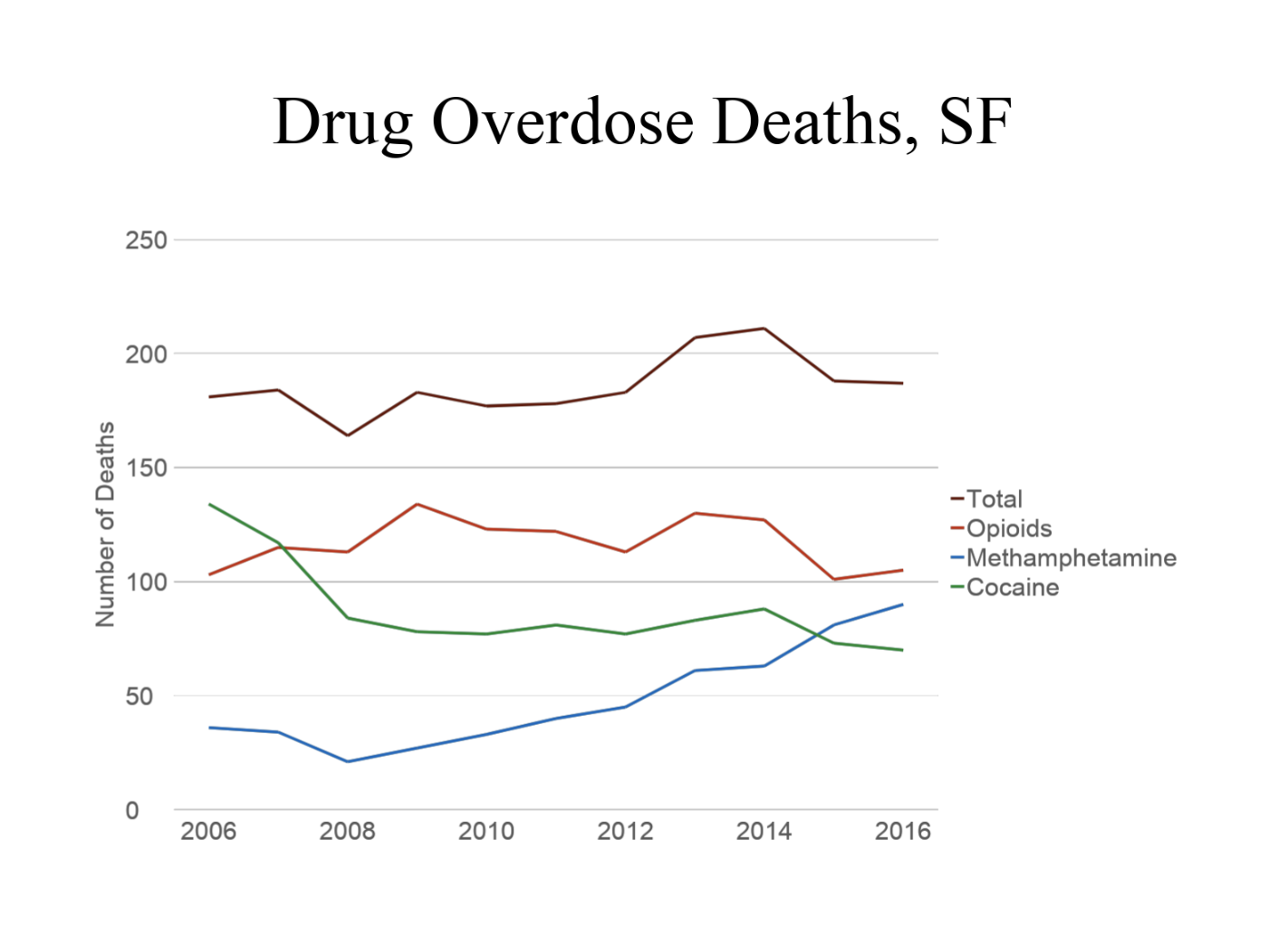 Complaints related to drug use in San Francisco have skyrocketed as well. Between 2009 and 2017, the number of reports of needles and other medical waste on the streets grew from 290 to 6,363 — an increase of 2,194% — according to the city's database of non-emergency calls.

Complaints about human waste on the streets have also spiked, from 5,771 in 2009, to 20,960 in 2017, a jump of 363%. Since 2014, the number of reports has doubled. And complaints about encampments of homeless people have risen from 586 in 2009 to 42,208 in 2017 — a surge of almost 7,200%.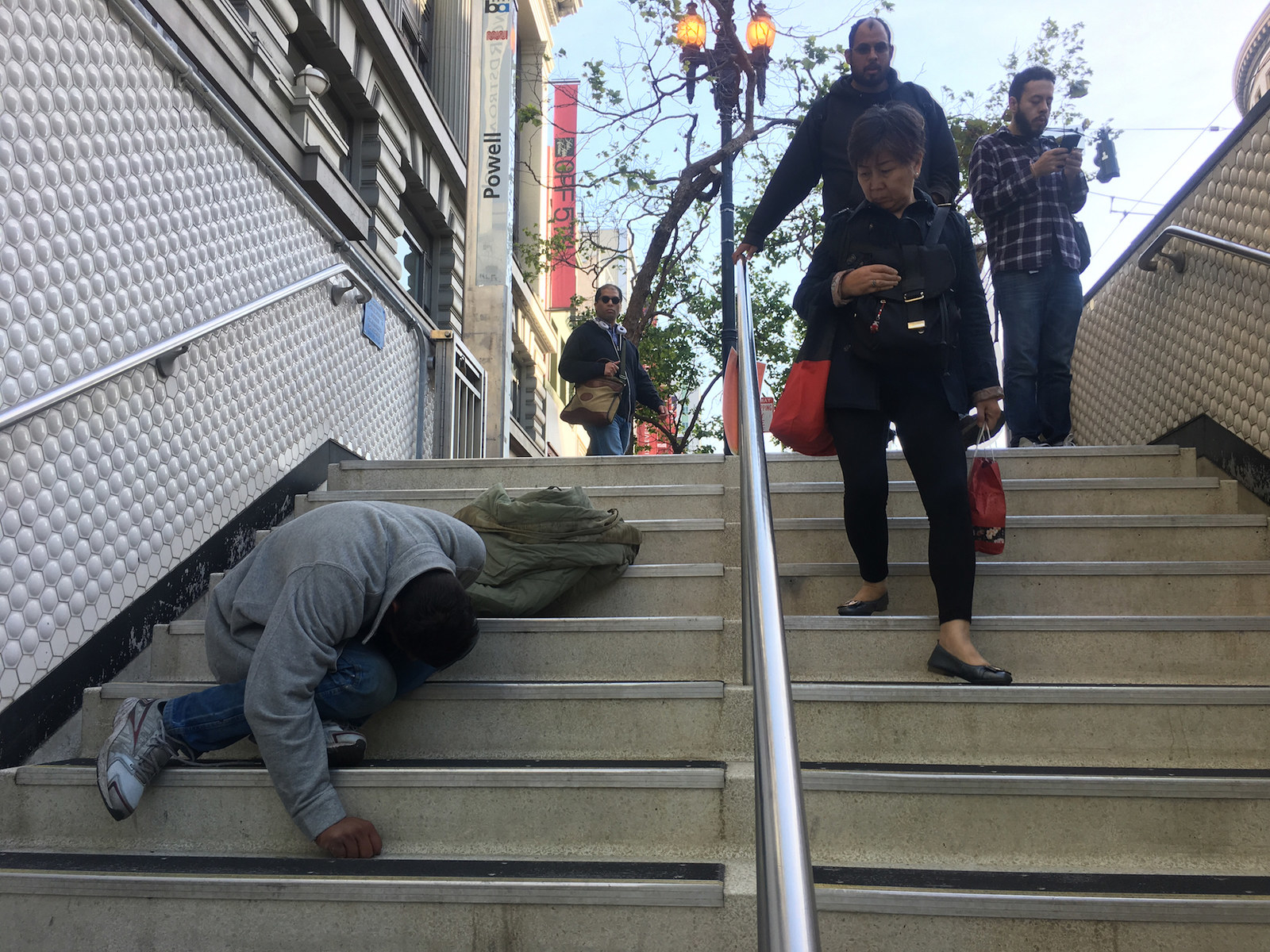 Police regularly respond to reports of drug use and have the option to make arrests, issue citations, or intervene to refer people to various social service resources, San Francisco Police Department spokesperson Robert Rueca told BuzzFeed News. The department has been "cracking down" on open drug use, but has limited resources, he said. "We only have so many officers to police the city."
California law prohibits possession of drugs like heroin. However, the law allows people convicted of "nonviolent" drug offenses to receive treatment rather than jail time. And in 2014, voters in the state approved a law that allowed simple possession of drugs such as heroin to be classified as a misdemeanor, rather than a felony. The proposition was endorsed by prominent newspapers including the Los Angeles Times, as well as advocacy groups such as the ACLU.

Rueca said that arresting people with small amounts of drugs is ineffective because they quickly return to the street and the habit, but added it is "challenging to enforce some of these laws when we're not putting people into custody."
"What's to keep them from going to the next corner?" he said. "The quick fix would be to just go in with a power wash and clear everyone out, but how long will that last?"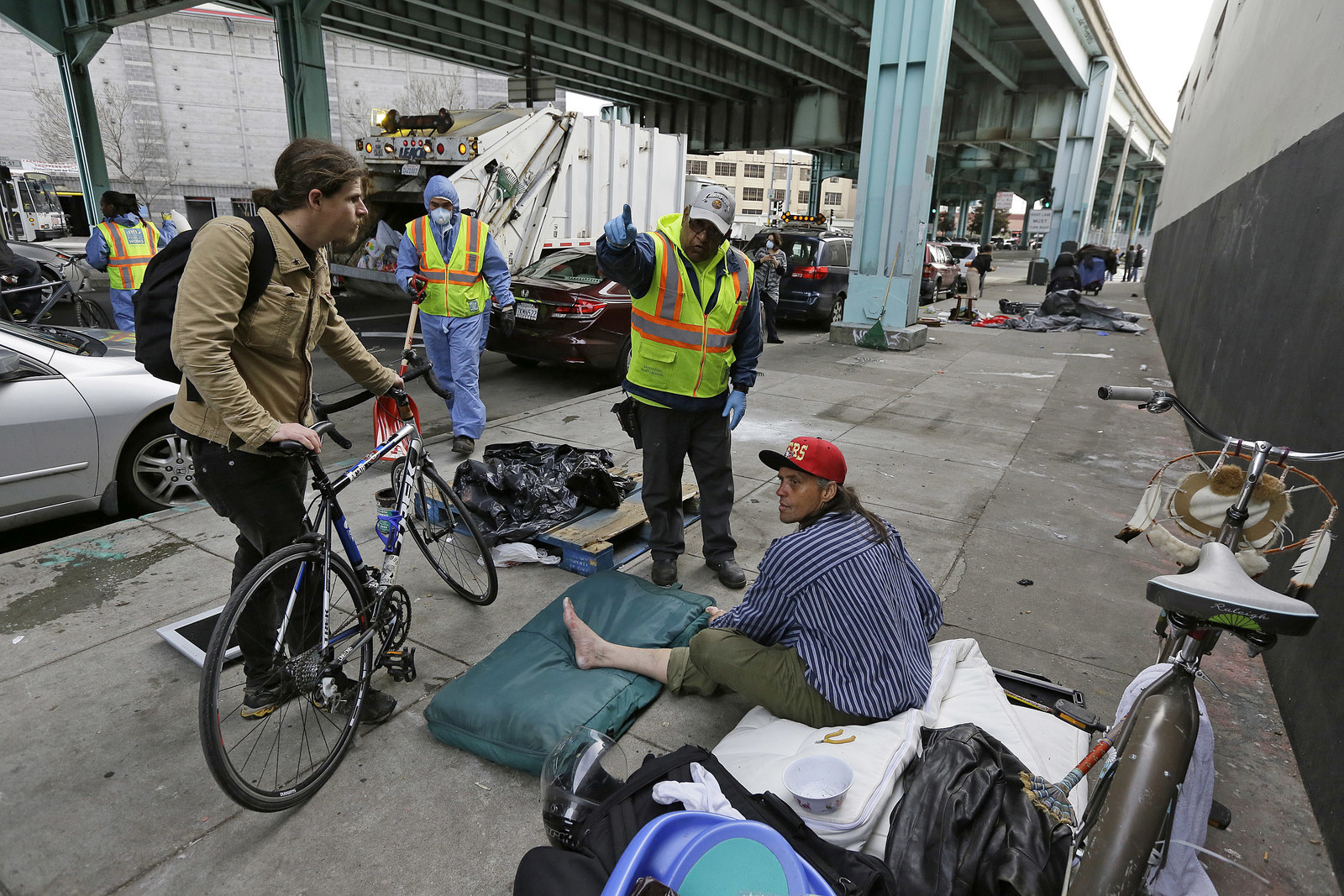 Transit officials face similar challenges. Alicia Trost, a BART spokesperson, told BuzzFeed News that the agency has spent $32 million since 2014 on "quality of life" issues that include reducing drug use, and is requesting another $1.6 million for the coming year. The agency has stationed attendants in elevators, recently hired 21 new cleaning staffers, and has "community service officers" who patrol station corridors and tell people to move along.

BART police also respond to reports of drug use, but the agency faces limited resources, as well as people who "come right back" after being ordered to leave, Trost said.
"Our system's so big we can't have an officer 24/7 in every hallway and every car," she added.
The reasons for the explosion in open drug use are varied, but Kagan pointed to increased real estate development in the city as one potential factor. In the past, she said, drug users might have squatted in abandoned buildings or empty lots — places that would have kept drugs out of sight from the general public. But today, San Francisco's red-hot real estate market means those properties are disappearing, pushing drug users into public spaces like BART stations and city sidewalks.
"People who shoot up in public don't want to be doing that," Kagan said. "It's very stressful. It's embarrassing. There's a lot of stigma."
The reports of waste and encampments, which vastly outpaced the city's relatively modest population growth, point to the growing number of people who live on the street in San Francisco. And while not all of those who are homeless are also drug users, officials who spoke with BuzzFeed News said there is a relationship between the two issues.

"We need to work on the symptoms," Farrell said. "That includes our homeless population and the drug abuse we're seeing on the streets. We have to be comprehensive in our approach if we're going to solve this issue long-term."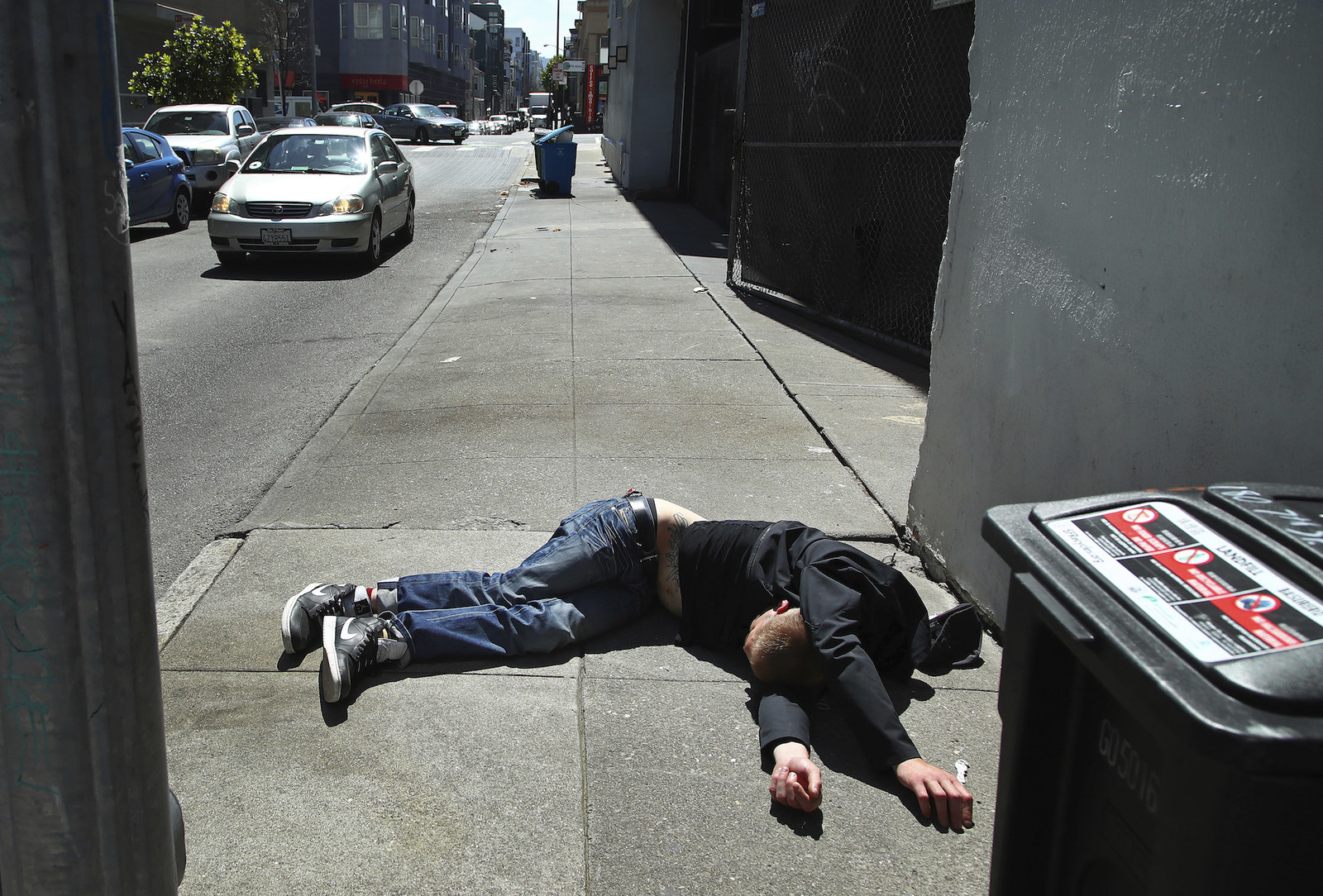 Lara Brooks, a vice president at the San Francisco AIDS Foundation, said the Bay Area's rising housing costs have likely contributed to the growing problems of public drug use and homelessness.

"It's well-known that housing is a challenge especially in San Francisco, and in the Bay Area more generally, and that does have a profound impact," she said. "Sometimes those lead to health disparities."
Though these problems have become particularly visible in San Francisco, the city is not alone in facing problems related to drugs and homelessness, and areas across the US are struggling with an opioid crisis.

Down the California coast, in Orange County, a vast encampment of homeless people stretched for miles along a riverside bike path. When officials eventually cleared the encampment in March, they reportedly found more than 13,000 used syringes and 5,000 pounds of human waste.
In San Diego County, the combination of drugs and homelessness turned deadly last year when an outbreak of hepatitis A eventually killed 20 people. A county spokesperson said that the majority of people who contracted the disease during the outbreak had been "homeless and/or illicit drug users."
Hepatitis outbreaks also affected Los Angeles and Santa Cruz counties last year, with officials stating that one of the at-risk groups was users of illegal drugs.
Last week, the union representing employees of the California Department of Transportation filed a grievance over what it described as hazardous conditions cleaning up waste from encampments. One union member told the Sacramento Bee that he had been exposed to blood, needles, and feces.
The situation has fueled frustration and anger across California cities, including in San Francisco.

"I hear about it every single day from friends, visitors, people contacting our staff at our office," Farrell said. "These issues are no secret."
In response, Farrell has vowed to fight the problem. The same week that the videos were uploaded to YouTube showing open drug use in the BART station, Farrell announced plans aimed at getting syringes off the streets. Those plans involve using almost $13 million over two years to hire dozens of new street cleaning workers, and expanding various facilities in the city.
"I'm fed up with it," Farrell told BuzzFeed News. "And I've made it a priority as mayor to fix the issue."
To that end, officials cleared an encampment in the city's Mission District last week, though some advocates for homeless people have criticized how the disbandment was handled, the San Francisco Examiner reported.
"San Francisco will continue to be a compassionate city," Farrell said when asked about pushback to clearing encampments. "But our city also should be safe for visitors, for families, for children."
Other solutions are on the table as well. San Francisco, for example, is one of four cities in the US that has expressed interest in opening safe injection spaces for drug users.
The spaces would be connected to existing treatment facilities, which Kagan said when coupled with programs that provide clean syringes can actually cut down on the number of discarded needles in public, as well as reduce the number of people dying from overdoses.
"We feel as a city that we do need to do more," Kagan said. "There is a crisis."
CORRECTION
The number of complaints related to public drug use and homelessness filed in 2008 were understated in a previous version of this story because it didn't include data from the full year. This story has been updated using 2009 as a baseline instead.