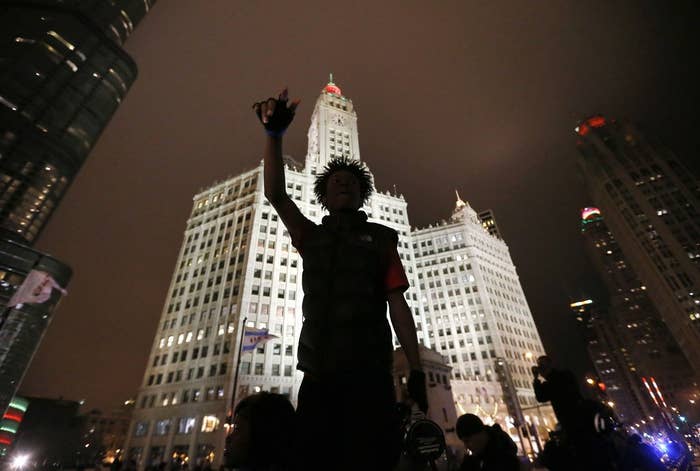 Protesters in Chicago took to the streets for the second night in a row Wednesday following the release of a video showing a police officer fatally shoot 17-year-old Laquan McDonald.
Protests began in the early evening, with people taking the streets by 5 p.m. The first wave of protests seemed unplanned — people marched down Michigan Avenue chanting "16 shots" while others carried on with their holiday shopping.
"Our message gets ignored," Lajairick Rais told BuzzFeed News during the march. "No one was listening to us yesterday. They're not listening today."
By the time the protesters marched to Trump Tower, dozens of police officers on bicycles created a barricade blocking the entrance. Protesters confronted the officers, getting close to their faces and asking if they were friends with officer Jason Van Dyke, who was charged with murder on Tuesday.
When a police officer started recording the crowds, protesters asked why police were recording the protests but didn't release the video of McDonald's shooting for more than a year.
The march continued for several hours through the streets of downtown Chicago. By 8:30 p.m. crowds dispersed, with many leaving to join the second protest scheduled for 9 p.m.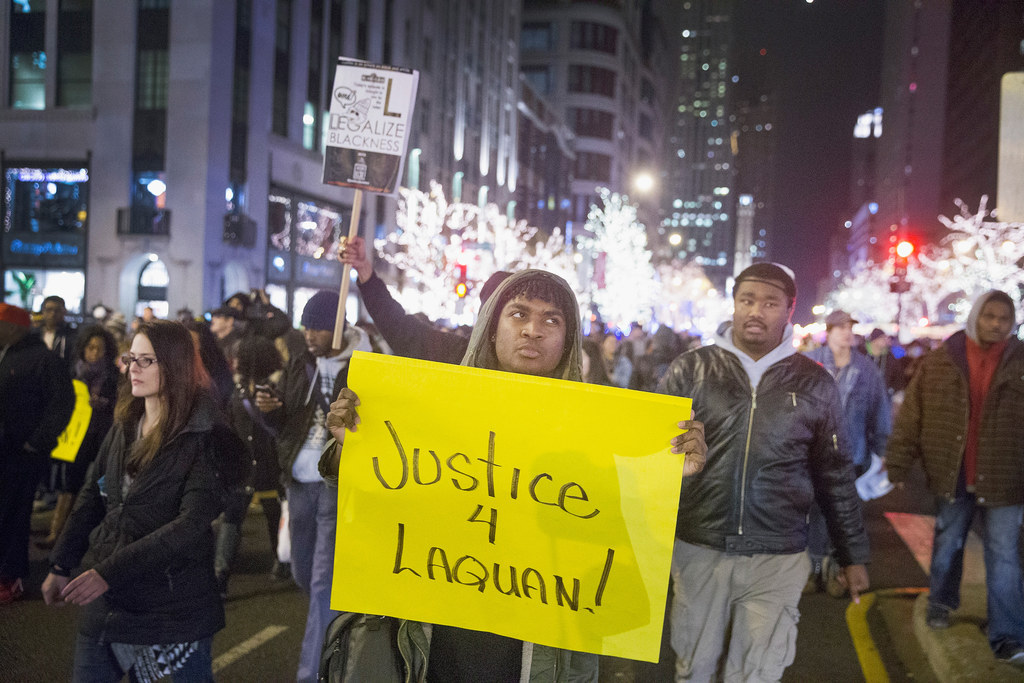 That march, organized by Black Youth Project 100, began peacefully, with protesters standing in a circle, hand-in-hand, chanting, "Hey hey, ho ho, these killer cops have got to go."
The march eventually moved north toward Millennium Park. Protesters knocked down the barricades on Michigan Avenue to get into the park, where they once again formed a circle, chanting, "It is our duty to fight for freedom."
At Millennium Park, a handful of protesters tore Christmas lights from a tree.
While pulling off the lights, some protesters yelled that Chicago police officers cared more about protecting public property — like the tree — than protecting black lives.
"You protect this but don't protect us," protesters shouted.
While some protesters vandalized the tree, most yelled at them to stop, stating that this wasn't why they were out on the streets.
The tree was lit in a ceremony Tuesday night attended by Mayor Rahm Emanuel. The lighting ceremony happened shortly after Emanuel appeared with police officials to discuss and release the dashcam video.
After the protesters began removing the lights, bicycle police moved in and took several people into custody, at which point the crowd scattered.
"The police don't want people rallying," Max McKune told BuzzFeed News. "They arrest people, the charges are bullshit, all to make us go away."
McKune was one of the four people arrested Wednesday night. McKune and another protester, Omari Ferrell, were charged with resisting a police officer. Natalie Wahlberg was charged for damaging public property and Jacqueline Spreadbury was charged with battery and resisting a police officer.
The tense atmosphere continued as protesters exited the park. As police officers set up barricades, scuffles broke out, leading to at least one arrest.
By 11 p.m., protesters staged a sit-in at Michigan and Chicago avenues, demanding the resignation of Rahm Emanuel, Cook County State's Attorney Anita Alvarez, and Police Superintendent Garry McCarthy.
Images from the protests showed police officers detaining people throughout the night.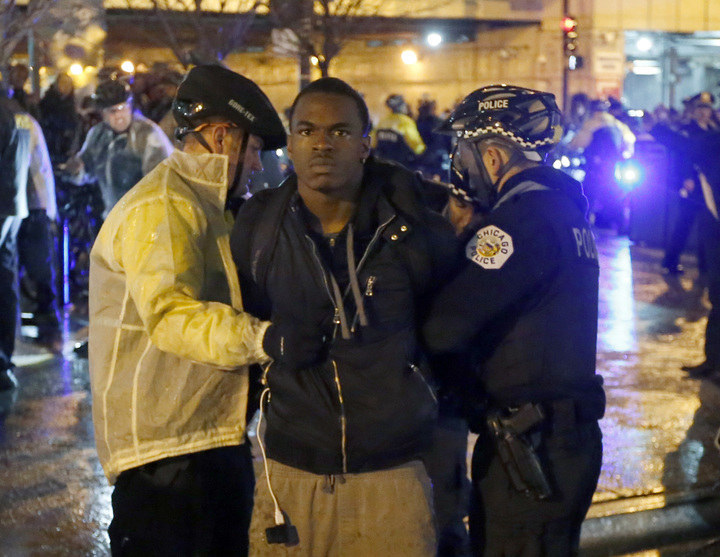 McDonald was trying to get his life back together after an arrest and a childhood of moving around relatives' homes and foster care, Thomas Gattuso, the principal of the high school McDonald attended told the Associated Press.
"It takes a while to get a life back on track," Gattuso told the AP. "With Laquan, we unfortunately never got to finish his story.
"In this case, we have a tragic ending unfortunately to a tragic life of a young man who was betrayed on a number of different levels," he said. "And typically, these cases end up in the police department's hands. And, in this case, it ended up in his death."
The demonstrations continued into early Thursday as protesters marched through the streets chanting.
"We can't allow the murder of Laquan McDonald, or anyone else, be ignored," Christian Branch told BuzzFeed News late Wednesday. "Not even on Thanksgiving."
Official estimates about the size of the protest were not immediately released Wednesday night. Aerial video showed what appeared to be a somewhat smaller group than the one that gathered Tuesday night, though journalists who covered both nights mentioned increased tension Wednesday.