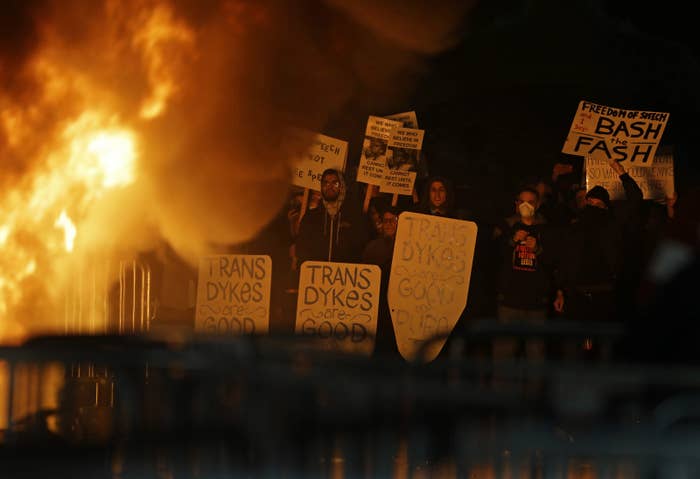 President Donald Trump reacted angrily to overnight protests against alt-right speaker Milo Yiannopoulos at University of California, Berkeley, and threatened to withdraw federal funds if the university "does not allow free speech and practices violence" in a tweet posted early Thursday morning.

Chaos erupted on campus on Wednesday night as protesters demonstrating against a scheduled speech by Yiannopoulos started fires, broke windows, and repeatedly refused police orders to disperse.
UC Berkeley defended its actions in a statement Thursday after Trump's tweet, calling the violence "an attack on the fundamental values of the university."
"While we have made clear our belief that the inflaming rhetoric and provocations of Mr. Yiannopoulos were in marked opposition to the basic values of the university, we respected his right to come to campus and speak once he was invited to do so by a legitimate student group," the university said. "The violence last night was an attack on the fundamental values of the university, which stands for and helps to maintain and nurture open inquiry and an inclusive civil society, the bedrock of a genuinely democratic nation."

The protests began peacefully Wednesday evening outside the campus building where Yiannopoulos — an outspoken Trump supporter and writer for the far-right website Breitbart — was scheduled to give a speech. They quickly turned violent, though, and video from the scene showed protesters toppling an outdoor light fixture and starting a large fire outside the building.
Some protesters also smashed the windows of the on-campus Amazon store adjacent to the auditorium, using the metal barriers intended to corral them in order to do so. At least one person could be seen with blood on his face. He told BuzzFeed News he had been hit by an anti-fascist demonstrator.
Two other people were injured on campus: one pro-Trump counter-protester, who yelled at the far larger anti-Trump contingent only to be slammed against metal barricades; and one man who was bleeding profusely and was rushed into the auditorium by police for first aid. His blood was pooling on the sidewalk. The cause of his injury was not clear.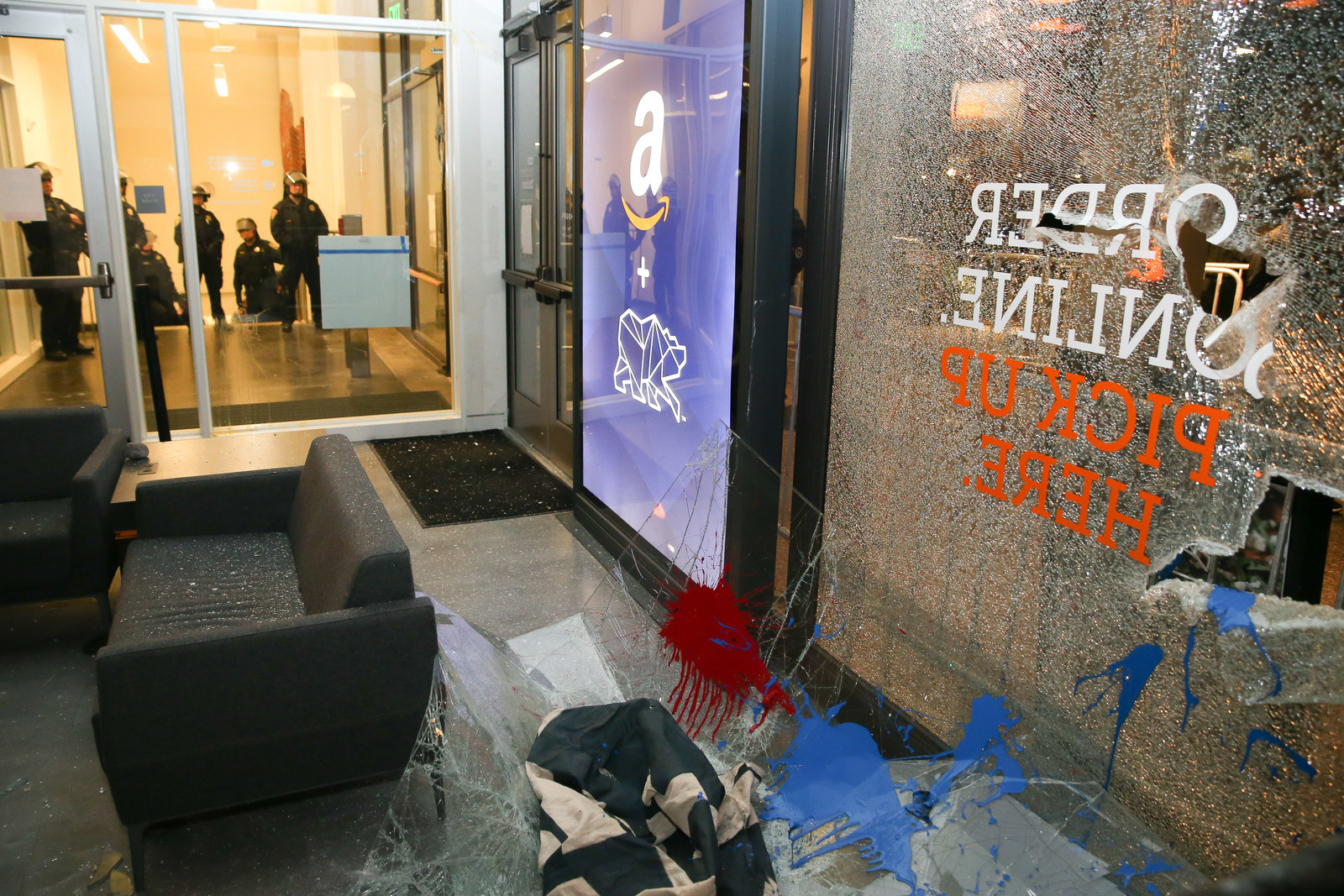 Protesters could be heard yelling "Nazi scum your time has come" and "when facists come to town what do we do? We shut shit down." Many of them came wearing head-to-toe black clothing, obscuring their faces with scarves and bandanas, and bearing flags and posters that identified them as "antifas," or anti-fascists. These demonstrators were largely behind the more aggressive and violent elements of the protest.
While the protest was still going, Yiannopoulos spoke to Fox News via phone. He said he was evacuated after the protests began.

"Students who come to my talks don't necessarily agree with me but want to see the other side," Yiannopoulos said. "They were prevented from doing so this evening from violence from the left. The left that is terrified from anyone who might be persuasive or interesting or might take people with them."

Yiannopoulos, who was invited to Berkeley by the College Republicans, has been on a college tour that has frequently sparked protests. The gathering in Berkeley, however, quickly became more chaotic than demonstrations at most other college campuses.
According to a statement from the UC Berkeley, more than 1,500 people joined the protest.

"Multiple methods of crowd control were in place," the university's statement said. "Ultimately, and unfortunately, however, it was simply impossible to maintain order given the level of threat, disruption and violence."

In a statement, the Berkeley College Republicans said their "constitutional right to free speech was silenced by criminals and thugs."

Protesters could be seen cheering after Yiannopoulos's speech was canceled. The left-wing activist group Bay Area Socialist Alternative, which organized the protest on Facebook, took credit for the university's action. The group had previously condemned the university "in the strongest possible terms for recklessly allowing the event to continue."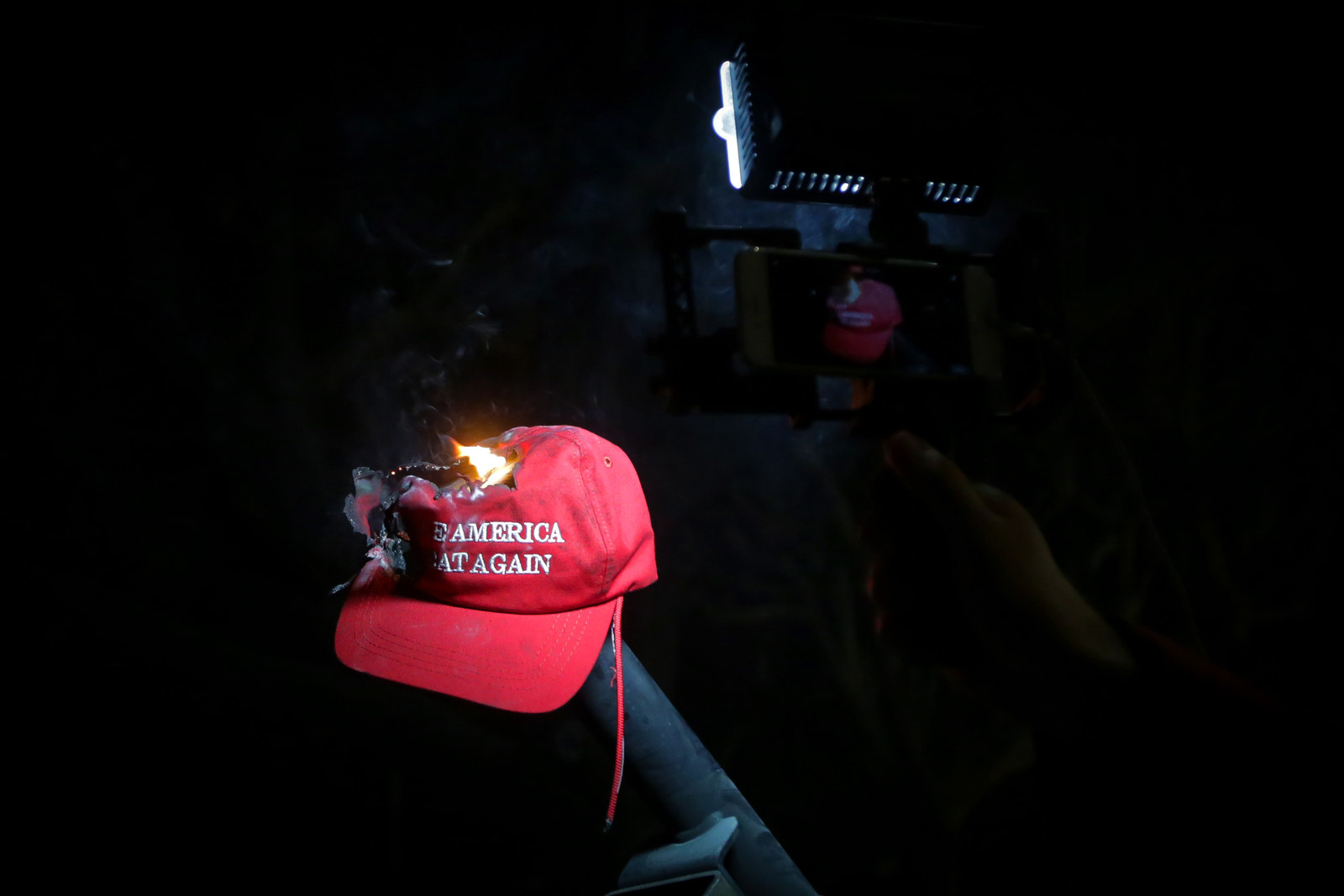 In the same statement as its condemnation of UC Berkeley, Socialist Alternative wrote that it would prefer for the demonstration to remain peaceful but recognized the possibility of violence: "If those with power fail to protect students, it becomes necessary for the community as a whole to unite against this dangerous bigotry and kick it off our campus. We would like this to be a non-violent protest, but ... we can assume the event will be unpredictable."

Police repeatedly ordered the protesters to disperse, though as of 9:30 p.m. PT they continued demonstrating. Crowds of people eventually marched through the streets of downtown Berkeley, breaking storefront windows, setting trash aflame, breaking car windows, smashing ATMs, and spray-painting walls with slogans like "kill fascists" and "no DAPL," a reference to the Dakota Access Pipeline. Police did not intervene against the activities in downtown.

In its statement, UC Berkeley condemned "in the strongest possible terms the violence and unlawful behavior that was on display, and deeply regret that those tactics will now overshadow the efforts to engage in legitimate and lawful protest against the performer's presence and perspectives."

BuzzFeed News covered the event live: