Protesters Shut Down Streets Outside Trump Rally In Atlanta, 3 Arrested
At least three people were taken into custody Wednesday afternoon as the Republican presidential candidate held a rally in the city.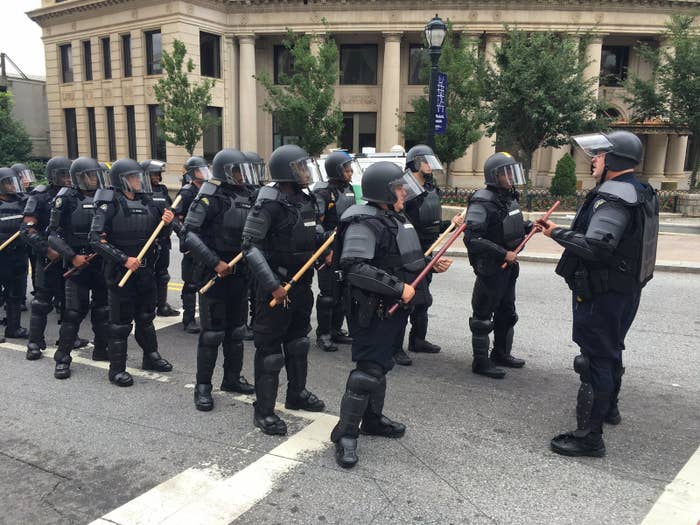 ATLANTA — Several protesters were arrested Wednesday outside a Donald Trump campaign rally at the Fox Theater in Atlanta.
Many streets were shut down as dozens of protesters and supporters marched near the venue where the presumptive Republican presidential nominee was speaking. Police officers, some in riot gear, formed lines outside the theater.
Atlanta police did not immediately respond to BuzzFeed News' request for information on the number of arrests, but officers could be seen pulling at least three young men out of the crowd and taking them into custody. In several other instances, scuffles broke out between Trump supporters and protesters, but dissipated before police moved in to break them up.
The protesters began gathering around 9 a.m., when the doors to the rally opened. For several hours, the protest remained low key; police ordered the demonstrators to stay on the sidewalk across the street from the rally and for the most part they complied.
Many of the early attendees at the protest lived or worked nearby. Among them, Becky Scheel stood along the street with a sign that read "Trump prefers Pepsi" — an allusion to Coca Cola's Atlanta headquarters meant to show that Trump doesn't belong.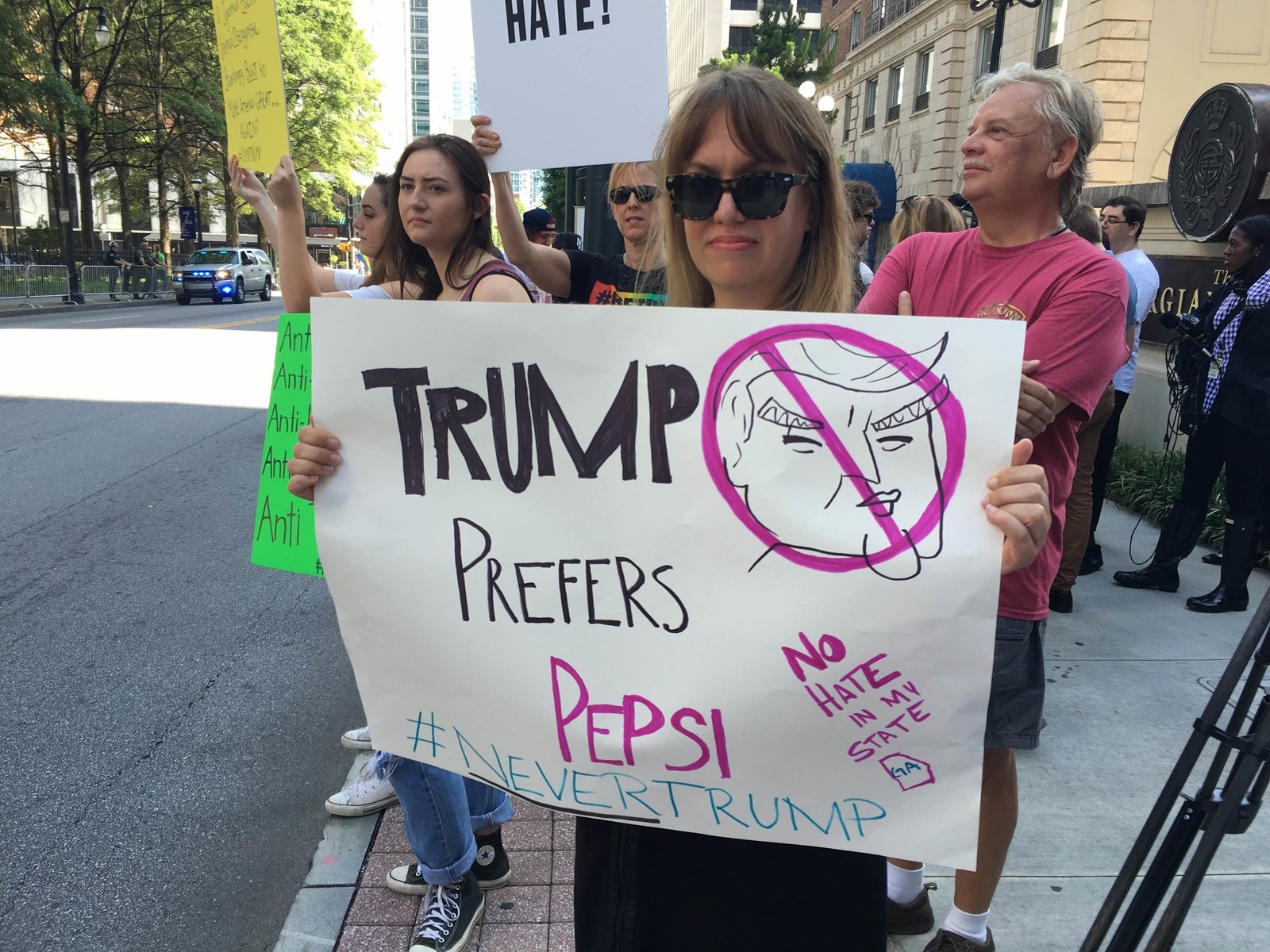 Unlike other recent Trump rallies, lines to get into the venue remained short and there were few crowds of supporters gathered outside. On her way inside, Mary Beth McCoy told BuzzFeed News she was very concerned about trade and said "Trump is a very smart businessman." Tina Skelley said she was the daughter of an immigrant from the Philippines — her mother came to the U.S. legally, she added — and told BuzzFeed News she agreed with Trump on immigration.
"We believe everything," Skelley said.
Meanwhile, a number of more reluctant Trump supporters also attended. Tanner Goldsmith, who wore a "Reagan-Bush 84" shirt, said he had only recently accepted Trump after all his preferred candidates were knocked out of the race.
"He was my 17th choice," Goldsmith added.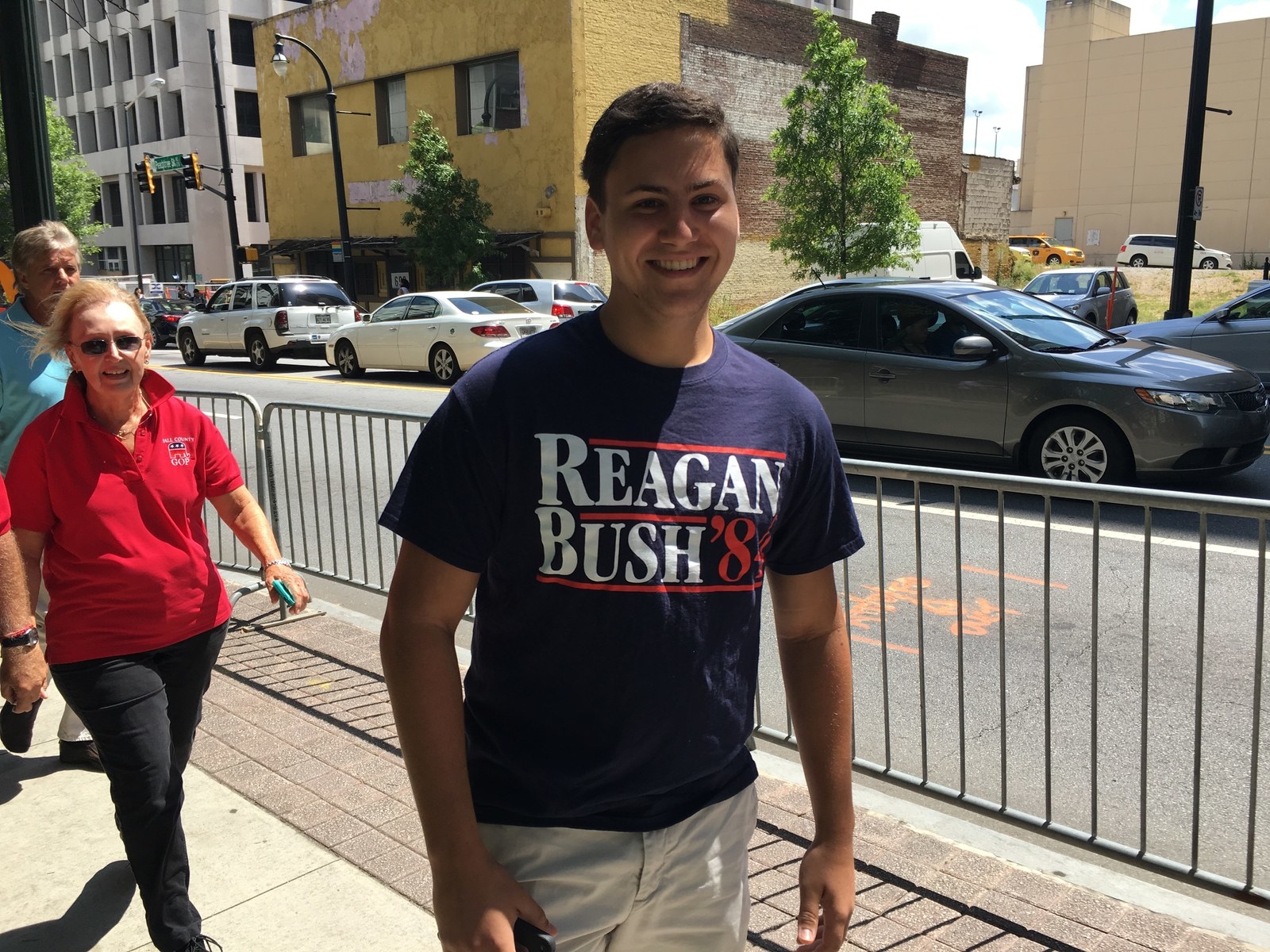 The event remained peaceful until the early afternoon, when protesters stepped off the sidewalk and began marching in the streets. Police initially took a hands off approach — a marked difference from rallies in other cities where officers quickly moved to corral the crowds — allowing the group to close the street to traffic without a surrounding police line.
Some protesters also managed to join the crowd inside the theater, and Trump swiftly had them removed.
"Is he friend or foe?" Trump asked. "Oh, foe? Get him the hell out."
Trump addressed the Orlando shooting during his speech, saying the United States needs to be tough and vigilant. While Omar Mateen, the gunman who opened fire at the Pulse nightclub, killing 49 people, was born here, his "thoughts were not born here," Trump said.
"Omar Mateen was a home-grown citizen!" a protester interrupted. Trump replied, "is there any better place to be than a Trump rally?"
The protesters outside the rally eventually made their way back to venue, where several small scuffles broke out. Tensions also flared when one protester began chanting "all lives matter," prompting others to try to drown him out by chanting "black lives matter."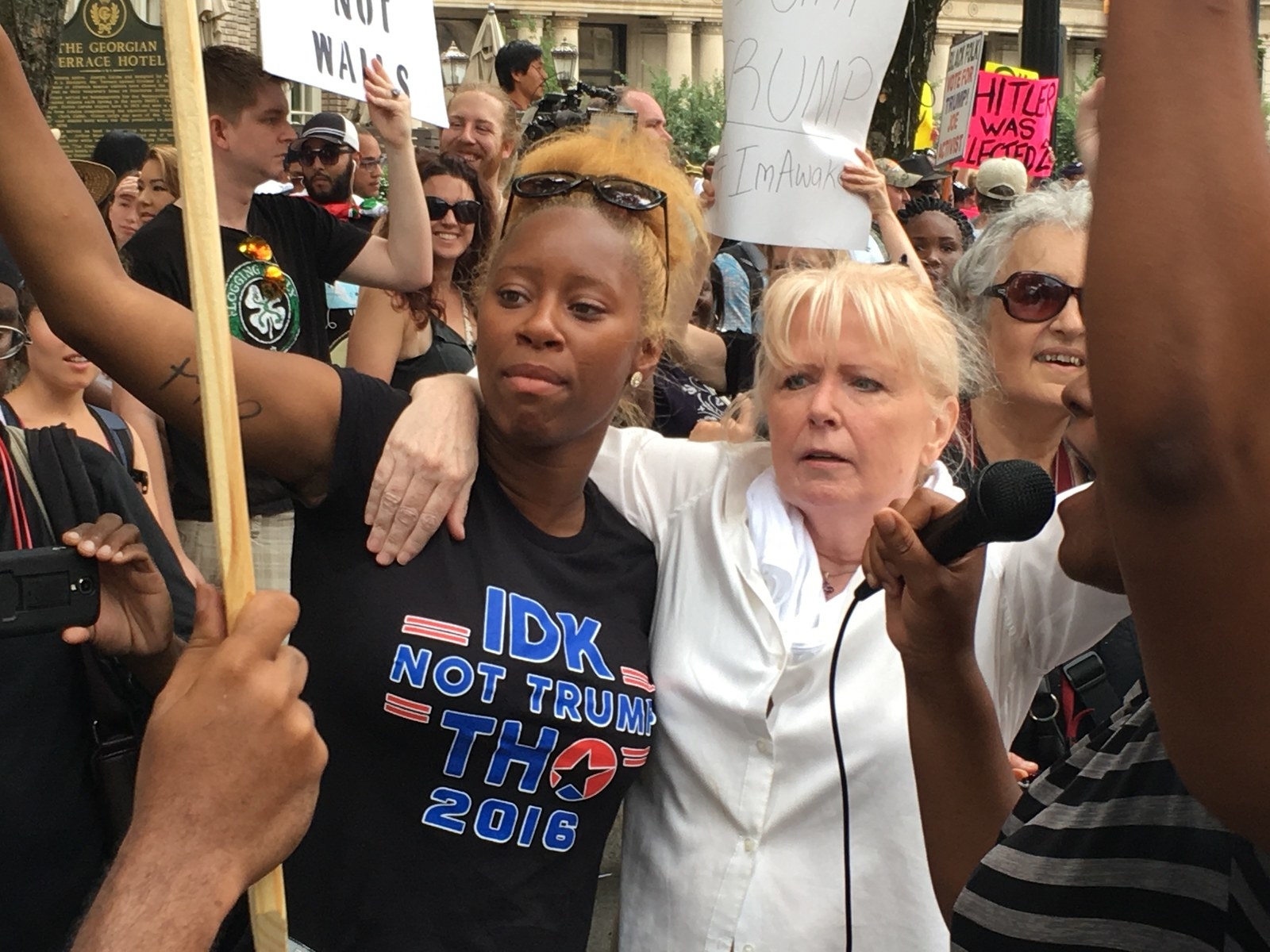 Eventually, police moved in and arrested several people. In other cases, pairs of officers walked into the protest and escorted people away, but did not otherwise detain or arrest them. One officer also told a young man to stop swearing at elderly Trump supporters, which he did.
The crowd shrank significantly after heavy rain began to fall. As the police lines dissolved, Atlanta Deputy Chief Joseph Spillane — who had been directing the officers and issuing dispersal orders — hugged several of the protesters.