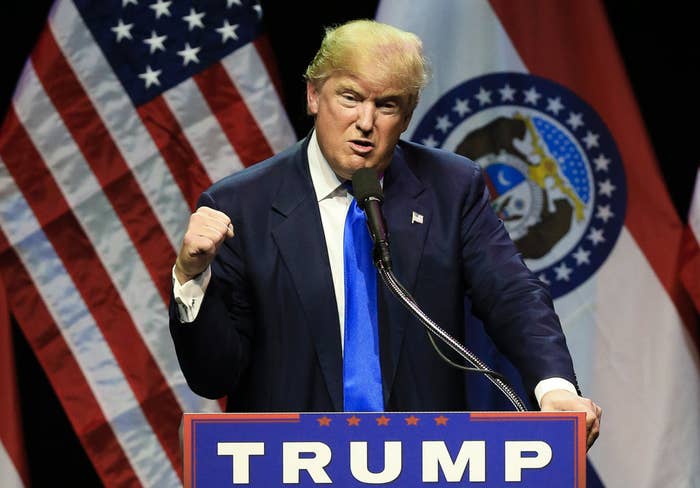 Video shot Saturday outside a Donald Trump rally in Kansas City, Missouri, shows police officers dousing anti-Trump demonstrators with pepper spray.
Kansas City resident Chris Stokes, 33, shot the video. Stokes told BuzzFeed News the incident came after a generally peaceful demonstration outside the GOP frontrunner's rally at the Midland Theatre.
Protesters had been asked to stay on the sidewalks, Stokes said. During the evening, they had been on one side of the street while rally attendees lined up on the other side, he said.
As the night wore on, a group of four or five protesters who "were a little bit more radical seeming" encouraged people to lock arms and walk into the street. As that was happening, Stokes said, a group of officers fired their pepper spray.
After the crowd was sprayed, "everything went back to peaceful really fast," Stokes added.
"Basically the overall vibe from everybody I talked to afterward was, 'I can't believe that just happened,'" he added.
When asked why he decided to protest, Stokes — who is considering supporting either Bernie Sanders or Hillary Clinton — said Trump "stands for everything I'm against."
Kansas City Police confirmed on Twitter that they used pepper spray twice at the Trump rally, along with making two arrests.
Police did not immediately respond to BuzzFeed News' request for comment late Saturday, but did add on Twitter that the "majority of people exercised their rights peacefully."
The incident comes amid controversy over violence at Trump's rallies, and just a day after he canceled an event in Chicago where thousands of both supporters and protesters had gathered.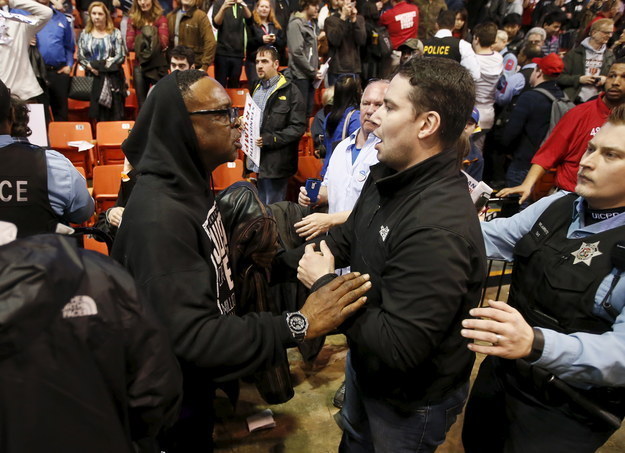 At the Chicago rally, multiple fights between protesters and Trump supporters could be seen on live TV.
Trump has taken fire after Breitbart reporter Michelle Fields said his campaign manager Corey Lewandowski manhandled her as she asked the candidate a question. Trump's own rhetoric has been condemned by many, including rivals HIllary Clinton and Ted Cruz, for contributing to violence.
Trump's rallies have been increasingly marked by clashes. In addition to the canceled Chicago event, a Trump rally in Dayton was disrupted Saturday when a man jumped over a barrier and was stopped by Secret Service agents as he ran toward the candidate.
And inside the Kansas City rally Saturday night, Trump was repeatedly interrupted by protesters shouting at him from the crowd. From the podium, Trump ordered the protesters removed over and over again, adding at one point the the chaos was "exciting."
"There is nothing so interesting as a Trump rally," he said.