Pilot Says Brian Williams' Helicopter Never Came Under Fire
New accounts challenge the NBC Nightly News anchor's account of his 2003 helicopter ride in Iraq.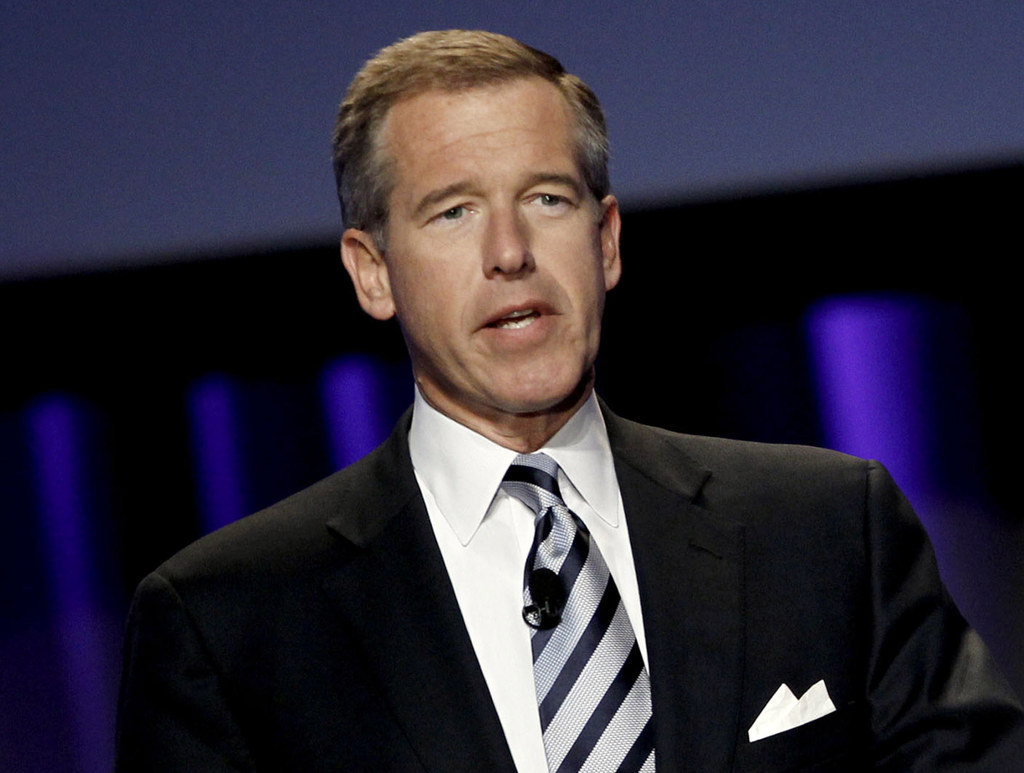 A man claiming to be the pilot who flew Brian Williams' helicopter in Iraq said Thursday that they were never shot down and the flight was "uneventful."
Retired U.S. Army Officer Chris Simeone wrote a first-hand account of the 2003 flight for the New York Post Thursday. In it, he says he flew the rear aircraft in a two-helicopter mission to deliver bridges. Williams was aboard the flight, which Simeone writes was "uneventful" until a dust storm forced them to land.
Simeone's helicopter landed near a CH-47 Chinook that was already shut down and "parked." The crew of the Chinook had already left their aircraft by the time Simeone's helicopter arrived, he wrote.
It was only after landing, Simeone writes, that "we learned that the parked aircraft had received small-arms fire and had been hit with an RPG on their mission." Simeone referred to the Chinook as "Big Windy" and said it was part of a completely separate mission.
"The 'Big Windy' aircraft was not part of our unit," Simeone wrote. "It was not part of our flight. We were not flying 'behind' them."
Simeone also wrote stated times that Williams' account of the event "is not true."
Simeone's account does not match the NBC News anchor's retracted version of the story.
Williams' initial version of the story — which he told for a decade — was that he was on a helicopter that had been forced down after taking RPG fire. He recanted that story Wednesday, saying he "misremembered" what had happened.
In Williams' new version of the story, he claimed to be in a "following aircraft." Williams also wrote on Facebook Wednesday that he was "behind" the helicopter that took RPG fire.
Simeone's account apparently contradicts that version of events, stressing that the Chinook that was hit by RPG fire was already on the ground and part of a different mission.
In his apology, Williams also framed his mistake as something that happened recently, but military personnel involved have apparently been frustrated for years.
Williams began his on-air apology by saying "on this broadcast last week" he made a "mistake in recalling the events of 12 years ago."
He added that "it did not take long to hear from some brave men and women in the air crews who were also in that desert."
But the story has apparently been frustrating members of the military since 2003 when it first aired on NBC. Joe Summerlin , who was on the helicopter forced down by RPG fire, told The New York Times Brian Williams wasn't there.
After watching the story, he and his crew searched for reporters in Kuwait to discuss the inaccuracies. They ended up leaving notes for the other reporters, he told the Times.
Simeone — as well as Allen Kelly, another pilot claiming to have been in the helicopter — also spoke with with the Times. Simeone said he was "going crazy" while watching Williams tell the story on The Late Show With David Letterman in 2013.
"I was thinking 'This guy is such a liar and everyone believes it,'" Simeone told the Times.
The various versions of the story raise at least as many questions as they answer, and chief among them is how truthful Williams was Wednesday when he apologized on air.
The stories of Simeone, Kelly, and Summerlin as told in the Times and Post represent one version of events. Williams' revised story represents another.
But a third, baffling account surfaced Thursday when a man named Rich Krell told CNN that he was actually the pilot of Williams' helicopter. Krell said that the mission involved hauling bridges, which were dropped off before landing — details that match Simeone's version. But Krell also said that Williams' helicopter actually did take some fire.
"The bridge expansions we were hauling took most of the hits," Krell told CNN.
Simeone and Kelly disputed that account in the Times, but Krell took to Twitter Thursday and insisted that he was actually the pilot.
The stories consequently represent three overlapping but seemingly conflicting versions of the same event. And while Williams hasn't spoke about the story since his on-air apology Wednesday, scrutiny of his other work is growing and the controversy does not appear to be dying down.
Simeone and Kelly told the New York Times they were the ones that piloted Williams' helicopter -- not Krell. On Friday, Krell contacted CNN's Brian Stelter via text message and revised his story.
"Good morning. The information I gave you was true based on my memories, but at this point I am questioning my memories that I may have forgotten or left something out."
He added: The men in that article deserve respect. Please understand."