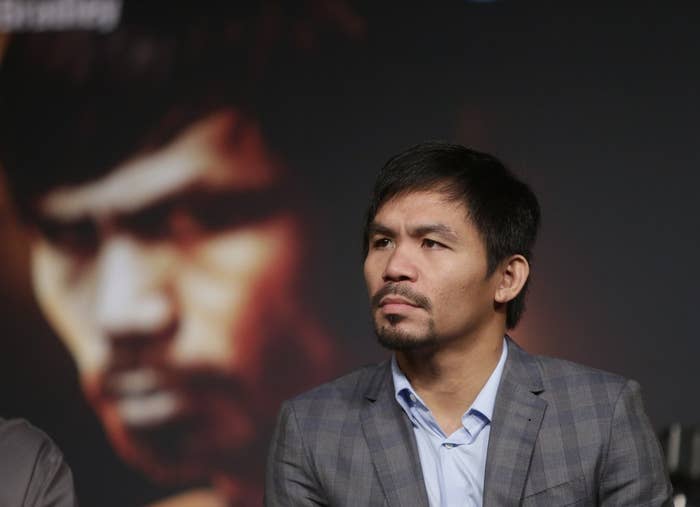 People in the Philippines reportedly burned Nike shoes Friday as a show of support for boxer Manny Pacquiao, who days ago was dropped as a spokesman for the company after making controversial comments about LGBT people.
In video of the incident posted online Saturday, a man says in English, "Burn the Nike sole for my soul." A crowd then shouts, "We support Manny Pacquiao," after which the man lights a pile of shoes on fire.
Later, the man says, "We don't hate LGBT people, we hate their agenda."
"We burn these shoes, to show our support for the fact that gay marriage is not right," the man adds. "But again we love all the gays, all the lesbians, but we don't like their agenda."
At one point in the video, a bystander can be heard saying, "What a waste."
Nike ended its sponsorship deal with Pacquiao Wednesday after he said people who are attracted to the same sex are "worse than animals."
Pacquiao made the comments during a local television interview. Video of the interview appeared online Monday.
"Do you see animals mating with the same sex?" Pacquiao said in the interview. "Animals are better because they can distinguish male from female … If men mate with men and women mate with women, they are worse than animals."
Two days later, Nike called the comments "abhorrent" and cut ties with the boxer, who is also a member of the Filipino parliament.
The video of the shoe burning incident was originally uploaded to Facebook by Bishop Oriel M. Ballano, and had been viewed more than 400,000 times by Saturday evening.
Ballano said in his Facebook post that the incident happened at the Cebu Coliseum, an arena in Cebu City, the provincial capital.
Ballano did not immediately respond to BuzzFeed News' request for comment.
However, according to Filipino newspaper The Freeman, the owner of the Cebu Coliseum disowned the incident and said the site was not supposed to be used for hate demonstrations.
Bernard Ricablanca — athletic director at the University of Cebu, which manages the arena — told Filipino news website Rappler the incident happened after the Cebu Youth Fest, which took place Friday.
Ricablanca also did not immediately respond to BuzzFeed News' request for comment Saturday.
Late Friday night, the Cebu Youth Fest Facebook page posted a still image of the shoe burning along with messages of support for Pacquiao.
Pacquiao, a conservative Christian who has previously spoken out against same-sex marriage, has previously had sponsorship deals with Nestlé and Wonderful Pistachios. After his comments surfaced this week, Nestlé told BuzzFeed News it ended its deal with Pacquiao in 2015. Wonderful Pistachios told The Daily Beast this week it had severed ties with Pacquiao.