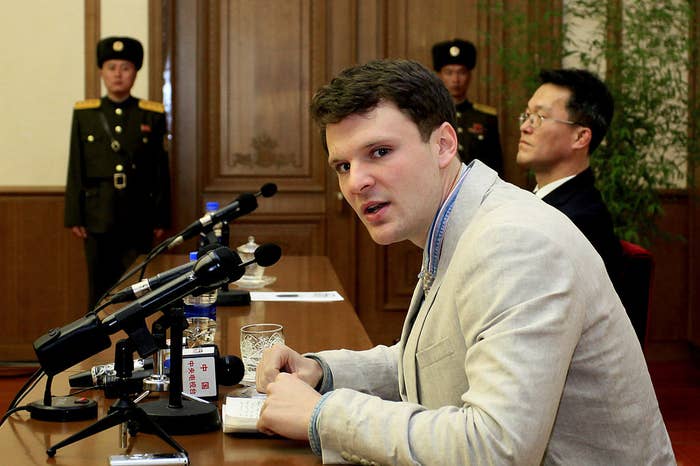 An American student who visited North Korea as a tourist has been sentenced to 15 years hard labor by the country's Supreme Court.
Otto Frederick Warmbier, 21, was sentenced Wednesday at the conclusion of a one-hour trial, the Associated Press reported. Warmbier had been charged with subversion and was arrested Jan. 2 as he tried to leave the country.
A day before the sentencing former U.N. Ambassador Bill Richardson met with North Korean diplomats to urge them to release Warmbier, the AP reported. The diplomats have agreed to pass along the request to Pyongyang and Richardson said that based on prior cases, it's possible that North Korea could release Warmbier after sentencing. However, the current tensions between the U.S. and North Korea could hinder those prospects.
Warmbier, a student at University of Virginia, traveled to North Korea with a China-based tour company. At the time of his arrest, Korea Central News Agency (KCNA) reported that he was traveling "under the guise" of tourism and had committed "a hostile act" against the country.
The Korean Central News Agency released a video on Wednesday that purports to show Warmbier committing his crime.
At a news conference in February, an emotional Warmbier read a prepared statement and said he tried to take an "important political slogan from the staff-only area of the Yanggakdo International Hotel." He said that he had been offered a car and membership in a secret society at his school if he brought the political banner home.
He went on to beg for forgiveness.
No additional information was available Wednesday about Warmbier's sentence.