Nevada Rancher Cliven Bundy Charged With Assault
Bundy was en route to Burns, Oregon, the site of a month-long armed standoff led by his sons, when he was arrested late Wednesday at the Portland airport.
Nevada rancher Cliven Bundy was charged with assault Thursday by federal prosecutors in Las Vegas.
A criminal complaint filed Thursday says that the charges stem from Bundy's role at the center of a tense April 2014 armed standoff with federal officials near his ranch in Nevada.
Bundy was arrested Wednesday night at Portland International Airport while en route to an armed standoff between militia members and federal agents in rural Oregon.
Bundy was taken into custody by the FBI, the agency confirmed in a statement. The Multnomah County Sheriff's Office had a booking page for Bundy, but neither it nor the FBI listed any charges or explained why Bundy was arrested.
However, The Oregonian reported that Bundy was arrested on conspiracy charges stemming from his standoff with federal agents in Nevada in 2014.
The arrest came just hours after the Bundy family had announced on Facebook and via email that Cliven was headed to Harney County, where the standoff at the Malheur National Wildlife Refuge has been taking place.
The Bundy family posted an update Wednesday night stating Cliven was met at the airport by law enforcement.
The arrest came after a tense, hours-long standoff Wednesday night between the four remaining occupiers at the refuge and the FBI. The four holdouts, who said they would turn themselves in Thursday morning, were all that remained of an occupation that began Jan. 2.
One of the remaining four, Sean Anderson, said on a phone call that the occupiers would turn themselves in only once Nevada Assemblywoman Michele Fiore and North Carolina-based Christian evangelist Franklin Graham arrived at the refuge, NBC News reported.
"We have to walk to them with our hands raised, no weapons. I told [the FBI] we're going to be carrying American flags," Anderson told Fiore on the conference call. "In the morning, once we get word that you and the reverend are at the checkpoint, we will proceed with our surrender."
Graham confirmed on Facebook that he would arrive at the refuge Thursday morning, Fiore has not yet announced her decision.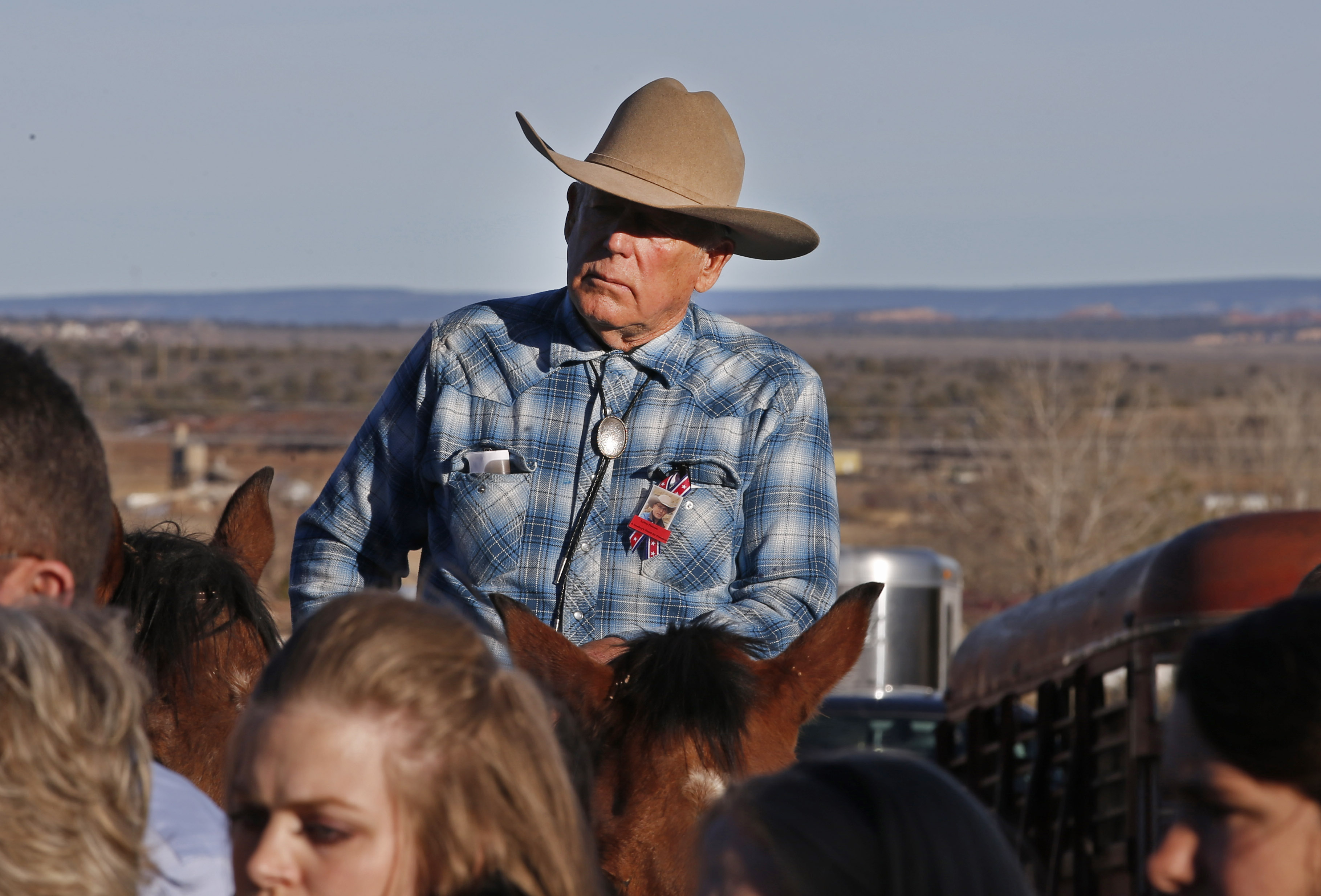 The standoff was sparked by the imprisonment of two Oregon ranchers who were convicted of burning federal land, tapping into a long-running frustration with federal land management across the rural West.
Cliven Bundy's son, Ammon Bundy, led the armed occupation of the Oregon wildlife refuge, but was arrested in late January along with his brother, Ryan, and several other occupiers. LaVoy Finicum, who had served as a spokesman for the occupiers, was shot and killed by law enforcement the same day the others were arrested.