In an apparent rebuke of the ideology that has flourished under President Trump, top leaders in the Mormon church this weekend pointedly condemned bigotry and vitriol, while calling on church members to embrace diversity.
The comments came in a series of speeches during the general conference of The Church of Jesus Christ of Latter-day Saints, better known as the Mormon church. The conference, held twice a year in Salt Lake City, includes two days of speeches from top church leaders.
"I hope a great global chorus will harmonize across all racial and ethnic lines, declaring that guns, slurs, and vitriol are not the way to deal with human conflict," Jeffrey Holland, a Mormon apostle, said.

There is room in the church, Holland said, "for those who speak different languages, celebrate diverse cultures, and live in a host of locations."

"There is room for those with differing sexual attractions," he added.
Other Mormon apostles — or members of the church's second highest governing body — echoed Holland. Dale Renlund said "we must guard against bigotry that raises its ugly voice toward those who hold different opinions." Robert Hales cited the parable of the Good Samaritan and called on believers to "minister to whomever is in need, even if they are not within the circle of our friends." And Dieter Uchtdorf decried those who use "fear to motivate others."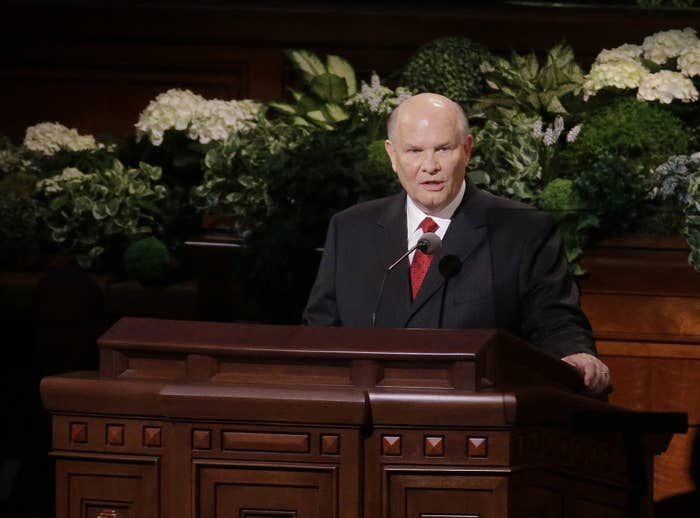 Though church leaders didn't name a specific person or political movement, the timing of the comments is significant because it represents the first time Mormon leaders have spoken to a church-wide audience since the November election. President Trump has been accused by his critics of running a vitriolic campaign and administration and his presidency has coincided with the rise of extreme movements that decry diversity and racial harmony.
The connection between the current political climate and the comments from Mormon leaders wasn't lost on church members. Writing on the religious website Patheos, Gary Ashcroft, who is Mormon, described the meetings as the "anti-Trump general conference."
"To have four apostles, who are among the highest ranking clergy in the faith, speak in such forceful terms against the hatred that Trump is propagating may be unprecedented in the history of the Church," Ashcroft wrote.

The comments from Uchtdorf — who was born in Germany during Nazi rule and later fled communism — prompted him to speak out, Ashcroft told BuzzFeed News.
"His talk about being resistant to being manipulated by fear was very reminiscent of how Trump operates," Ashcroft said. "Seeing him talk about it made me realize that you had this underlying anti-Trumpism message."
Ashcroft was referring to the unique strain of conservatism, sometimes called Trumpism, that has flourished since the now-president's rise to power. The ideology focuses on immigration, isolationism, and race, and is often combative in style. Ashcroft sees so-called Trumpism as being at odds with the beliefs of many Mormons, who he characterized as "pro free trade and pro internationalism."
The LDS church does not clarify speeches given by leaders at general conference, and declined to comment for this story.
Robert Taber, a Mormon and history professor at Fayetteville State University, told BuzzFeed News that he noticed a social justice theme in the leaders' comments.

"I don't think that was an accident," said Taber, who is a Mormon and followed the conference remotely. Church leaders appeared to be cautioning members against joining more extreme political movements, he added, something at least a few members have already done.
"For many Latter-day Saints, their political identity has been tied to the Republican Party for so long, that as the Republican Party descends into nationalism it's easy for members to slide into that as well," he said.
The Mormon church has at times shown a willingness to confront Trump's brand of conservatism. In 2015, the church issued a statement in support of religious freedom that, thanks to its timing, appeared to be a rebuke of Trump's calls for a Muslim immigration ban
Trump's campaign subsequently struggled in Utah, where the church is headquartered, and faced serious challenges from both Hillary Clinton and independent candidate Evan McMullin. Trump ultimately prevailed in the state.

Yet despite high-profile attacks on Trump from prominent Mormons such as Mitt Romney and McMullin, the church itself remained fairly quiet in the months immediately before and after the November election. When Trump signed an executive order in January banning travel, the LDS church responded with a statement expressing concern for "those who are fleeing physical violence, war and religious persecution."
"The church urges all people and governments to cooperate fully in seeking the best solutions to meet human needs and relieve suffering," the church said.

The speeches at the general conference appear to be a more forceful response to, if not necessarily Trump himself, a political climate that has accompanied his rise to power. The remarks come about a month after Dallin Oaks, another Mormon apostle, called out the Trump administration directly during a commencement speech at Brigham Young University, Hawaii.

"Nations whose prosperity depends on world peace and free trade worry about disturbing developments that threaten either or both of these," Oaks said. "We are even challenged by the politics of conflict and the uncertainties sponsored by the aggressive new presidential administration in the world's most powerful nation."