Updated — May 22, 12:20 p.m. ET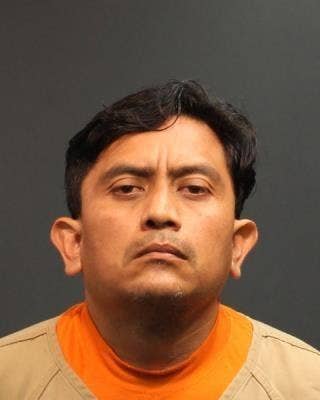 LOS ANGELES — A decade ago, a 15-year-old Santa Ana, Calif., girl vanished. Now, police say the girl spent a decade in captivity, repeatedly raped, assaulted, and ultimately impregnated by a man who was once her mother's boyfriend.
Police arrested Isidro Garcia, now 41, Tuesday for kidnapping the girl, now a 25-year-old woman. He is charged with one felony count of forcible rape, three felony counts of lewd acts on a minor, and one felony count of kidnapping to commit a sexual offense, according to a statement from the Orange County district attorney's office. If convicted on all counts, he faces a maximum sentence of 19 years to life in state prison.
Police said the story began in June 2004 when Garcia was living with the girl and dating her mother. At the time, the girl's family suspected that he was sexually abusing her but had no proof to act on.
Santa Ana Cpl. Anthony Bertagna said the girl's mother also worried that Garcia and her daughter had run away together — a suspicion the girl later told police was false.
Then, in August, Garcia allegedly drugged the girl and she disappeared. Her disappearance happened just after he also assaulted the girl's mother. Araceli Ochoa, a leasing agent for the apartment complex where the family lived at the time, told the Los Angeles Times the girl's mother "couldn't understand how her daughter could leave."
Bertagna told BuzzFeed Wednesday that police treated the girl's disappearance as a missing person case, which remained open for 10 years.
The woman, who spoke to KABC-TV, said she was too scared to seek help. "I was 15. I couldn't do anything," she said. "I was very afraid about everything, because I was alone. I [thought] I was alone, but I never was. My family was with me."
The family didn't hear anything from the girl for a decade, but police say Garcia drove her to a house in Compton where he gave her a false ID and locked her in a garage. The garage had only one exit, Bertagna said, which Garcia blocked with a car.
That first night in captivity turned into months and then years, according to police. Garcia controlled the woman by telling her that her family had given up looking for her and by claiming they would be deported if she tried to go back to them. Eventually, he arranged for both of them to work for a night cleaning service so he could constantly keep an eye on her, police say. Garcia also repeatedly moved to avoid police, each time bringing the woman with him.
Garcia sexually and physically assaulted the girl on multiple occasions while holding her captive, according to police. Then in 2007, he "forced the victim into a marriage."
In 2012, she had a child. The woman currently has custody of the child, Bertagna said.
The kidnapping came to light when the woman reached out to her sister on Facebook and "eventually gained the courage to contact police." She recounted her story to detectives Tuesday.
Bertagna did not have information about the woman's conditions while being held captive. He added that she was physically well after making contact with police, but will continue to struggle with the psychological trauma of her captivity.
Police told BuzzFeed Wednesday night that in fact Garcia was the mother's boyfriend.