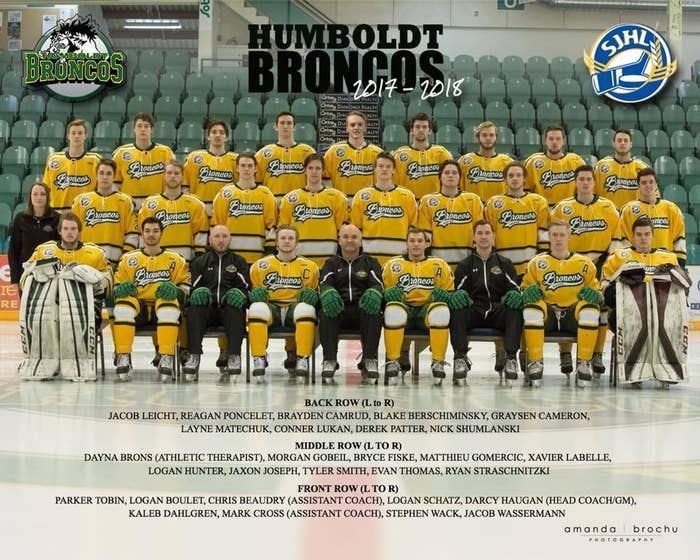 A bus carrying members of a Canadian junior ice hockey team crashed Friday in Saskatchewan, killing 16 people.
The Humboldt Broncos were en route to a game against the Nipawin Hawks when their bus collided with a tractor-trailer at around 5 p.m., 30 kilometers or some 18 miles north of Tisdale.
The Royal Canadian Mounted Police said early Saturday that 14 of the 29 people on the bus were killed, including the driver, and that the other 15 passengers had been hospitalized, with three in a critical condition. Authorities later provided an update saying that 15 people had died.
On Wednesday afternoon, the family of Dayna Brons, an athletic therapist for the Broncos, confirmed in a statement that the 25-year-old had died after being injured in the crash, raising the death toll to 16.
The truck driver was not injured and was released by police after questioning.

"It's too early to comment on the cause of the collision," said Curtis Zablocki, the assistant commissioner of the RCMP on Saturday.
The Broncos are part of the Saskatchewan Junior Hockey League and play at the Elgar Petersen Arena in Humboldt, Saskatchewan.

On Sunday, police confirmed the names of the victims killed in the crash, including Darcy Haugan, the Bronco's 42-year-old head coach; the assistant coach, 27-year-old Mark Cross; as well as the team captain Logan Schatz, 20; and his teammates Adam Herold, 16; Jaxon Joseph, 20; Logan Hunter 18; Conner Lukan, 21; Jacob Leicht, 18; Evan Thomas, 18; and Stephen Wack, 21.
On Monday, Saskatchewan's Justice Ministry identified their teammate Parker Tobin, 18, as another victim of the crash.
The driver of the bus, 59-year-old Glen Doerksen, was also killed, as was the team's play-by-play announcer, 29-year-old Tyler Bieber and Brody Hinz, 18, who was interning for Bieber at a Humboldt radio station.
On Sunday, the family of Broncos player Logan Boulet told the Global News that they had taken the 21-year-old off life support and his donated organs would help give "new hope to at least six different people."
"Logan made it clear previously that he signed his donor card as soon as he turned 21. Even in his eventual passing, he will be a selfless hero," his father, Toby Boulet, said in a statement.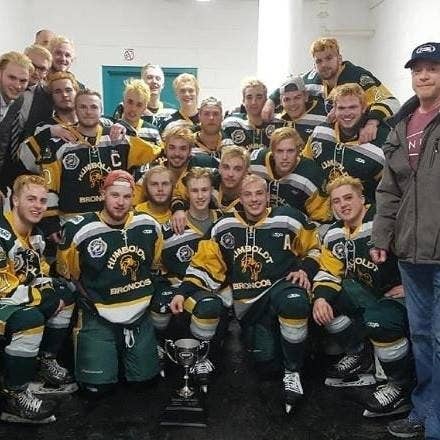 During a press conference on Saturday, Broncos President Kevin Garinger said the team and the community are "heartbroken and completely devastated."

"While we are stunned and grieving over this incomprehensible situation, we know that this is a moment when we must come together to support, comfort, and lean on one another. We will persevere and we will honor the souls that were lost," said Garinger.
"Everything about this tragedy is unprecedented and it's overwhelming — including the torrential outpouring of support our organization has received," he added.
A vigil for the dead and injured was scheduled for 6 p.m. Sunday, at the exact time and location the Broncos were supposed to play a home game.
Matteo Carboni, a local reverend providing support at the arena, offered his condolences in an interview with CBC. "Our prayers are with those who lost their lives and those who are injured," he said.
"At times like these communities often come together to support one another," Carboni said. "I think this is such a dark time tonight — this is a good thing that people come together in the time of need, they don't stay at home."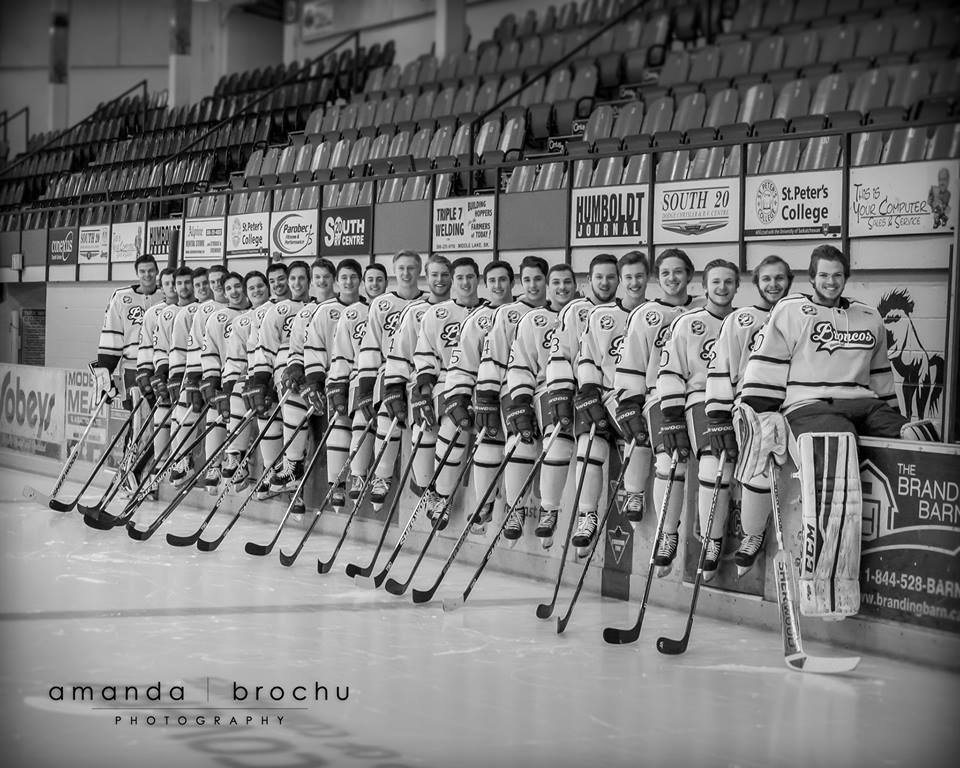 Michelle Straschnitzki, the mother of team member Ryan Straschnitzki, said on Facebook that her son was taken to the hospital. "There were fatalities and we are heartbroken," she wrote. "We will be flying out tomorrow."
The father of player Derek Patter posted a photo on Twitter of his son holding hands in the hospital with fellow injured teammates Nick Shumlanski and Graysen Cameron.
Images shared by local media show wreckage lying beside the road.

National Hockey League Commissioner Gary Bettman released a statement on behalf of the professional league, expressing his condolences.
"The NHL mourns the passing of those who perished and offers strength and comfort to those injured while traveling to play and be part of a game they all love," he said.
Prime Minister Justin Trudeau also offered his condolences on Twitter.

On Saturday Trudeau released a statement about the crash. "We are heartbroken knowing many of those we lost had their entire lives in front of them. We grieve with those facing news no parent or family should ever have to face. And our hearts go out to the community that has lost teammates, coaches, friends, and mentors," he said.
"This is every parent's worst nightmare. No one should ever have to see their child leave to play the sport they love and never come back," added Trudeau.
President Donald Trump tweeted on Saturday that he'd spoken with Trudeau and gave his condolences to the victims' families.
Rob Muench, the mayor of Humboldt, described the crash as a "tragic accident" in a tweet posted in the early hours of Saturday morning.
Other Canadian teams, athletes, and sports organizations expressed their condolences over the crash.

CORRECTION
Matteo Carboni's name was misspelled in an earlier version of this post.
CORRECTION
Xavier Labelle, who was misidentified by the coroner's office as having died in the crash, has been removed from this post. He is injured but alive. Parker Tobin, who was initially listed as one of the survivors of the crash, was killed.