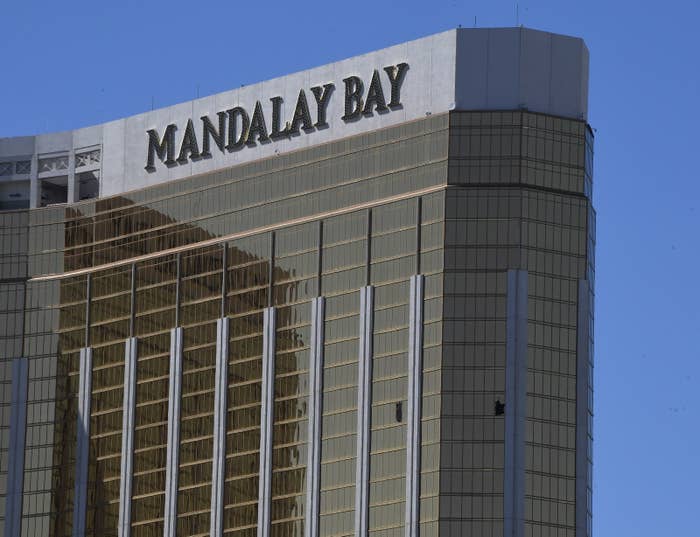 The man who opened fire from his Las Vegas hotel room in October, killing 58 people, acted alone, but investigators still haven't found a motive for the attack, the local sheriff told reporters Friday.

The shooting, which injured more than 800 people, happened the night of Oct. 1 when Stephen Paddock, 64, opened fire from the window of his Mandalay Bay hotel room at a concert happening nearby. Of those injured, 422 suffered injuries from "some form or fashion gunfire," Las Vegas Sheriff Joe Lombardo said at Friday news conference.

Lombardo said that "there is only one person responsible and that was Stephen Paddock," adding that investigators do not anticipate charges against his girlfriend, Marilou Danley, who was out of the country at the time of the shooting.
However, Lombardo also said that the "FBI has an ongoing case against an individual of federal interest," though he did not identify that person or elaborate on what their connection to the shooting might be.
Lombardo held the news conference ahead of taking the unusual step of releasing a preliminary investigative report, which details the events leading up to the attack. The report reveals that Paddock bought "over 55 firearms," most of which were rifles, between October 2016 and September 2017. He also bought "over 100 firearm related items" during that period.

Investigators also discovered "several hundred images of child pornography" on the computer they recovered from Paddock's hotel room.
The report goes on to describe Paddock's activity in the days leading up to the attack. On Sept. 25, he checked into the Mandalay Bay Resort and Casino and over the next two days brought a total of 12 suitcases up to his room on the 32nd floor. He twice used the services of a bellman to help him transport the bags.
He spent the next several days gambling, going back and forth between Las Vegas and Mesquite, where he lived, and ordering room service.
Paddock began shooting on Oct. 1 around 10:05 p.m., according to the report. He fired hundreds of rounds at both the concert below, as well as at large fuel tanks near the Las Vegas airport. By 11:20 p.m., a strike team "conducted an explosive breach" of his hotel room and found him dead from a self-inflicted gunshot to the head.
Victims from the shooting were located both inside and outside the concert venue, and an image from the report shows that multiple people were shot directly in front of the stage.
The report shows that Paddock's hotel room was strewn with assault rifles in the aftermath of the shooting.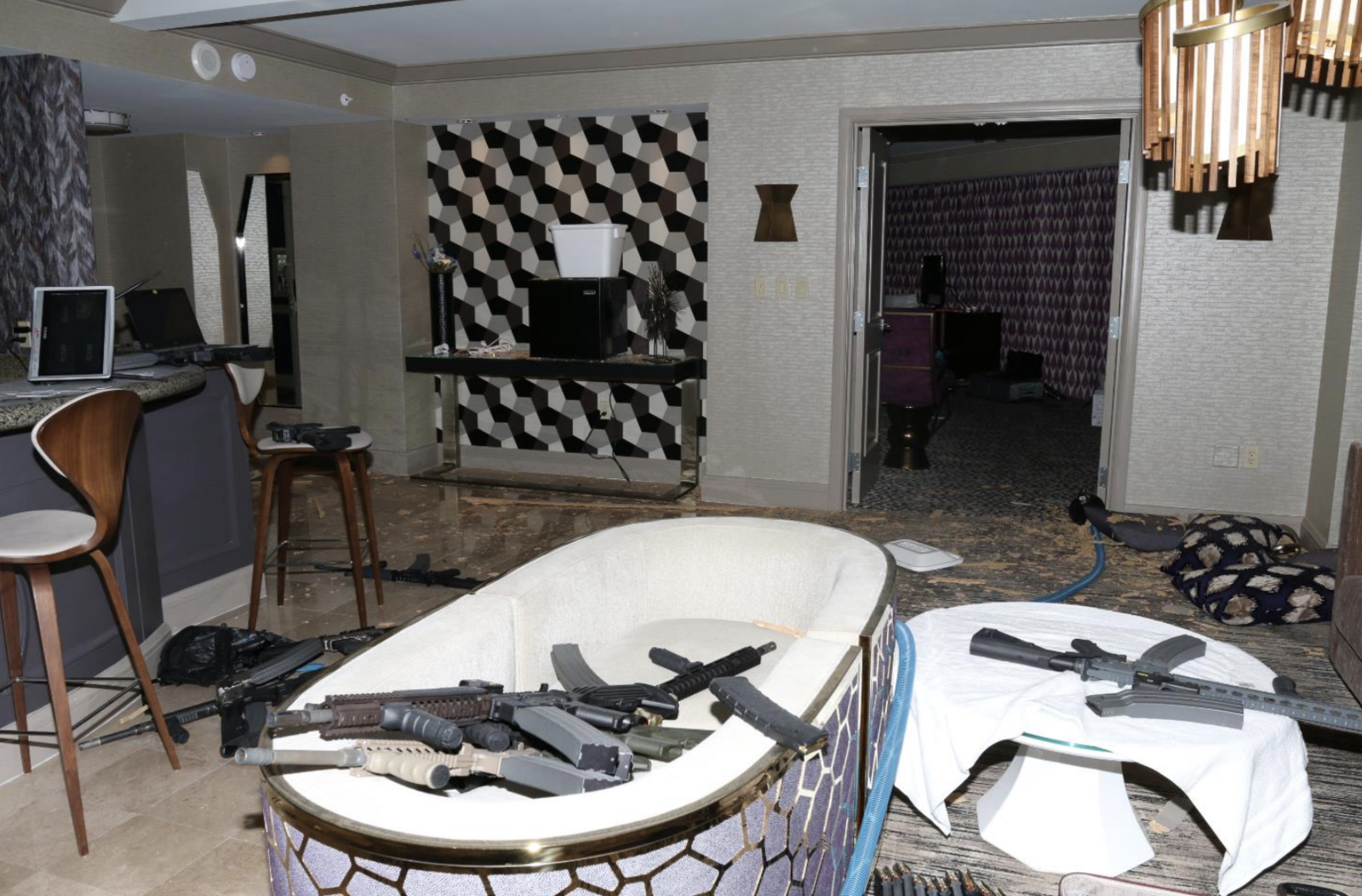 During the shooting, Paddock opened fire from a broken window in his hotel room. The report includes photos of the window, which overlooks the concert venue below.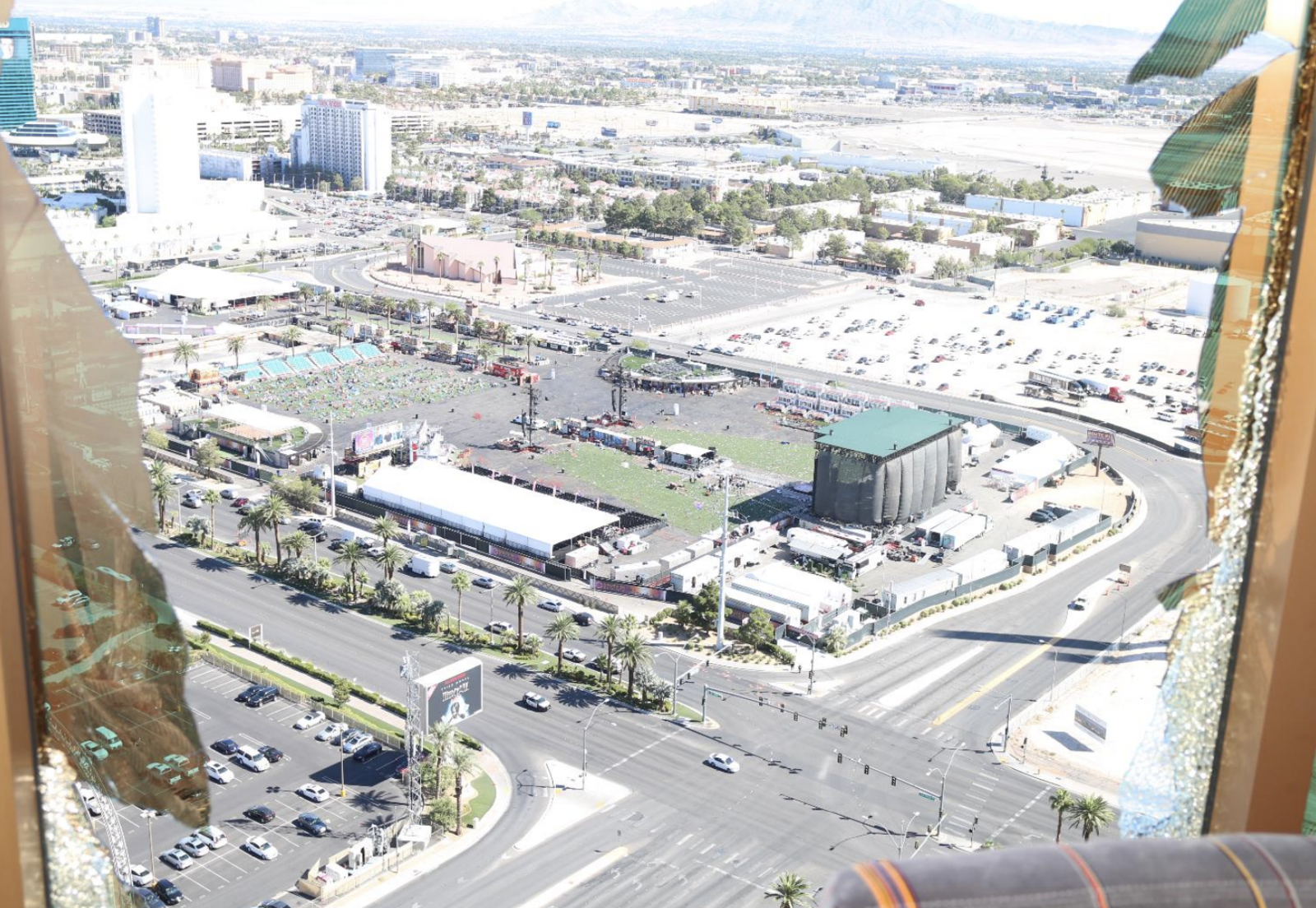 The report also includes an image of a notepad, which investigators say was a "handwritten note with distance/bullet drop calculations."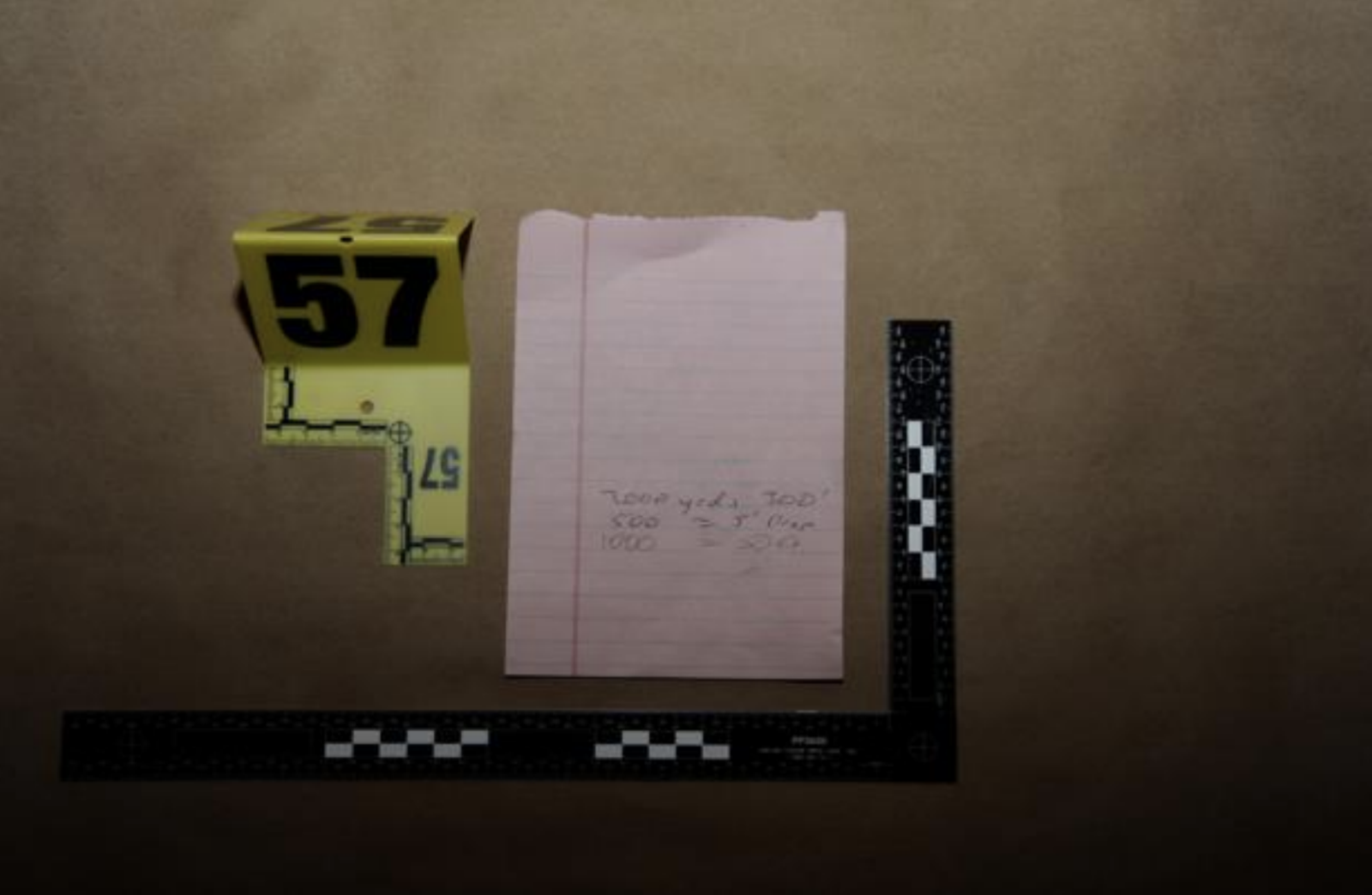 The report indicates Paddock was researching other locations as well. In May 2017, he did Google Map searches of numerous locations in California and Massachusetts, include Venice Beach and Fenway Park, respectively.

Paddock also did Google searches to find the "biggest open air concert venues in USA," to research crowd sizes at Santa Monica Beach in California, and on a previous festival in Las Vegas. He researched firearms and the height of Mandalay Bay online as well, investigators discovered.
Though investigators have not identified Paddock's motive, Lombardo added Friday that Paddock "had lost a significant amount of his personal wealth prior to Oct. 1 and that may have been a driving factor."

During the investigation into the shooting, Danley also said that over the previous year Paddock had become "distant," "germaphobic," and had a strong reaction to odor. She also told investigators that during a September 2017 stay at Mandalay Bay Paddock acted strangely, frequently looking out the windows of the room at the venue below.
"Paddock would move from window to window looking at the site from different angles," the report states.
During a doctor's appointment in October 2016, a physican thought Paddock might be bipolar, noting that his behavior was "odd" and showed "little emotion."
Asked why Paddock ultimately killed himself, Lombardo said Friday that "he believed the wolf was at the door."
"He believed we were in close proximity of engaging him and he decided to take his life," Lombardo said.