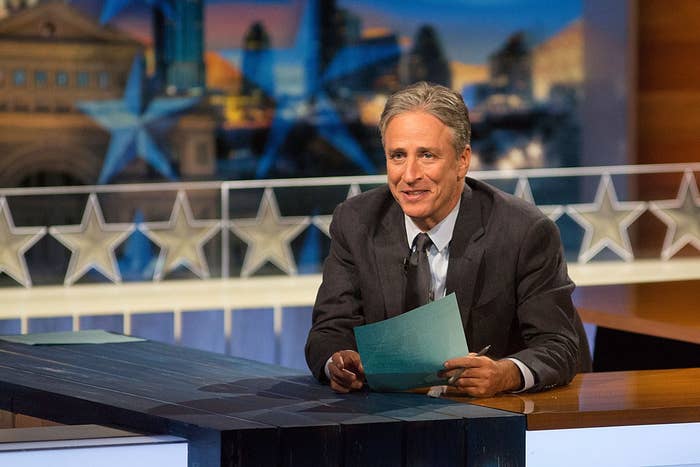 Jon Stewart announced Tuesday that he is leaving The Daily Show.
Stewart's representative confirmed his departure to BuzzFeed News.
Stewart first spoke publicly about his departure during the filming of Tuesday's show, which aired later that night. He said that "in my heart, I know it is time for someone else to have that opportunity." He could be seen fighting back tears while he spoke.
Comedy Central President Michele Ganeless issued a statement Tuesday about Stewart's departure:
For the better part of the last two decades, I have had the incredible honor and privilege of working with Jon Stewart. His comedic brilliance is second to none. Jon has been at the heart of Comedy Central, championing and nurturing the best talent in the industry, in front of and behind the camera. Through his unique voice and vision, The Daily Show has become a cultural touchstone for millions of fans and an unparalleled platform for political comedy that will endure for years to come. Jon will remain at the helm of The Daily Show until later this year. He is a comic genius, generous with his time and talent, and will always be a part of the Comedy Central family.
News of Stewart's departure leaked following Tuesday's taping, and The Daily Show later encouraged viewers to watch:
Stewart took over The Daily Show from Craig Kilborn in 1999. Over the next 16 years, he grew the show into a trusted source of news for younger Americans that won a total of 20 Emmys.
Over the years, Stewart conducted interviews with an array of high-profile and influential figures, including President Obama.
Last year, Stewart directed his first feature film, Rosewater, which premiered at the Telluride Film Festival.
The Daily Show also spawned a spin-off, The Colbert Report, during Stewart's time as host. The Colbert Report ended in December, about nine months after host Stephen Colbert was chosen to replace David Letterman as host of the Late Show.
Though Comedy Central has not specifically said when Stewart will actually leave The Daily Show, his departure is apparently not imminent and, if The Colbert Report is any indication, could take months. And whenever Stewart does leave, Comedy Central will have an entirely new hour-long block of TV that was formerly filled by two of its biggest stars.
In an interview last year with NPR's Terry Gross, Stewart discussed the possibility of leaving The Daily Show.
When Gross asked about doing something other than hosting, Stewart said people can't just stay in one place "because it feels like you've built a nice house there."
"You know there are other considerations of family or even in the sense of just not wanting to be on television all the time," he said.