Joe Biden Says He's Not Sure He Has "Emotional Energy" To Run For President
"Can my family undertake what is an arduous commitment?" the vice president asked. "The honest to God answer is, 'I just don't know.'"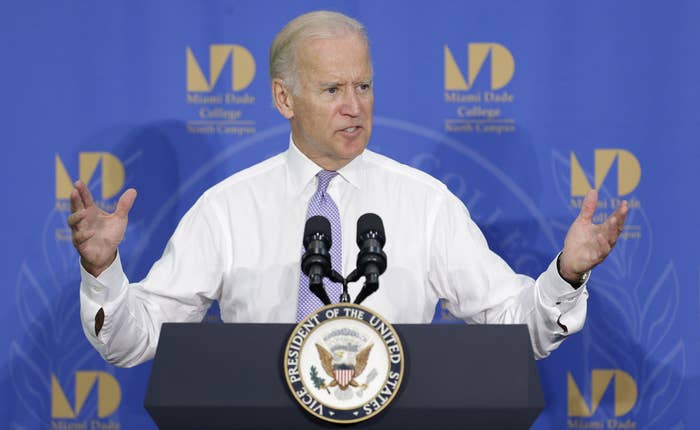 Vice President Joe Biden said Thursday he wasn't sure if he and his family have the "emotional energy" to mount a 2016 presidential run.
Biden made the comments while speaking at a synagogue in Atlanta — his first public remarks on the possibility of launching a White House bid since recent speculation has mounted. A presidential run would pit him against Hillary Clinton's powerful-but-beleaguered operation, but the vice president said there was only one factor that mattered.
"The factor is, can I do it?" Biden wondered aloud. "Can my family undertake what is an arduous commitment that we'd be proud to undertake under ordinary circumstances? But the honest to God answer is, 'I just don't know.'"
Biden said he couldn't "look you straight in the eye and say now" that he could undertake a presidential campaign. However, if he decides he and his family can take the rigors of a campaign, he "would not hesitate to do it."
"That's as honest as I can be," Biden concluded.
Biden's comments came four months after his son, Beau Biden, died of brain cancer.
Beau Biden was only 46 years old when he died on May 30. A husband and father of two, Beau also was a popular politician in Delaware who was described as the "rising star of a family dynasty."
Beau had reportedly encouraged his father to run for president. In the wake of his death, rumors and speculation have run rampant about a potential Biden run, though the vice president has been tight-lipped.
If Biden does run, he will have to battle Clinton for the Democratic nomination. Long considered an obvious frontrunner, Clinton's campaign has more recently struggle to contain the ongoing scandal surrounding her use of a private email account and server while she was Secretary of State.