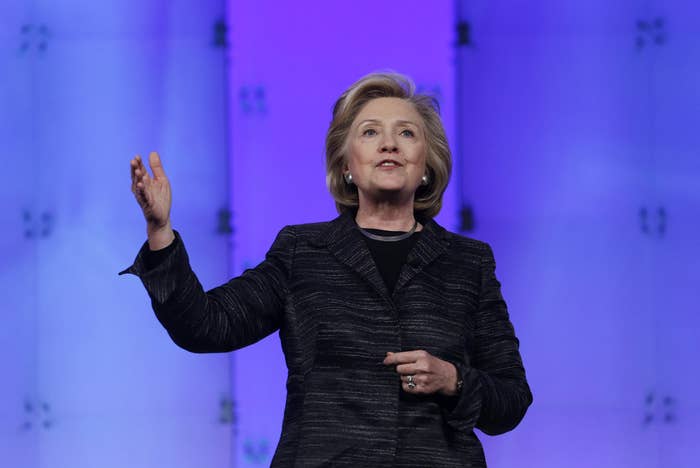 Hillary Clinton tried to find a middle ground Tuesday when asked about data privacy, but ultimately left the door open to the possibility of intrusive government data collection.
Clinton made the comments during a question and answer session at a conference in Santa Clara, California. When Re/code's Kara Swisher asked Clinton if companies should be allowed to encrypt their operating systems — something Apple and Google have pursued in the name of consumer privacy — Clinton responded by saying: "I think you have a classic hard choice."
Clinton went on to say that people have a "legitimate right to privacy" and "we've got to figure out his how you get the right balance."
But her answer still seemed to leave the door open to some types of collection by the government.
"We also don't want to find ourselves in a position where it's a legitimate security threat we're facing and we can't figure out how to address it because we have no way in to whatever is holding the information," Clinton said.
She went on to describe top level government intelligence meetings where leaders "know there's something going to happen and we're trying to figure out how to get through the door that has been locked."
Clinton ultimately concluded that she didn't have the answer when it came to the balance of privacy verses security.
When Swisher asked how she might go about resolving the issue, Clinton suggested a "real conversation" with tech company leaders.
At one point, Clinton also described her position as "not a dodge," though not everyone was convinced:
Clinton's comments come just days after a damning report from The Intercept that revealed how government spies get around data encryption.
The report showed that spies from the NSA and the U.K.'s Government Communications Headquarters (GCHQ) hacked a technology company and stole millions of codes that allowed them to get around modern cell phone encryption. The result was that the spies could retrieve voice and data information from the phones without warrants.
The report roiled privacy advocates and further launched encryption, once a mostly niche subject, into mainstream headlines.
Clinton did not directly discuss the report Tuesday, but her comments appeared to indicate that she does believe there are legitimate reasons for the government to quickly and easily access private communications — which is exactly what the NSA and GMHQ were doing.
Swisher later asked about the NSA, to which Clinton said that the spy organization "has to act lawfully, and we as a country have to decide what the rules are." The conversation then turned to specific policies, and Swisher asked about "spying power."
"How much is too much, and how much is not enough?" Clinton wondered. She did not offer an answer Tuesday.