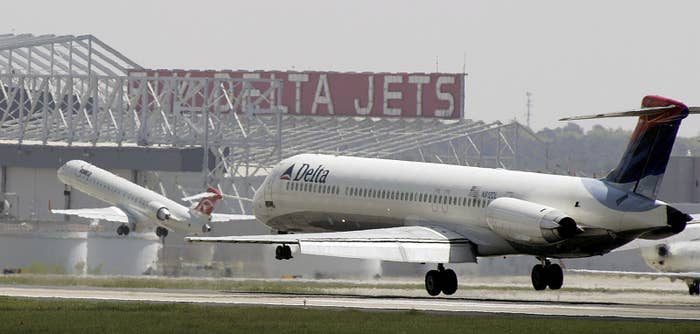 Lawmakers in Georgia passed a bill Thursday that denies Delta Airlines millions of dollars in tax breaks, just days after the Atlanta-based airline announced it would no longer give preferential treatment to the National Rifle Association.

The state's Republican-dominated House and Senate both overwhelmingly approved the bill, which removed a sales tax exemption on jet fuel. The tax break would have been worth about $40 million to Delta, the Atlanta Journal Constitution reported.
Georgia Gov. Nathan Deal has criticized the controversy over the tax break, but also previously said he plans to sign the bill.
Friday, Delta CEO Ed Bastian put out a statement responding to the legislation.

"We are not taking sides," he wrote. "Our objective in removing any implied affiliation with the NRA was to remove Delta from this debate."
"While Delta's intent was to remain neutral, some elected officials in Georgia tied our decision to a pending jet fuel tax exemption, threatening to eliminate it unless we reversed course," he continued. "Our decision was not made for economic gain and our values are not for sale. We are in the process of a review to end group discounts for any group of a politically divisive nature."
The CEO also said the company remained proud to have its headquarters located in Atlanta and expressed its support for the Second Amendment, along with the rest of the Constitution.
Delta announced last week that it was ending discounted rates for the NRA.
The airline's announcement came 10 days after alleged gunman Nikolas Cruz opened fire at Marjory Stoneman Douglas High School in Parkland, Florida. The shooting left 17 people dead and significantly intensified the national debate over gun control.
After Delta's announcement, Georgia Lt. Gov. Casey Cagle, a Republican and president of the state's Senate, vowed to "kill any tax legislation" that benefited the airline unless it changed "its position and fully reinstates its relationship with the NRA."
Cagle said Wednesday on Fox News that he didn't think it was right for Delta to "single out the NRA, and their membership, law abiding gun owners." After lawmakers passed the bill Thursday, Cagle celebrated by calling it the "largest tax cut in Georgia history."
Georgia House Speaker David Ralston, a Republican, told the Journal-Constitution that Delta's announcement was a poor public relations move, but also criticized the political battle over the airline and the firearms organization.
"It was not one of our better days as a state," he told the paper. "I think there are better ways of expressing policy differences than we chose."
Neither the NRA nor Deal's office immediately responded to BuzzFeed News' request for comment Thursday.
Delta is not the only company that cut ties with the NRA in the wake of the Florida shooting, and last week competitor United Airlines also ended a discount program with firearms advocacy organization.

Other companies who cut ties with the NRA include First National Bank, which cited "customer feedback," as well as vehicle rental agencies Enterprise, Alamo, Hertz, and Avis Budget.