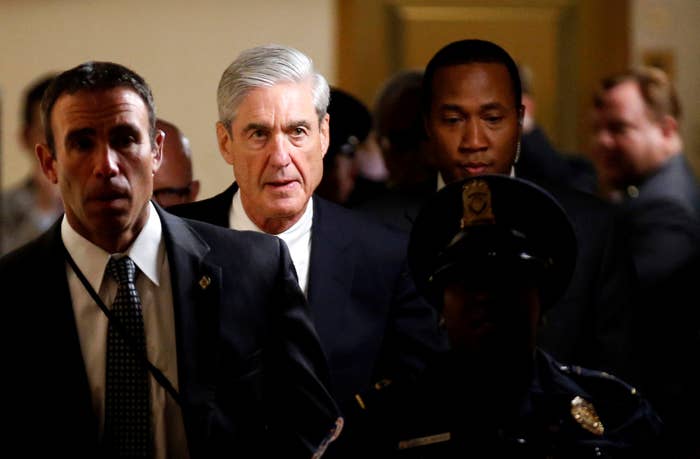 The first charges stemming from special counsel Robert Mueller's investigation into Russian meddling in the 2016 election were reportedly filed on Friday, marking the most significant development yet in the inquiry that began last year.

The charges approved by a federal grand jury in Washington, DC, remained sealed Friday evening, meaning it was not immediately known what they entailed or who they were against, CNN reported, citing sources briefed on the matter. The people facing charges, it said, could be taken into custody as early as Monday. Reuters, the Wall Street Journal, and NBC News later confirmed the report.
Asked about the reports of a grand jury indictment, John Dowd, a lawyer representing Trump in the probes, told BuzzFeed News in an email that he had no information.
"Know nothing," he wrote.

A spokesperson for Mueller replied, "we are declining to comment on the CNN story."
Lawyers representing Donald Trump Jr., former Trump campaign manager Paul Manafort, former National Security Adviser Michael Flynn, and Trump's son-in-law Jared Kushner did not respond to BuzzFeed News requests for comment.

The investigation, which began last year, is seeking to determine Russia's involvement in the 2016 presidential election, as well as if anyone in Trump's campaign colluded with the Kremlin. Former FBI Director James Comey led the investigation until he was fired by Trump in May.
Comey's firing ignited significant controversy. At the time, Trump cited the FBI director's handling of the investigation into Clinton's emails as the reason for removing him. But the move raised serious questions about a president removing the head of the FBI during an investigation that could involve the president. Senate Minority Leader Chuck Schumer wondered "were these investigations getting too close to home for the president?"
After Comey's dismissal, Deputy Attorney General Rod Rosenstein appointed Mueller to lead the investigation. By June, Trump himself was reportedly under investigation for obstruction of justice.
In July, FBI agents reportedly raided Manafort's home. During the raid, investigators served a no-knock search warrant and seized material related to the Russian investigation, the Washington Post reported.
Manafort's attorneys told Fox News on Friday night they had not been informed their client had been indicted.
In August, reports said Mueller had convened a federal grand jury in Washington, DC, in the case. The grand jury then issued subpoenas about a 2016 meeting between Trump Jr., Kushner, Manafort, and a Russian lawyer.

Trump Jr. has said he attended the meeting because he thought he would be receiving opposition research on Hillary Clinton, but when he arrived the lawyer instead wanted to talk about adoption policy. Sources have stated however that Trump Jr. actually received a complicated set of allegations concerning contributions to the Clinton Global Initiative from Ziff Brothers Investments, a well-known investment fund.
In recent weeks, Mueller's team has also interviewed a number of current and past White House officials, including former press secretary Sean Spicer and former chief of staff Reince Preibus.
US intelligence agencies have concluded that Russia did in fact work to influence the election. In a report, intelligence officials said Russian President Vladimir Putin was responsible for his country's attacks on the US election. The report also stated that the Russians worked to both undermine Clinton and help Trump.
Trump has denied both any wrongdoing by his campaign and any ties to Russia, calling the investigation a "witch hunt."